Spreading Seeds of Appreciation
Nutrition Education Endowment Supports One Student's Flourishing Food as Medicine Interest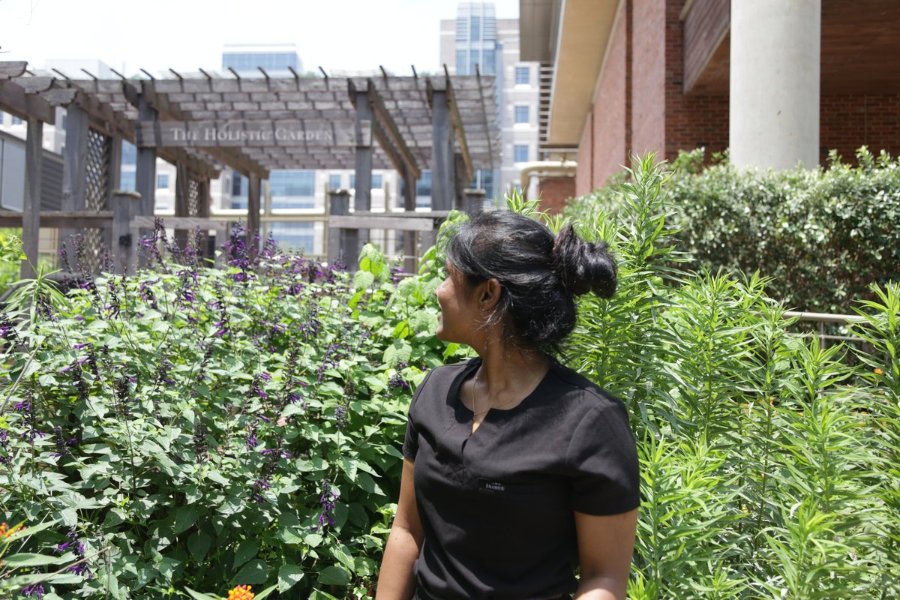 This Summer, with the support of the School of Public Health Nutrition Education Endowment in honor of Roberta Anding established by Sue Smith, the Nourish Program was able to hire an exceptional garden assistant with a diverse background and bright-as-the-sun future.
I am Sai Keerthi Annam, a second year Master's in Public Health – Epidemiology student and a dentist. Through my dental practice, I have witnessed the profound impact of diet on patients' oral and overall health, instilling in me a deep concern for the broader implications of nutrition on individuals' well-being. Also, I strongly believe that healthy food is the best medicine, and I am very excited to grow healthy food by providing significant input to the Holistic Garden at UTHealth School of Public Health. Joining the esteemed Nourish Program is an opportunity that I wholeheartedly embrace. As a science student with a background rooted in farming, I am thrilled to engage in gardening work. I am dedicated to fostering transformative change in the field of nutrition and promoting optimal health outcomes for individuals and communities.
Thank you, Sai, for your dedication to our garden this Summer and a huge thank you to our wonderful donors. We couldn't do the work we love without you.