Eggplant...The Vegetable with Unlocked Potential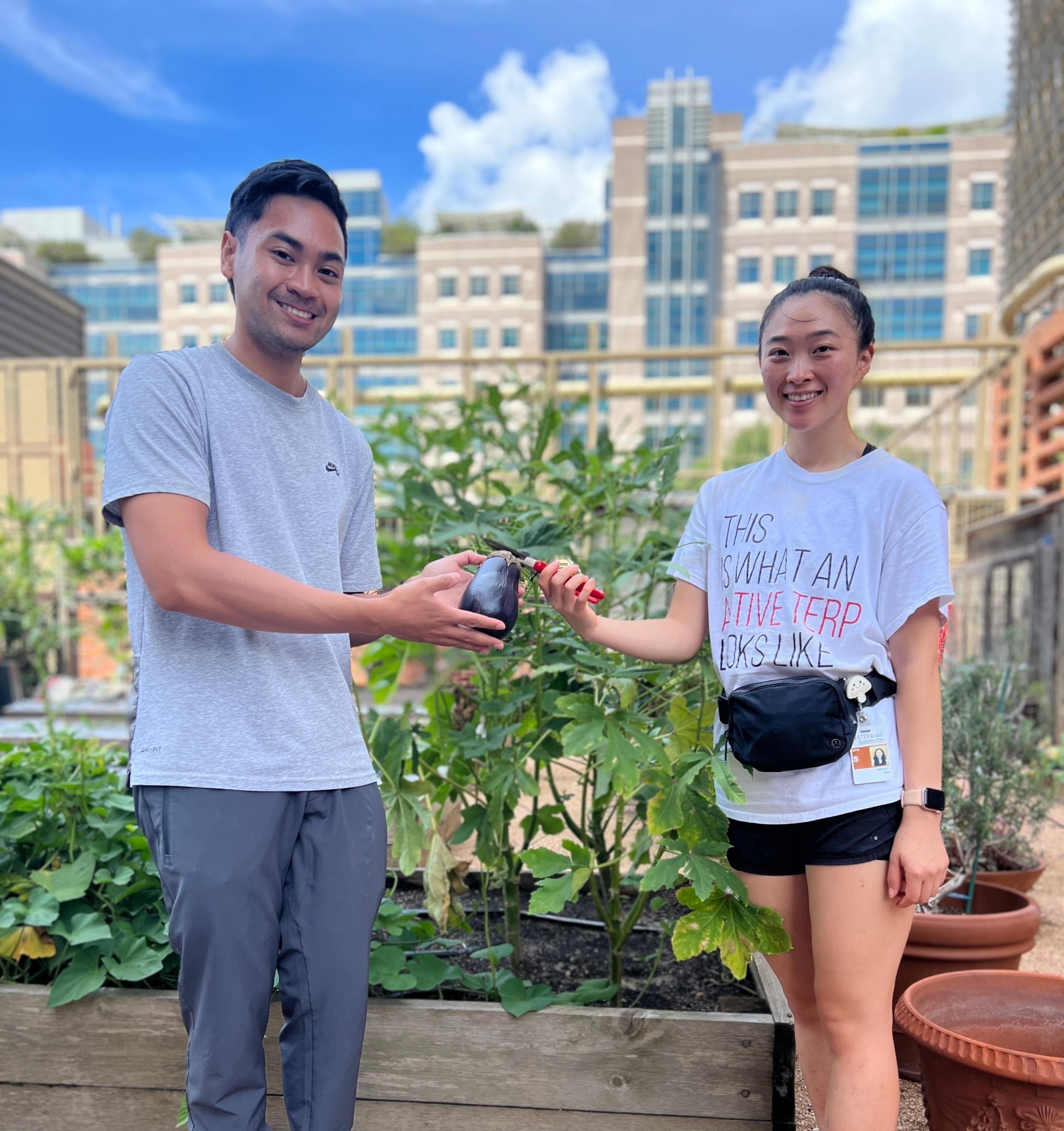 "Oh no…this eggplant is bitter"
That was Ashley Kim, my dietetic intern colleague. We were preparing freshly picked eggplant from the school garden together when we discovered the bitterness of the fruit. We practiced a classic Asian-inspired technique by cutting the eggplant into bite-sized pieces and cooking it in a wok with oyster sauce, garlic, ginger, and thai chili peppers. The umami and aromatics were not strong enough to mask the bitterness of the vegetable. I definitely could not waste it so I unceremoniously ate every last bite, all the while thinking about what we did wrong.
My goal after that summer dinner was simple - figure out a way to take the bitterness out of certain eggplant. If my intern friend and I had this problem, that meant other people had it as well. That's what inspired me to write this blog post. Our goal at Nourish and the UTHealth Dietetic Internship is to show people how to prepare fresh fruits and vegetables, through cooking and gardening techniques, so they can reap the full flavor and health benefits.
Eggplant or Aubergine/brinjals are primarily warm-weather vegetables, which makes them the perfect vegetable to grow during the summer months in Houston, Texas. They are known for their deep rich purple color, but they could also be white, pink, or green depending on the variety. They come in all different shapes and sizes as well, which opens the doors to plenty of cooking preparations!
Sometimes people do get that bitterness because eggplant is theorized to have a phenolic compound that causes bitterness. Also, many people tend to pick eggplant when it has been ripe for too long, which contributes to a bitter aftertaste. So what can you do to offset that unwanted bitterness?
Salt it.
What does salting eggplant do, exactly? Lightly salting eggplant triggers osmosis; a process that draws out excess water and bitterness. You may be wondering if this would affect the nutritional value. Eggplants have a lot of water in them, so if you are looking for a crisp texture when cooked, you have to get rid of most of the liquid. You are adding salt, but you are saving on the amount of oil used later in the preparation. You do not have to spend the extra time and oil cooking out the excess water from the eggplant.
Usually, I prepare eggplant by cooking it over an open flame, removing the skin, and turning it into an egg omelet called Tortang Talong (Eggplant Omelette in Filipino). The bitterness is removed by smoking the vegetable and adding fish sauce and garlic. Another way to prepare eggplant is Italian eggplant parmesan, where the cheese gives it that umami flavor and the acidity from the tomatoes helps balance that bitterness. You can also prepare baba ghanoush, a traditional Lebanese appetizer where the eggplant is roasted for a long time and mixed with tahini, garlic, lemon juice, red pepper flakes, and salt; all of which contribute to a rich unctuous (not bitter) appetizer or side dish. These are just some examples of the endless possibilities with eggplant!
A note about shopping for eggplant. Your best bet is to pick an eggplant that is firm, shiny, smooth, and with no shriveling, blemishes, or soft brown spots. The stem should be fresh and green, not dried out and brown. Eggplants are available year-round but are in season between August and September. They do get bitter the longer they age, so make sure to pick them fresh if you can.
I remember another intern coming up to me and telling me about her bitter eggplant. At that point, I passed on the information I had learned, and that is when I realized how beneficial this seed-to-plate dietetic internship experience is. Gardening and cooking together have fostered a unique understanding of food that only UTHealth can provide.
We hope you can use our tips and tricks to prepare a delicious eggplant. If you do, make sure to tag us on facebook or instagram @nourishprogram!