Taking an Interdisciplinary Approach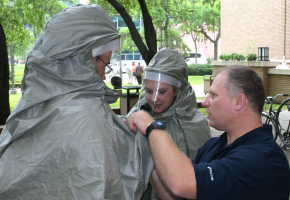 We train occupational and environmental health professionals to recognize, evaluate and control environmental and work-related threats to health. Just as in the larger field of public health, success at these challenges requires application of a broad range of skills, from the research lab to workplace and community settings.
An interdisciplinary approach to occupational and environmental health training is at the center of our philosophy. Through common coursework, joint projects, field experiences and research, SWCOEH creates a rich environment for exchange and interaction among faculty, students and professionals from varying disciplines.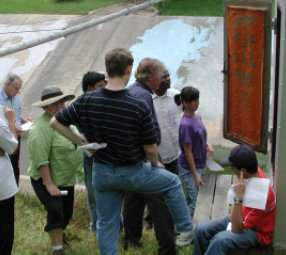 The Southwest Center offers academic programs and training in several areas, including Industrial Hygiene (IH), Occupational & Environmental Medicine (OEM) Residency, Occupational Epidemiology (Occ Epi), and Total Worker Health®. Traineeships are available (Full tuition and fees support and a generous monthly stipend) are available to full-time students on a competitive basis as part of our NIOSH-funded Education and Research Center (ERC) (trainees must be U.S. citizens or permanent residents). Requirements for the traineeships include acceptance into the Environmental and Occupational Health Sciences (IH or OEM) or Epidemiology (Occ Epi) academic programs, maintenance of a minimum course workload, and satisfactory academic progress.
Industrial Hygiene
Industrial Hygiene is the science of anticipating, recognizing, evaluating and controlling factors that arise from the workplace that pose health and safety risks to workers and the community.

Occupational & Environmental Medicine Residency
The Occupational & Environmental Medicine Residency is the training of practicing physicians for occupational and environmental positions in private practice, industry, government, the military or academia. The ACGME-accredited residency program includes one year of coursework leading to an MPH and one practicum year.
Occupational Epidemiology
Occupational Epidemiology is the science of epidemiology focused on the occupational environment. This includes the assessment of health risks from occupational exposure, investigation of disease outbreaks and research to establish the scientific basis for regulation and control of chemical, physical and biological agents in the workplace.
Total Worker Health
The Total Worker Health® program is a doctoral-level program at the SWCOEH. After completing this program, you will be a degreed Total Worker Health® (TWH) professional. Graduates will be able to conduct research that characterizes workers' health and well-being, as well as implement policies and practices that improve workers' health and well-being.
Meet Our Alumni
Upon graduation, former SWCOEH trainees successfully enter the workforce as OSH professionals, obtaining productive and influential professional practice positions in industry, government, and academia. Read some of our alumni stories here.

Interested in our SWCOEH academic programs?
Whether you are interested in becoming a trainee in one of our academic programs or just following one of our curriculums, please complete this form. Completing this form will help us with identifying potential candidates for future traineeship opportunities.
Graduate Assistantships
Graduate assistantships are also available to students throughout UTHealth School of Public Health. There are also many scholarship opportunities available through the school, professional associations, and community and advocacy groups.