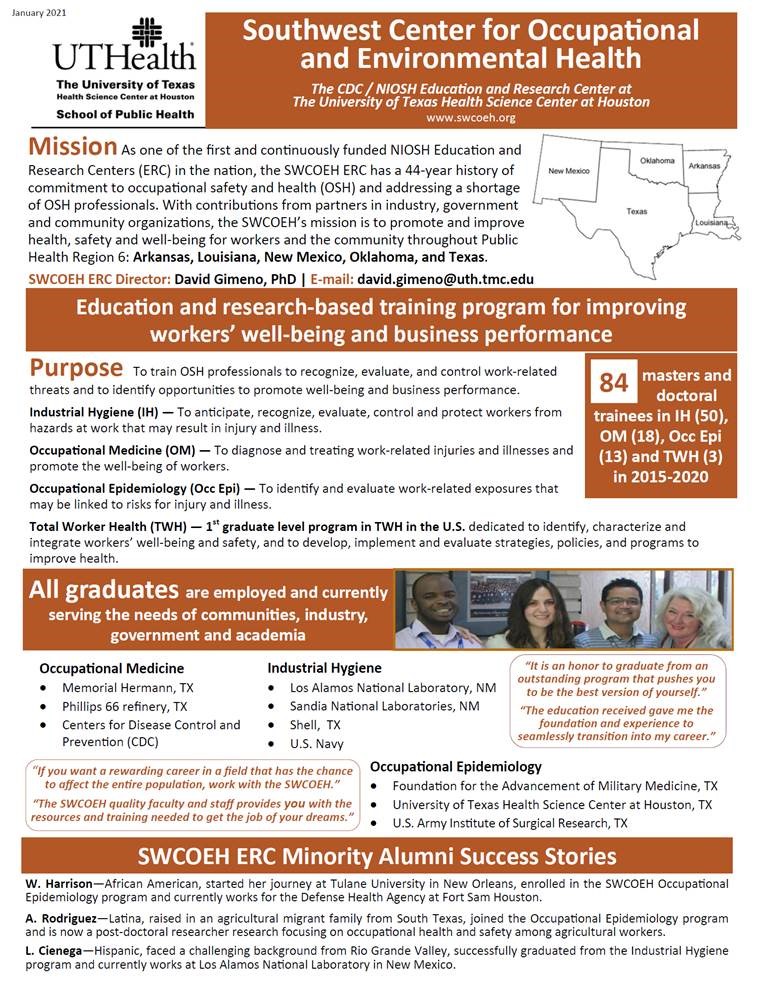 Overview
The Southwest Center for Occupational and Environmental Health (SWCOEH) supports research, education and outreach in occupational and environmental health funded by Grant #T42OH008421. This ERC grant is under the leadership of David Gimeno, PhD and George Delclos, MD, MPH, PhD who serve as ERC Director and Deputy Director.
2015-2020 SWCOEH ERC Program Impact and Outcomes
Mission
The mission of the SWCOEH is to promote and improve health, safety, and well-being in the workplace and the community.
Board of Advisors
An external advisory board comprised of members from industry, labor, government, non-governmental organizations (NGOs), and academia provide guidance to the SWCOEH on current and future directions.
History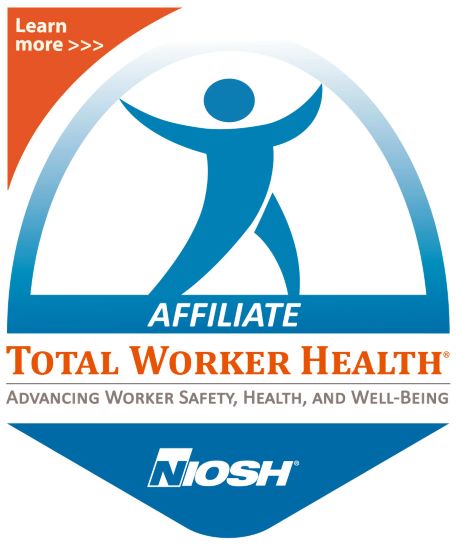 The SWCOEH was established in 1977 as one of the first nine National Institute for Occupational Safety and Health (NIOSH)-funded Education and Research Centers (ERC), and is now one of only 18 ERCs in the nation. Marcus M. Key, MD, MIH, first director of NIOSH, was also the first director of the SWCOEH ERC. In 1985, the SWCOEH became a World Health Organization Collaborating Centre for Occupational Health. Having grown considerably since we were established, we also conduct research on how environmental and occupational exposures affect health and on how to mitigate health risks associated with these exposures. As of 2019, the SWCOEH has been officially approved as an affiliate of the NIOSH Total Worker Health program, strengthening a partnership spanning more than 40 years.
SWCOEH ERC Directors
| | |
| --- | --- |
| 2020 | David Gimeno Ruiz de Porras, PhD |
| 2011-2019 | Elaine Symanski, PhD |
| 2006-2011 | Sarah Felknor, DrPH |
| 1997-2006 | George L. Delclos, MD, MPH, PhD |
| 1991-1997 | Lawrence W. Whitehead, MPH, PhD, CIH |
| 1988-1991 | Patricia Buffler, RN, PhD |
| 1985-1988 | Edward J Fairchild II, PhD |
| 1977-1985 | Marcus M. Key, MD, MIH |
What We Do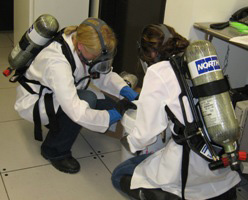 The threats to health and well-being posed by occupational and environmental factors are complex and require interdisciplinary and innovative approaches to improve the health of workers and communities. In addition to utilizing the best available research practices and interventions, solutions must also consider geographic, economic, behavioral, cultural and political dimensions. The SWCOEH addresses these threats by providing graduate-level education in environmental and occupational health, conducting research into the causes, prevention and control of disease and injury, engaging in research to practice activities, and providing continuing education and outreach to our stakeholders.
Research
We conduct research in areas that include military health, ergonomics, farmworker health, workplace violence and air pollution epidemiology. Funding primarily comes from the NIH, CDC NIOSH, DOD, and FEMA.
Graduate-Level Education
The SWCOEH provides a variety of graduate-level training opportunities for occupational and environmental health professionals through our industrial hygiene, occupational and environmental medicine, occupational epidemiology, and Total Worker Health®.
Continuing Education and Outreach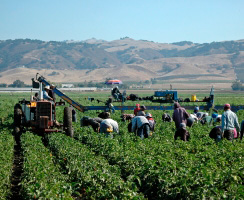 The SWCOEH Continuing Education (CE) and Outreach Program serves as a training resource for professionals by delivering specialized courses in response to current training needs and responding to emerging issues in occupational and environmental health.