Brownsville Campus Student Awarded Gunnin Fellowship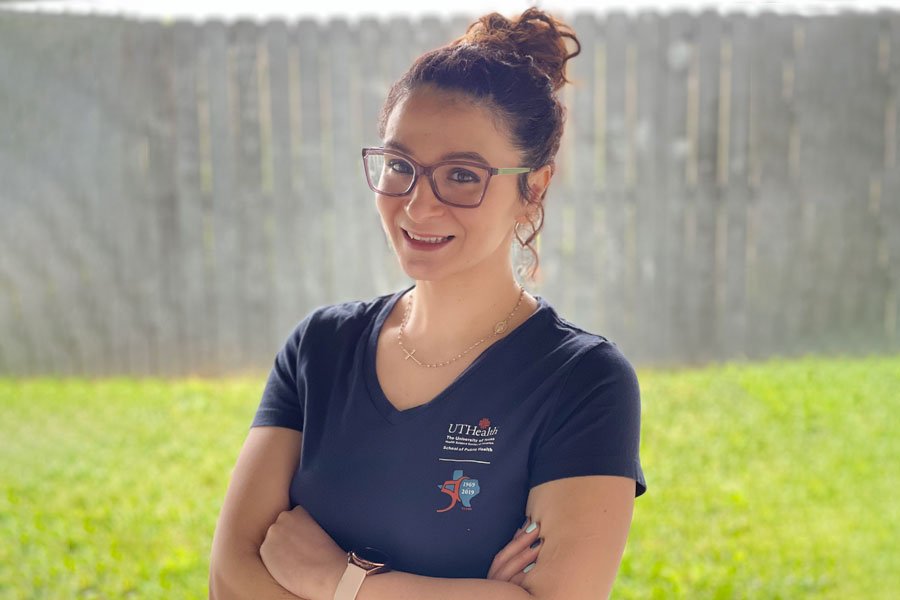 UTHealth School of Public Health Brownsville campus student, Ghadir Helal Salsa has been named the recipient of the 2022 Dr. Gerry C. Gunnin, Ph.D. Public Health Memorial Fellowship (Gunnin Fellowship). This highly competitive award assists students pursuing a master's or doctoral degree in public health at an accredited Texas school.
Helal Salsa is a Doctoral student in the Department of Health Promotion and Behavioral Sciences at UTHealth School of Public Health in Brownsville, Texas. She has always been interested in community health programs, especially those focusing on nutrition, physical activity, and health promotion. She received her Master of Public Health degree from Birzeit University in the Palestinian Territories, where she worked on community agriculture, food security, and food safety projects with local and international organizations, including the United Nations.
Helal Salsa's passion for improving community health is driven by the challenges encountered by people living in the Rio Grande Valley. Currently, she is working on her dissertation, which will focus on understanding the delivery of nutrition education classes among underserved communities in Texas during the COVID-19 pandemic. She is also the program manager for the Diabetes Prevention Program, a CDC-recognized lifestyle change program that helps to prevent or delay type 2 diabetes.
The Gunnin Fellowship was established by Texas Health Resources in 2006 as a tribute to the leadership and legacy of Gunnin, former president of the Presbyterian Healthcare Foundation and vice president of the Texas Health Resources Community Health Improvement Department. In addition to a tuition award, fellowship recipients complete a 10-week internship with Texas Health Resources. Helal Salsa will begin her internship in March of '22, and will work on a continuum of care strategy for uninsured or underinsured patients in North Texas communities that will focus on addressing social determinants of health and barriers.