CHPPR-Developed Implementation Tool Helps Clinics Implement a Program to Increase Adolescent Vaccination Rates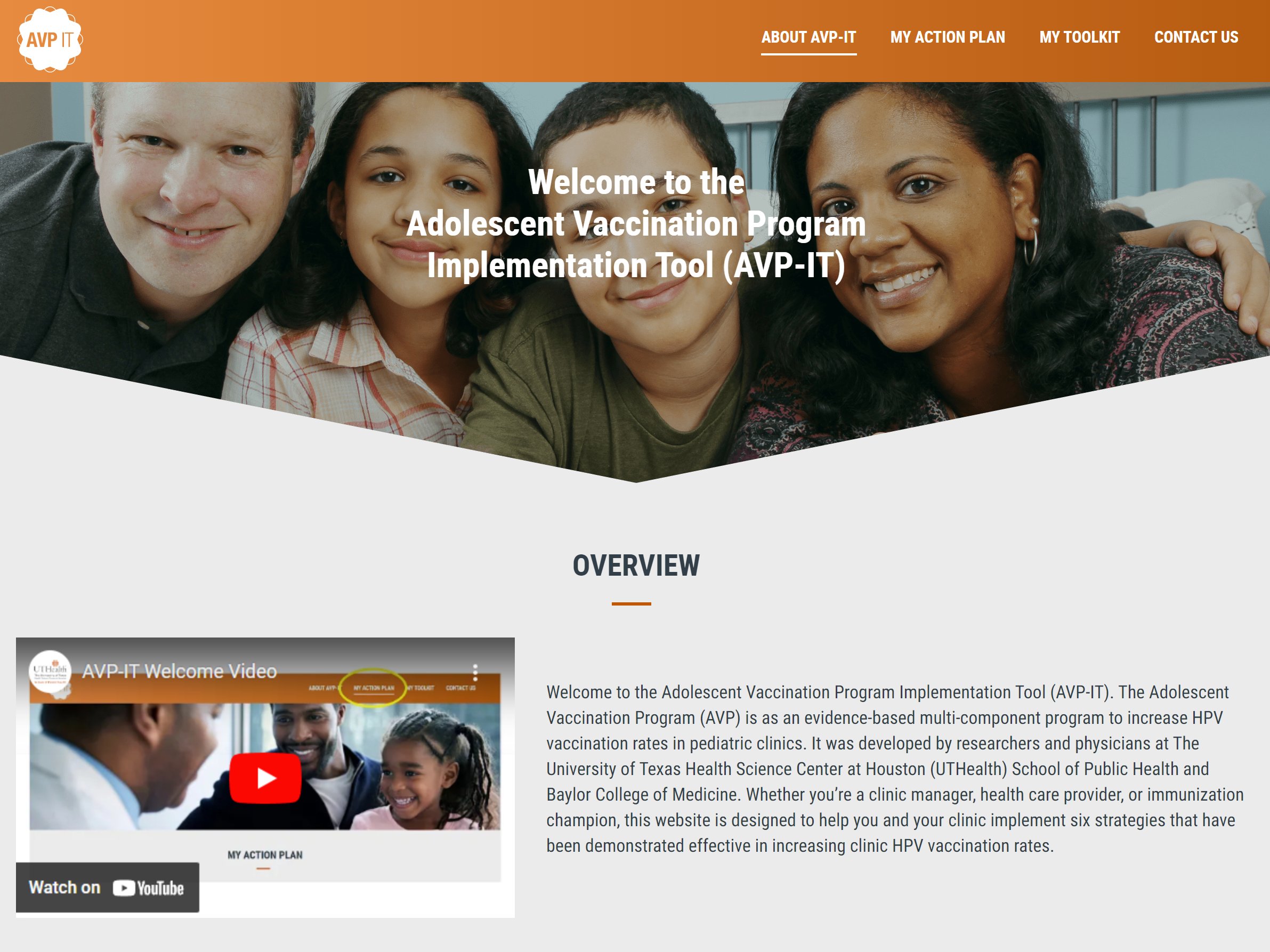 The Adolescent Vaccination Program Implementation Tool (AVP-IT) is a web-based decision support tool that guides pediatric clinics in the implementation of an evidence-based program proven to increase adolescent HPV vaccination rates.
Nearly 80 million people in the US are currently infected with HPV, varieties of which cause the majority of cervical, anal, oropharyngeal, vaginal, and penile cancers. While the HPV vaccine is known to be safe and to effectively decrease HPV infections and precancerous lesions, HPV vaccination rates remain far below the Healthy People 2030 goal of 80% for adolescents. These rates are particularly low in Texas compared to the rest of the country.
To address these issues, researchers and physicians at the UTHealth Houston School of Public Health and Baylor College of Medicine developed the Adolescent Vaccination Program (AVP), an evidence-based, multi-component intervention demonstrated to increase HPV vaccination rates in pediatric clinics. The AVP accomplished this through the implementation of six evidence-based strategies: immunization champions, assessment and feedback, continuing education, provider prompts, parent reminders, and parent education. The AVP was first implemented in pediatric clinic networks in Houston and San Antonio, and the results from both studies indicated the program was feasible for clinic use and effective in increasing both initiation and completion of the HPV vaccine series among male and female patients.
Following this success, the team developed AVP-IT, a web-based decision support tool designed to enable pediatric clinics to independently implement the AVP. The team utilized Intervention Mapping to guide a needs assessment consisting of a literature review, clinic-based interviews, and advisory committee feedback. These informed the concept, content, architecture, and functional design specifications of the AVP-IT.
By completing AVP-IT's Action Plan Wizard, clinics can obtain a tailored Action Plan that provides stepped guidance, tips, and tools to help facilitate the implementation of the AVP into their current clinic practices. Evaluation, including usability testing with healthcare providers (HCPs) and feasibility testing in community-based clinics, suggest that AVP-IT is feasible, effective, and easy to use. AVP-IT promises accessible, utilitarian, and scalable decision support on strategies to increase HPV vaccination rates in pediatric clinic settings.
A current, MDA-funded project is assessing the feasibility of the AVP-IT in safety net clinics in the Greater Houston area and Port Arthur.
For more information, visit the AVP-IT website at https://avptexas.org/ or contact Erica Frost at Erica.L.Frost@uth.tmc.edu.