In Memoriam of Polly Sparks Turner, DrPH
Alumna and former president of UTHealth Houston Alumni Association passes at 84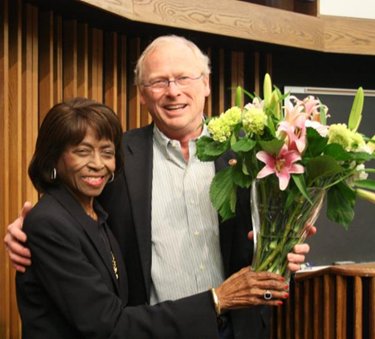 UTHealth Houston School of Public Health alumni and former president of the Alumni Association, Polly Sparks Turner, MPH, DrPH, passed away on March 30, 2023 at the age of 84.
Turner received her DrPH from the School of Public Health in 1999, focusing her research on community health practice. She served as an admired and tenured faculty member at Texas Southern University, where she earned numerous administrative and academic accolades.
Turner was heavily involved with UTHealth Houston and the School of Public Health. In addition to serving as president of the Alumni Association, she was a member of the UTHealth Houston Development Board and School of Public Health Advisory Council for several years. In 2016, Eric Boerwinkle, PhD, dean of the School of Public Health, presented her with flowers and an engraved vase in honor of her leadership of the school's Alumni Association.
In 2008, Turner generously created two endowed student scholarships at the School of Public Health. First, she endowed the Dr. Oddis Calvin Turner Endowed Scholarship in Health Promotion and Behavioral Sciences in loving memory of her husband, Oddis, for his dedication to academic excellence and health education as well as his passion for improving the health status of African Americans. Then she established the Polly Sparks Turner, MPH, DrPH, Distinguished Endowed Scholarship in Community Health to demonstrate her commitment to education and quality health care delivery.
Throughout her career, Turner was an active member of numerous community organizations and professional groups. She was a former member of the board of directors for the Harris County Area Agency on Aging and an executive committee member for the Texas Consortium of Geriatric Education Centers. She was also on the governing council for the American Public Health Association and served proudly as the 20th south central regional director of Alpha Kappa Alpha Sorority.
The School of Public Health wishes to express its gratitude for Turner's dedication and enthusiastic service to the school and her community.