Increase of physical activity in minority breast-cancer survivor groups improves quality of life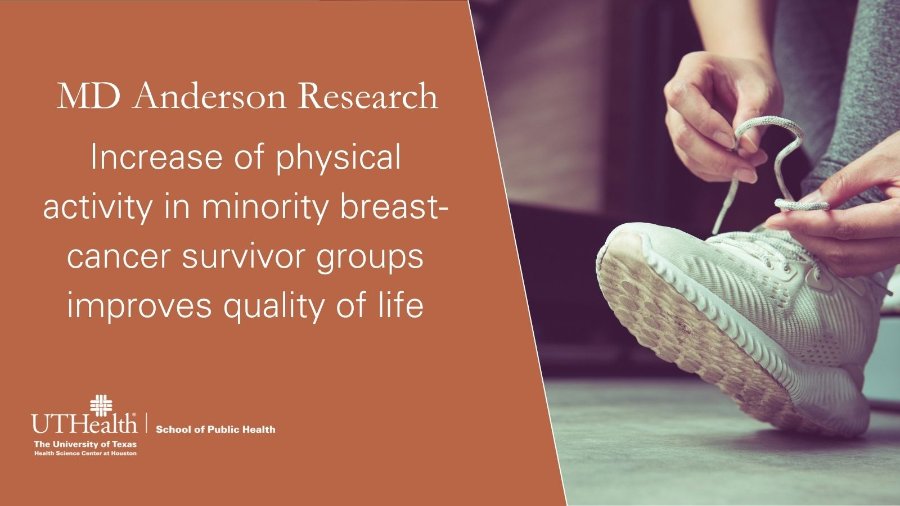 The most recent results of The University of Texas MD Anderson initiative, "Active Living After Cancer," has been published in Cancer, the journal of the American Cancer Society (ACS), showing that an increase of physical activity for breast cancer survivors in minority and medically underserved areas can improve quality of life.
The publication is one of many extensions of the initial project of "Active Living After Cancer" originally designed by Karen Basen-Engquist, PhD, MPH. Basen-Engquist, who serves as a professor of behavioral science and the director of the Center for Energy Balance in Cancer Prevention and Survivorship at MD Anderson, initially conceived the project in 2006. This most recent version of the program utilized the original concept as a foundation and created adaptations to accommodate, serve, and implement into minority and medically underserved survivor groups.
"Working on this project was like developing a recipe for others to implement this type of program in their community," says the lead author on this publication, Irene Tami-Maury, DMD, MSc, DrPH, assistant professor of epidemiology, human genetics and environmental sciences at UTHealth School of Public Health. "We were able to identify the details, challenges, and opportunities that others could implement in future local programs."
Published in the fall of 2021, available via open access on the Cancer Journal website, the article highlights the overall improvement of quality of life (mental and physical) of the 127 program participants.
"It was important that we designed this new version of the program to be feasibly delivered within diverse communities, and that eventually we can raise awareness and implement these programs in regions around the world," says Basen-Engquist. The program originally assessed outcomes of breast cancer survivors, and has subsequently expanded the program to promote physical activity for survivors of other types of cancers, as well as providing support for family and friends of survivors.