Pride Month celebrates progress in research, awareness of sexual and gender minority individuals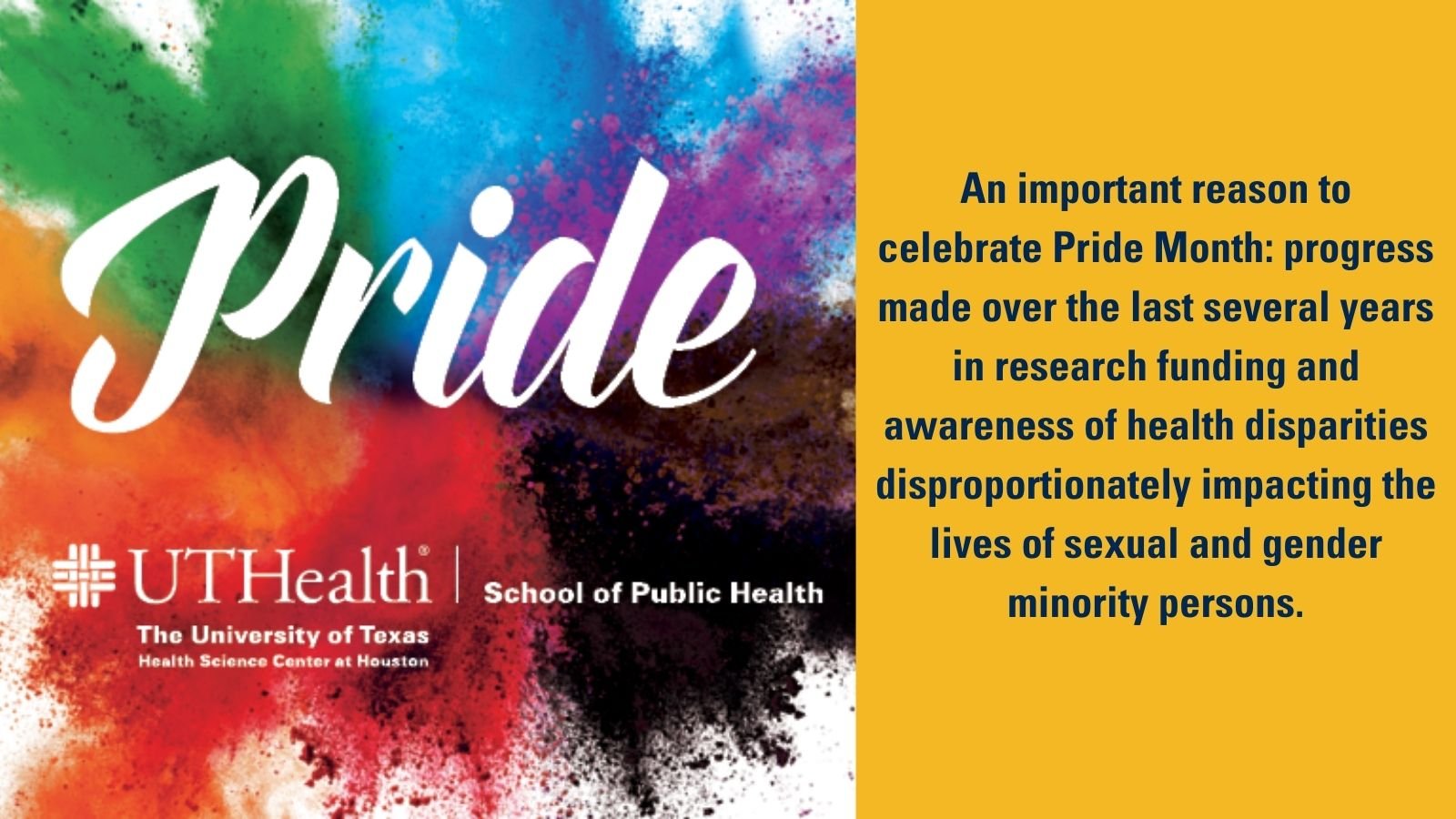 An important reason to celebrate Pride Month this year is the progress made over the last several years in research funding and awareness of health disparities disproportionately impacting the lives of sexual and gender minority persons.
Pride Month is an annual celebration in June for Lesbian, Gay, Bisexual, Transgender and Queer (LGBTQ+) people.
"Pride Month is a space to celebrate and tell those who may feel isolated that they have somewhere they belong," explains J. Michael Wilkerson, PhD, MPH, associate professor in Health Promotion and Behavioral Sciences at UTHealth School of Public Health.
"This is an opportunity to celebrate where we've been and where we're going," says Wilkerson. "It serves an important function for young people, who look for role models."
He adds that Pride Month is a "powerful and important celebration of all aspects of this community and it offers positive exposure."
Public health has a key role in the health and awareness of this community. "The perspectives and needs of LGBTQ+ people should be routinely considered in public health efforts to not only eliminate health disparities but improve the overall health of every person," says Wilkerson.
Wilkerson is teaching a summer seminar at UTHealth School of Public Health on the "Health of Sexual and Gender Minority Persons (PHW 1251)" that covers health disparities affecting sexual and gender minorities. The course offers insight into this topic and helps students consider how to serve this community.
The seminar covers definitions, measurements, theory, and intervention development. It features input from students about health disparities. "I learn so much from the students," he admits. "By selecting and presenting peer-reviewed journal articles focused on any aspect of LGBTQ+ health, students explore topics I never considered, such as how a pediatrician provides health care to a young person with gender dysphoria."
Wilkerson is optimistic about the significant recent evolution in research funding and awareness of sexual and gender minority people. "Initial research focused on HIV prevention among men having sex with men," he says. "Now there is a dramatic shift beyond HIV funding to include all sexual and gender minority persons."
He is excited to see research issues studied now that would not have been considered even a year ago. "For example," he explains, "lesbian health has been historically underfunded, as well as trans people. We are also addressing the elevated rate for violence against the trans community. We still have challenges. As part of my research, I think about LGBTQ+ substance use and recovery, as well as grade-appropriate sex education, but there are opportunities to study these issues."
NIH research
Wilkerson is also hopeful about recent shift and emphasis on education and overall awareness of these issues.
The National Institutes of Health (NIH) has a Strategic Plan to Advance Research on the Health and Well-being of Sexual & Gender Minorities." The NIH's Sexual & Gender Minority Research Office (SGMRO) is making positive strides to expand research activities in sexual and gender minority populations, remove related systemic barriers, and encourage a robust and engaged research workforce.
The SGMRO estimates in the next five years there will be unprecedented growth in the number of both sexual and gender minority-related research projects funded, and investigators focusing on health-related research.
There is an increase in funded research projects related to sexual and gender minority health, and the hosting of scientific workshops to identify research opportunities in understudied groups.
Wilkerson, who serves as a faculty co-coordinator for the health disparities certificate program in the School of Public Health, understands the overarching considerations that impact these groups. These include ability status, age, race, ethnicity, and income level, as well as life situations such as military service, homelessness, and individuals who go through the foster care system.
Wilkerson's experience includes community health education for over 20 years, coordinating programs in an AIDS service organization, and research focus on the health disparities of sexual and gender minorities, sex education HIV/STI prevention, and substance abuse.
"Positive strides are being made but there is still work to do and much we need to learn," he adds.
Home to diverse communities that reflect the future population of the U.S., students at the UTHealth School of Public Health are uniquely positioned to gain hands-on experience on local projects with national significance. Our faculty are pioneering radical solutions for imminent public health problems and provide the tools and resources that will push students to think critically and creatively both in and out of the classroom. This is where academic rigor meets real-world application.
Founded in 1967, UTHealth School of Public Health is home to students and faculty from over 54 countries, who bring new perspectives, experiences, and opportunities to our classrooms. The school has built relationships with city governments, new communities, academic institutions, and industries to better support the needs of culturally complex and diverse areas in which we live work, and play.