Student Spotlight: Oujesky's journey to finding epidemiology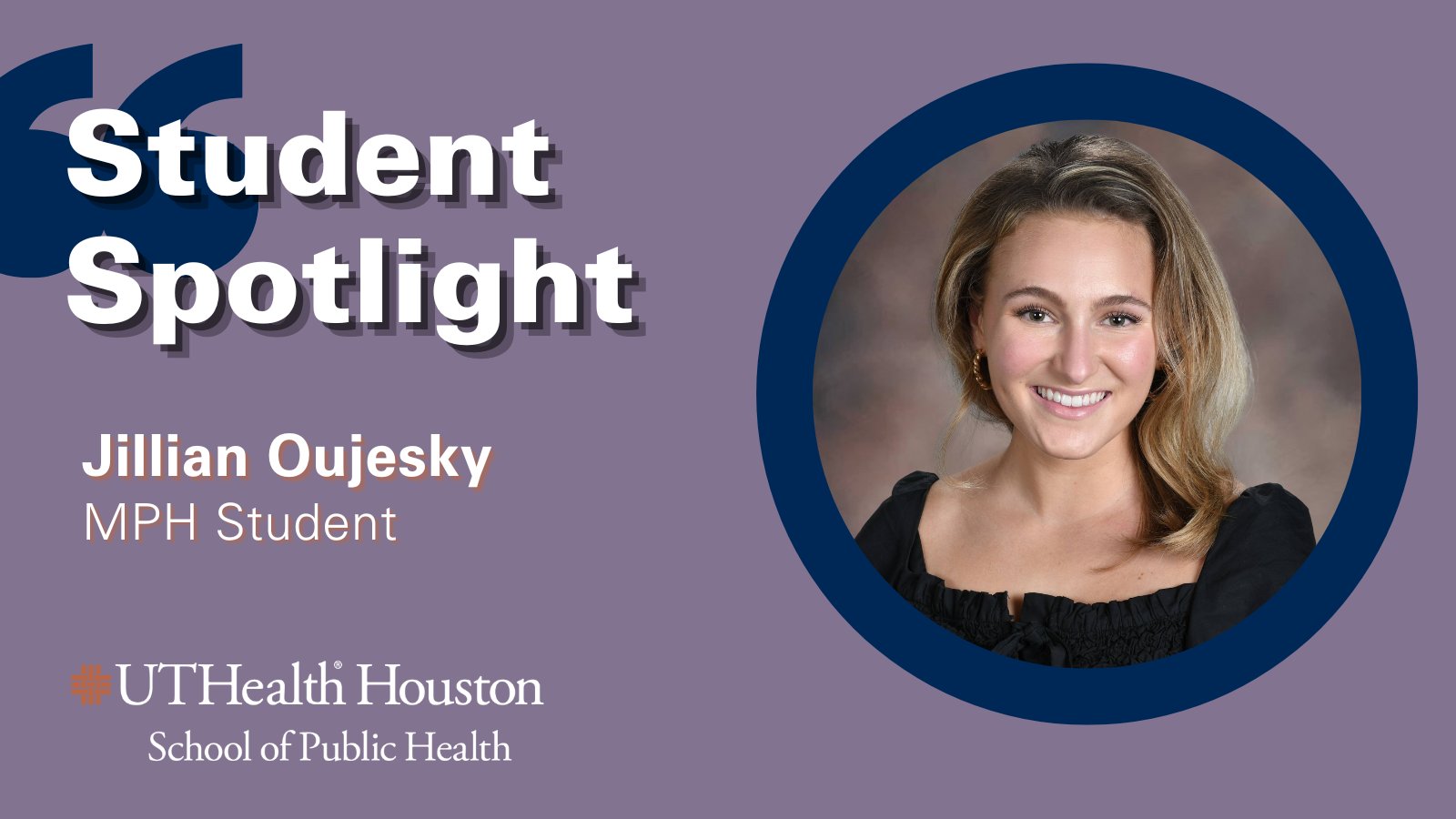 While an undergraduate student at the University of Oklahoma, Jillian Oujesky interned at Tarrant County Public Health for two summers during the pandemic's peak. Now, she credits that experience for igniting her interest in public health. "My interest in public health began during my undergraduate career when I wanted to look further into how medicine and public policy intersect," said Oujesky. "I have always been passionate about learning how diseases impact society, so epidemiology was the perfect niche."
Oujesky's roles and responsibilities at Tarrant County Public Health included contact tracing calls and summarizing bills that escalated to the Texas legislature. Oujesky would use CNA data to create a plan of action for Tarrant County in addressing vaccine hesitancy in predominantly black communities. The experience and knowledge she acquired about public health further solidified her plans to pursue her undergraduate and postgraduate degrees in public health.
"Once I knew I wanted to obtain my Bachelor of Public Health, I realized that a Master of Public Health was the next step. Many of the epidemiologists I worked alongside at Tarrant County were either working on their MPH or had received their MPH. I recognized that a graduate degree would be needed to influence public health and create change in the ways I aspired."
Oujesky says there were two main factors that influenced her decision to attend UTHealth Houston School of Public Health, aside from her desire to stay close to home. First, the School of Public Health offers a Global Health Certificate, which aligned with her interest in neglected tropical diseases and health equity. Secondly, her mentor Talmage Holmes, PhD, Associate Director of Disease Control and Prevention at Tarrant County, was an alum of the school. During their conversations, Holmes spoke fondly of his alma mater, where he completed his PhD in epidemiology. Oujesky credits her success to the professors and mentors at the school and cites their helpfulness in guiding her career decisions, offering advice, and providing letters of recommendation for summer fellowships and research programs. She advises incoming students to form those relationships with faculty and encourages developing friendships with classmates and cohorts outside the classroom.
Her future goals include working for the Centers for Disease Control and Prevention or the World Health Organization to improve research and vaccine efforts for neglected tropical infectious diseases.