Carrot or Pumpkin Muffins Recipe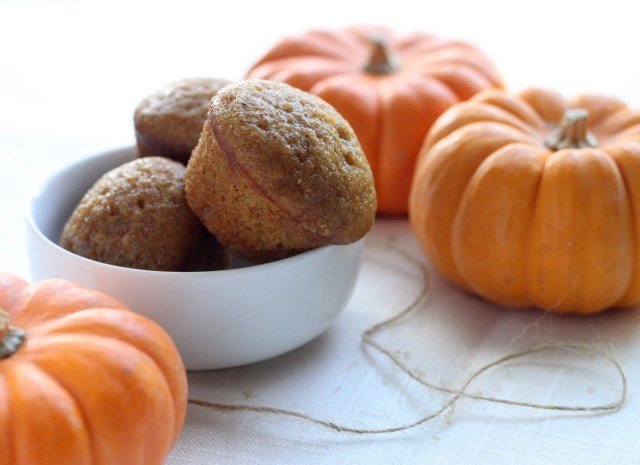 GET YOUR VEGGIES AT BREAKFAST!
Please note that the carrot muffin recipe makes 16 muffins and the pumpkin recipe makes 12 muffins. These numbers need to be followed for the nutrient analysis to be accurate for each. The nutrient analysis represents the original recipe, but options for reducing fat and calories are noted in parentheses. Due to the high water content of the carrots, these muffins will be moister than a typical muffin recipe. By cooling 15 minutes prior to eating, they will not be so "gooey."
1 3⁄4 cup all-purpose flour (or whole-wheat flour)
2 tsp baking powder
1 tsp baking soda
1 tsp cinnamon
1 tsp pumpkin pie spice
1⁄2 tsp salt
1⁄4 tsp nutmeg
1⁄2 cup canola oil (can reduce to 1⁄3 cup to cut calories)
1⁄3 cup white sugar (can reduce to cut calories)
1⁄3 cup brown sugar (can reduce to cut calories)
2 eggs (or 1 whole egg + 1 egg white)
3⁄4 tsp vanilla extract
2 lb bag of "baby" carrots (or other carrots, about 900 grams)
Preheat oven to 325.
Finely chop carrots in food processor or blender; set aside.
Mix first seven ingredients together in a medium bowl; set aside.
Put oil in a mixing bowl; gradually add the sugars and beat.
Add eggs and vanilla; mix well.
Add the flour mixture in three parts, mixing well after each addition.
Stir in carrots gradually, scraping bowl often.
Lightly grease muffin pans or line with paper liners. Evenly divide batter into 16 muffin cups (about 1⁄3 cup into each). Bake at 325 for 40 minutes, or until inserted toothpick comes out clean. Let muffins cool for at least 15 minutes before eating. Muffins may be wrapped individually and frozen. Makes 16 muffins.
For Pumpkin Muffins:
Follow recipe above, except substitute 2 15-oz cans of pumpkin in place of carrot. (No need to food process pumpkin; add pumpkin at same point in recipe as instructed for carrots). Divide batter into 12 muffin cups (greased or paper lined), and bake at 325 for 35 minutes, or until inserted toothpick comes out clean. Makes 12 muffins.