Institute for Healthy Living Recruiting Participants for BRIO Study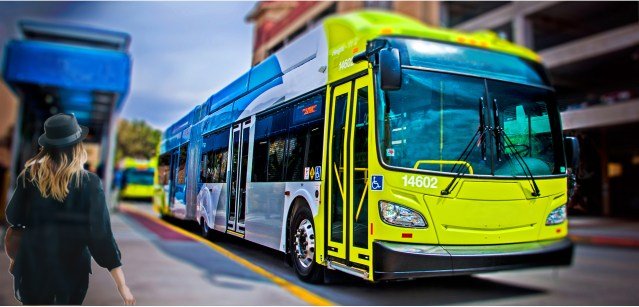 The Paso del Norte Institute for Healthy Living (IHL) at The University of Texas at El Paso is recruiting 1,250 individuals (20 years or older and not a full-time student) for a study on the impact public transportation has on the health and mobility of El Pasoans.
The 5-year study called, "Fighting Obesity by Reinventing Public Transportation: a Natural Experiment," is led by Texas A&M University and is being carried out in collaboration with Leah Whigham, Ph.D., IHL executive director, and Jay Banasiak, director of Sun Metro, El Paso's public transportation service.
Researchers will compare physical activity levels of residents who live within a half-mile radius of the new Alameda and Dyer Brio Rapid Transit System lines before and after the stations are operational at the end of 2018. Residents of other selected neighborhoods in El Paso also are invited to join the study. They will serve as comparison participants. Participants must be 20 years old or older and not be full- time students.
Individuals interested in participating are invited to take an online survey at ActiveElPaso.org. Eligible participants will receive a $10 gift card for completing the 30-minute survey.
Those who complete the survey may also join a 1-week assessment and receive a $50 gift card. It will involve wearing two small devices and keeping a daily travel log for 7 days. The data from this assessment will help researchers determine if bus rapid transit systems, such as Brio, promote physical and social activity.
The study is funded by the National Institutes of Health and Texas A&M University. It is co-led by Texas A&M faculty members Chanam Lee, Ph.D., professor in the Department of Landscape Architecture and Urban Planning; Wei Li, Ph.D., assistant professor in the Department of Landscape Architecture and Urban Planning; and Marcia Ory, Ph.D., in the Center on Population Health and Aging.
The IHL, which is primarily funded by the Paso del Norte Health Foundation, works with community partners to develop collaborative and sustainable solutions that promote healthy eating and active living in our region (www.pdnihl.org).
For questions or to request a paper copy of the survey, visit ActiveElPaso.org, email ActiveElPasoStudy@gmail.com, or call 915-257-5865.