Health, Air Quality Study Seeks Pollution Solutions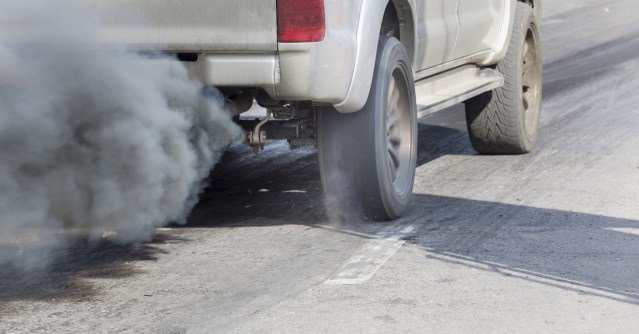 The Paso del Norte Institute for Healthy Living (IHL) promotes healthy eating and active lifestyles, but it also engages in interdisciplinary research with The University of Texas at El Paso and dozens of other groups to enhance its ability to address public health needs.
Leah Whigham, Ph.D., left, and Wen-Whai Li, Ph.D., recently collaborated on research into the effect of air pollution on elementary school students with asthma and some possible solutions.
Staff of the 4-year-old institute, which moved its offices to UTEP from downtown El Paso during the fall 2017 semester, strive to combine their expertise with that of other researchers to learn more about issues that affect the health and welfare of individuals throughout the community. Their findings are used to develop simple and effective strategies to improve or alleviate those situations.
Among the handful of UTEP/IHL research projects is an ongoing study about air quality and the effect of air pollution on elementary school students with asthma. The investigation included 10 weeks of noninvasive tests during the fall 2017 semester on 23 students from campuses that are within 300 feet of the Patriot Freeway in Central El Paso. The participants, who lived in non-smoking households, were tested for lung function, lung inflammation, fruit and vegetable intake, physical activity levels, and the naturally occurring carbon isotope ratios in their breath. The data collected will be part of a report that should be ready by fall 2018.
The relatively new wrinkle to this investigation is the inclusion of nutrition and physical activity specialists who bring a different perspective to possible solutions to air quality issues.
"(El Paso) is a very important area geographically to better understand the impact of poor air quality and how to address it," said Leah Whigham, Ph.D., IHL director and one of the program's co-principal investigators. "We can use those data to develop strategies that the school district can put into place to optimize healthy behaviors."
For example, Whigham said the results of this research could show if air pollution leads to an increased need for fruits and vegetables in our diets, or if physical activities could be scheduled at times when the air quality is better. Another finding could be the planting of trees to act as a buffer between the traffic and students.
Wen-Whai Li, Ph.D., professor of civil engineering and the project's principal investigator, praised his collaborators for the expertise and resources they brought to the project. His other co-PIs were the late Joan Staniswalis, Ph.D., professor emeritus of mathematical sciences; and William Hargrove, Ph.D., director of UTEP's Center for Environmental Research Management.
Li, an internationally recognized expert in air quality research, said the presence of a nutrition scientist on his team was new, but it is becoming more common throughout the country to connect health and environmental monitoring. One of his team's primary objectives is to understand the association between traffic emissions and children's respiratory health.
"This kind of collaborative research is extremely important because it provides synergistic outcomes," Li said. "As engineers, these (health data) will give us an advantage. They go hand in hand."
The UTEP team, with the cooperation of the El Paso Independent School District, conducted its research at Bliss and Coldwell elementary schools. The campuses are about two miles away from each other. A Texas Department of Transportation Statewide Planning Map showed that in 2016, the most recent data available, an average of almost 109,000 vehicles passed the two campuses every day while traversing the Patriot Freeway.
Jose E. Gijon, principal of Coldwell Elementary School, 4101 Altura Ave., said 12 of his students participated in this research and they had a positive experience. He said the UTEP researchers were organized, respectful and personable, which helped put his students at ease. Some of the Coldwell students involved in the study told him that they may pursue careers as engineers and scientists as a result.
He has invited Li and other members of the UTEP team to help at the school's Math Night to discuss what it takes to succeed in higher education and as a professional.
"We hope that we can continue to work with UTEP students," said Gijon, a UTEP alumnus who earned his bachelor's degree in business in 1998, and his Master of Education degree in 2005. "They are welcome anytime."
Among the UTEP research team members was Juan Aguilera, M.D., a second-year doctoral student who is specializing in interdisciplinary health sciences (IHL). The IHL graduate fellow earned his Master of Public Health degree from UTEP in 2016.
His previous work with the institute was to evaluate nutrition and physical activities at after-school and community programs. His job on this project was to collect health measurement data from the elementary school students.
"This has been an awesome experience," said Aguilera, a native of Juárez, Mexico, who earned his medical degree in 2009. "I feel fortunate to have been invited to participate in this research that is so important to the community."
The research is part of a multi-institutional effort that involves the Georgia Institute of Technology, Johns Hopkins University, Texas A&M University, and the University of California, Riverside. They make up the CAR-TEEH, Center for Advancing Research in Transportation Emissions, Energy and Health. The program is funded through a multimillion-dollar U.S. Department of Transportation grant.
This article was first published on the UTEP website on May 03, 2018