Published: May 24, 2019
Markham named 2019 John P. McGovern Outstanding Teacher
Published: May 24, 2019 |

By Rachel Atterstrom | Inside UTHealth, Issue Number # 1193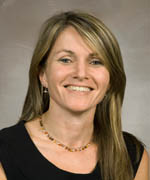 Christine Markham, PhD, was named the winner of the 2019 John P. McGovern Outstanding Teacher Award at UTHealth School of Public Health.
Markham is an associate professor and associate department chair in the School of Public Health's Department of Health Promotion and Behavioral Sciences. This distinguished award recognizes outstanding teaching and strong commitment to students.
"One of the things that I most appreciate about her is that she has an open door policy. Whenever I come by her office or email her a question, my inquiry is welcomed," stated a student who nominated her for the award. "Her answers are helpful, prompt, and encouraging. Sometimes, simply hearing the word 'super' is all I need to feel acknowledged and appreciated."
The award is presented annually to an outstanding teacher in each of the six schools at UTHealth and is determined by nomination and popular vote by the student body in each school.