About the Center for Pediatric Population Health
Improving the health of children and adolescent populations through evidence-based research.
Welcome to the Center for Pediatric Population Health. The Center's mission is to support multidisciplinary research teams to conduct studies and programs in collaboration with health care providers and community organizations to improve the health of child and adolescent populations. We serve as a resource to translate scientific findings and knowledge into practical applications for public health practice, health care services, and health policies.
Founded in 2018, the Center for Pediatric Population Health is the newest center at UTHealth School of Public Health. While the Center is physically located in Dallas, it has the capacity for regional and statewide reach through its connection to one of the largest schools of public health in the nation, with campuses not only in Dallas but in five other major metropolitan cities. It is worth noting the rapid demographic transition currently taking place in the state of Texas, which now has two of the most diverse metro areas in the entire nation; Houston is ranked first and Dallas fifth. As such, there has never been a greater time or opportunity to serve our Texas pediatric populations and aspire to health without boundaries for all.
For more information about the Center, read our executive summary here.
Follow us on social media
Stay connected through Twitter, Instagram, Facebook, and LinkedIn.
Current research studies and projects
The Center for Pediatric Population Health has the capability and expertise to work in numerous areas in the field of population health. Currently, active projects and collaborations include:
Bariatric Health Study: Gut & Microbiome
Major areas of research
COVID-19
Social determinants of health (SDOH)
Sports-related concussions/sports medicine
Injury prevention and rehabilitation
Pulmonary care
Developmental and behavioral pediatrics
Healthy weight management
School and community-based interventions
What sets us apart
Population health is positioned at the intersection of medicine/health care and public health
The Center for Pediatric Population Health is housed within UTHealth School of Public Health, one of the largest schools of public health in the nation, with campuses in Austin, Brownsville, Dallas, El Paso, Houston, and San Antonio. This along with numerous collaborations with leading external institutions, the Center has the capacity for regional and statewide reach. Founded in 2018, we aims to:
Collaborate and foster partnerships and transdisciplinary research in clinical and community-based settings.
Lead research discovery to generate evidence-based science and recommendations for clinical practice and community-based programming.
Transform through education, training, and mentoring to improve pediatric population health and instill a culture of health for all families.
Diversify our research portfolio with a nimble approach to meet immediate scientific challenges in the field.
We provide a variety of resources to support the research community in our mission of fostering a culture of data-driven, innovative, progressive strategic approaches to population-level pediatric research. These include guidance and support in the following areas:
Grant application or study protocol development
Study design
Sample size and power calculations
Analysis methods
Randomization
Case report form design
Data management
Database development and administration
Survey development and collection
Data analysis and interpretation
Presentation and manuscript preparation
Training the next generation of public health experts
Our hard-working, engaged students are the heart and soul of the Center for Pediatric Population Health, and everything we do is focused on their success on campus and beyond. This commitment starts with our faculty and staff, who bring a wealth of real-world experience and diverse perspectives.
Faculty


Sarah E. Messiah, PhD, MPH
Professor and Director


Dr. Messiah is the inaugural director of the Center for Pediatric Population Health and a tenured Professor of Epidemiology, Human Genetics & Environmental Sciences at UTHealth School of Public Health. She is a perinatal/pediatric and life course epidemiologist whose research focuses on childhood obesity and cardiometabolic disease risk factors and the implementation of evidence-based practices into clinical and community-based settings to improve health outcomes.

Andrea C. Betts, PhD, MPH
Assistant Professor


Dr. Betts' cancer control research endeavors to enhance healthcare accessibility and the overall well-being of marginalized communities, with a special focus on individuals who have survived cancer during their adolescent and young adult years (AYAs). Her primary interest lies in the creation and execution of interventions grounded in empirical evidence, with the goal of enhancing the healthcare experiences and results for AYAs.

Alejandra Fernandez, PhD
Assistant Professor


Dr. Fernandez's research generally focuses on the health of Hispanic adolescents and their families. Her research is centered around improving family functioning between Hispanic adolescents and their family members in order to prevent and reduce adverse health outcomes, including substance use behaviors, sexual risk behaviors, adverse mental health outcomes, and obesity related outcomes. The mechanism primarily used in Dr. Fernandez's research to improve health outcomes is the development and testing of family-based interventions.

Serwaa S. Omowale, PhD, LMSW, MPH
Assistant Professor


Dr. Omowale's research is centered on examining how employment functions as a social determinant of health and its influence on racial disparities observed in maternal health and birth outcomes. Additionally, she is dedicated to the creation of interventions that are culturally sensitive, aiming to mitigate negative pregnancy outcomes among Black women. Dr. Omowale employs a range of research approaches to craft interventions tailored to specific populations, ensuring cultural appropriateness. Her ultimate goal is to address and eliminate health disparities in areas such as maternal mortality, infant mortality, and preterm birth outcomes, ultimately striving for health equity.


Jenil Patel, MBBS, MPH, PhD
Assistant Professor


Dr. Patel conduct research on congenital heart defects, along with designing new studies to create optimal occupational exposure assessment techniques in order to draw implications to reduce overall burden of birth defects. Additionally, he also works on conducting new epidemiological studies to identify environmental and occupational risk factors for pediatric asthma in North Texas.

Kevin C. Rix, Jr, PhD, MPH
Assistant Professor


Dr. Rix's research interests are primarily centered on injury and violence prevention, the application of implementation science principles to injury and violence prevention initiatives, and the field of injury epidemiology. Dr. Rix's research approach is strongly rooted in practical experience, as he dedicated seven years to managing an injury and violence prevention program at a level one trauma center in Austin, TX. During his tenure at the hospital, he served as a mentor for numerous UTHealth students who were completing their practicum experiences in injury prevention. His research primarily delves into the correlation between space-time factors and the risk of injury across various injury mechanisms.
Staff


Elhaam Bandali, MS, MPH
Program Manager

Elhaam is a Program Manager at the Center for Pediatric Population Health. She obtained her Master of Nutritional Health Sciences at Rutgers University and her Master of Public Health Epidemiology at The Richard M. Fairbanks School of Public Health at Indiana University. She provides day-to-day project management coordination for research projects and has experience with scientific writing, Institutional Review Board processes, and statistical analysis. Her previous positions have been in clinical and academic settings where she has supported various research projects from conception to completion. Her primary responsibilities included developing clinical databases, patient recruitment, data collection and analysis for both quantitative and qualitative projects, and manuscript writing. These roles have given her the opportunity to publish in peer-reviewed journals and to present at regional and national meetings of the American Urological Association and the Triological Society.

Elishia Barnett
Sr. Administrative Assistant

Elishia manages the daily administrative responsibilities at the Center for Pediatric Population Health. She graduated magna cum laude with a BS in Health Studies with a focus in Pre-Occupational Therapy at Texas Woman's University (TWU) in 2019. At TWU she was a member of the Honors Scholar Program and on the Dean's List and Chancellor's List.

Rashon Braxton, MPH
Research Coordinator

Rashon is the Research Coordinator on a NIH grant funded study that investigates adolescent decision making in completing metabolic bariatric surgery (MBS). She previously worked in academic institutions and nonprofit organizations administering research studies and designing community programs targeting health inequity and food insecurity. She has a deep passion for technology and innovation to maximize health outcomes in underserved populations.

Sunil Mathew, MS
Sr. Database Administrator


Sunil manages the data and database systems at the Center for Pediatric Population Health. He has over 15 years of experience in the design, development, and administration of research, clinical, and administrative databases and has collaborated on numerous clinical and observational studies in community and health care settings.

Sophia Ngenge, MPH
Research Coordinator

Sophia is the Research Coordinator II on a NIH grant funded bariatric research study that investigates influences associated with the decision to have or not have bariatric surgery. She obtained her Master of Public Health in Epidemiology from Texas A&M College Station. She provides day to day project coordination and supports the recruitment of participants and data collection. She has previous experience working in the medical devices industry and the health department where she gained experience in data collection, analysis and coordination of projects. She is interested in epidemiological approaches of solving public health issues.
Graduate Students/Postdocs


Kristina Hill, MPH, MIS
PhD Candidate/Graduate Assistant


Kristina is a PhD student in Epidemiology with focuses in maternal/child health and biostatistics. She works on various projects in conjunction with colleagues at the Center and Children's Health, most recently one comparing the effectiveness of different patient follow-up models in pediatric healthcare. Recent publications include two studies on the use of telehealth in pediatric care during the pandemic, also in conjunction with colleagues at the Center and at Children's Health. Kristina's research interests include the political and social determinants of health, and maternal/child health in refugee/PoC populations and conflict zones. She holds an MPH from the University of South Carolina and a master's degree in international studies from the North Carolina State University. She has been working in clinical trials technology for the past 5 years.
Dr. Xie is a NIH postdoctoral fellow. She received her PharmD in 2017 from University of Nebraska Medical Center and her PhD from UTHealth Houston School of Public Health in 2022. Her ongoing research mainly focuses on 1) population-based, pharmacoepidemiological studies in asthma; 2) epidemiological research on the health outcome and behaviors of pediatric patients diagnosed with COVID-19; and 3) genetic risk factors detection using Mendelian Randomization. Dr. Xie is also collaborating with multiple research teams from the Parkland Center for Clinical Innovation, Departments of Internal Medicine and Obstetrics and Gynecology at The University of Texas Southwestern Medical Center. She has co-authored over 30 manuscripts in peer reviewed journals and has presented her research at various national and international meetings. Dr. Xie has received the Women in Science and Medicine Advisory Committee Travel Award for outstanding poster presentation at UT Southwestern. She is also the recipient of the Denton A. Cooley, MD, Transformation and Hope Scholarship and the J. Fred Annegers Memorial Scholarship.
Alumni


Riley P. Brayton, MPH

Riley is a MPH graduate from the Department of Epidemiology, Human Genetics, and Environmental Sciences. She worked closely with Dr. Knell as his Research Assistant where her primary duties include patient enrollment and tracking, and accelerometer data processing and analysis for the Behavioral Factors Affecting Sport-Related Concussion (B-FAST) study. Riley's research interests include maternal and child health, with specific focus on maternity care in the United States. She plans to continue working in this field in a career as a Nurse Midwife.

Elisa Morales Marroquín, PhD


Dr. Marroquín is a passionate obesity researcher and former Fulbright Scholar. She obtained her Ph.D. and MS from Baylor University. Her research has focused on 1) the relation between the gut microbiota and body composition, 2) exercise and nutrition interventions that facilitate weight loss and prevent weight regain, and 3) mechanisms of action of metabolic and bariatric surgeries. She is interested in gaining new insights in our understanding of obesity in order to improve its treatment. She is currently an Assistant Professor of Nutritional Sciences at Texas Christian University.

Sitara Weerakoon, PhD, MPH


Dr. Weerakoon's research interests are in substance use epidemiology with a life course approach. She is skilled in data analysis, statistical methods, and geospatial analysis. Her master's thesis combined the use of structural equation modeling and geographic information system (GIS) mapping software, while her dissertation currently focuses on the use of latent growth curve modeling to explore child growth over time after exposure to substances in utero. She has contributed to papers on childhood obesity prevention and substance use in adolescence and adulthood. Her research has been covered by Forbes, the Independent, the Telegraph, Futurism, and many more. She also has several papers under review and in preparation regarding adolescent sexual health, substance use in adolescence, racial and ethnic disparities in adolescent mental health, and other topics relating to child health. Her work has been accepted for oral and poster presentations at several local, national, and international conferences. She is the recipient of the College on Problems of Drug Dependence Primm-Singleton Minority Travel Award and the James T. Willerson & Nancy Beamer Willerson Scholarship in the School of Public Health. Dr. Weerakoon received her PhD and MPH from UTHealth School of Public Health and BA in Public Health from Austin College. She is currently completing her post-doctoral training at Yale University.

Joshua S. Yudkin, MPH, MA
PhD Candidate/Graduate Assistant


Joshua is a global social epidemiologist whose research portfolio primarily focuses on employing transdisciplinary approaches to quantify and assess sociocultural factors in vulnerable populations. He has conducted both field and clinical research in rural communities in places such as Tamil Nadu, India and Chihuahua, Mexico as well as with hospital systems in Texas in the United States. He has presented at major conferences like the American Public Health Association (APHA) and currently serves on the Texas Society for Public Health Education (TSOPHE) executive board. Joshua's doctoral thesis is focused on Dynamo Kids! an e-Health intervention focused on addressing pediatric obesity for children ages 6-12 right here in Dallas, TX.

During his doctoral training, Joshua was awarded the Archer Fellowship from the University of Texas System, the Ralph I. Goldman Fellowship from the Joint Distribution Committee, and a Fulbright research grant by the United States Government and the Fulbright Commission in Colombia. Amongst other responsibilities and positions, Joshua currently holds a position as an Assistant Professor on the Faculty of Medicine at Universidad El Bosque in Colombia.

Joshua has published regularly in both academic peer-reviewed journals and in the popular press and is strong believer in paying it forward through intentional mentoring and coaching to both individual and organizational change agents around the world.


Chenguang Zhang, MS

Chenguang work focuses on biostatistics studies in electronic health record (EHR) data, especially in the high-dimension missing problems in EHR data. Having a background in medical and public health biostatistics, her research explores machine learning or deep learning methods usage in EHR or other claim data. She has been awarded the Dr. M. Stewart West Memorial Scholarship in Biometry, the Robert H. Bigelow Endowed Scholarship Award, and the Student Traveling Award from the Summer Institute in Statistics for Big Data (SISBID). She is currently completing her PhD at UTHealth School of Public Health.
Collaboration is the key to progress
The Center for Pediatric Population Health aims is to promote and facilitate collaborations among researchers, clinicians, and community organizations, so that together, groundbreaking research may be done that can have local, national, and global impacts on pediatric population health.
If you are interested in a research collaboration, please complete the following application:

We currently collaborate on research projects with:
Children's Health System of Texas
Children's Health Andrews Institute for Orthopaedics & Sports Medicine
UTHealth School of Public Health
UT Southwestern Medical Center
Parkland Center for Clinical Innovation
Dallas Independent School District
Dallas Park and Recreation
The Cooper Institute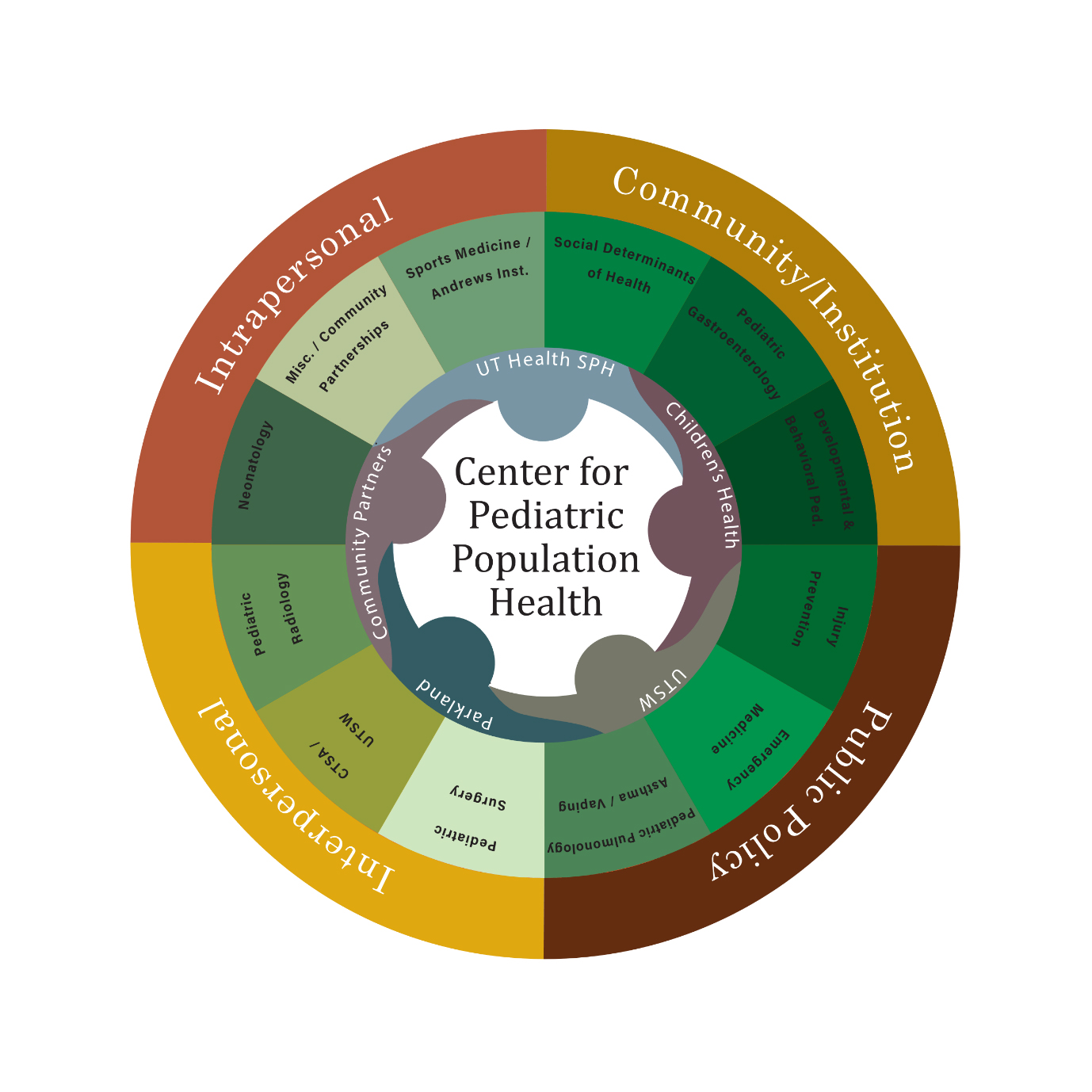 Contact us
Center for Pediatric Population Health
Trinity Towers
2777 N. Stemmons Freeway, Suite 8400
Dallas, Texas 75207
Phone: 972-546-2950
Fax: 214-819-3057
Email: Elishia.M.Barnett@uth.tmc.edu