About the Center for Pediatric Population Health
Improving the health of children and adolescent populations through evidence-based research.
Welcome to the Center for Pediatric Population Health (CPPH). The Center's mission is to support multidisciplinary research teams to conduct studies and programs in collaboration with health care providers and community organizations to improve the health of child and adolescent populations. We serve as a resource to translate scientific findings and knowledge into practical applications for public health practice, health care services, and health policies.
The Center is a unique collaboration between the UTHealth School of Public Health, one of the largest schools of public health in the nation, and the Children's Health System of Texas, the largest pediatric health care system in North Texas. Through this partnership, we have the capacity for regional and statewide reach. There has never been a greater time or opportunity to serve our Texas pediatric populations and aspire to health without boundaries for all.
Read our annual report here.
Follow us on social media
Stay connected through Twitter, Instagram, Facebook, or LinkedIn.
Current research studies
The Center has the capability and expertise to work in numerous areas in the field of population health. Currently, active projects and collaborations include:
Major areas of research
Social determinants of health (SDOH)
Sports-related concussions/sports medicine
Injury prevention and rehabilitation
Pulmonary care
Developmental and behavioral pediatrics
Healthy weight management
School and community-based interventions
What sets us apart
Population health is positioned at the intersection of medicine/health care and public health
A unique collaboration between UTHealth School of Public Health and Children's Health System of Texas, the Center for Pediatric Population Health was founded in 2018 to:
Collaborate and foster partnerships and transdisciplinary research in clinical and community-based settings.
Lead research discovery to generate evidence-based science and recommendations for clinical practice and community-based programming.
Transform through education, training, and mentoring to improve pediatric population health and instill a culture of health for all families.
Diversify our research portfolio with a nimble approach to meet immediate scientific challenges in the field.
We provide a variety of resources to support the research community in our mission of fostering a culture of data-driven, innovative, progressive strategic approaches to population-level pediatric research. These include guidance and support in the following areas:
Grant application or study protocol development
Study design
Sample size and power calculations
Analysis methods
Randomization
Case report form design
Data management
Database development and administration
Survey development and collection
Data analysis and interpretation
Presentation and manuscript preparation
Collaboration is the key to progress
The Center aims is to promote and facilitate collaborations among researchers, clinicians, and community organizations, so that together, groundbreaking research may be done that can have local, national, and global impacts on pediatric population health.
If you are interested in a research collaboration, please complete the following application:

We currently collaborate on research projects with:
Children's Health Medical Center
Children's Health Andrews Institute for Orthopaedics & Sports Medicine
UTHealth School of Public Health
UT Southwestern Medical Center
Parkland Center for Clinical Innovation
Dallas Independent School District
Dallas Park and Recreation
The Cooper Institute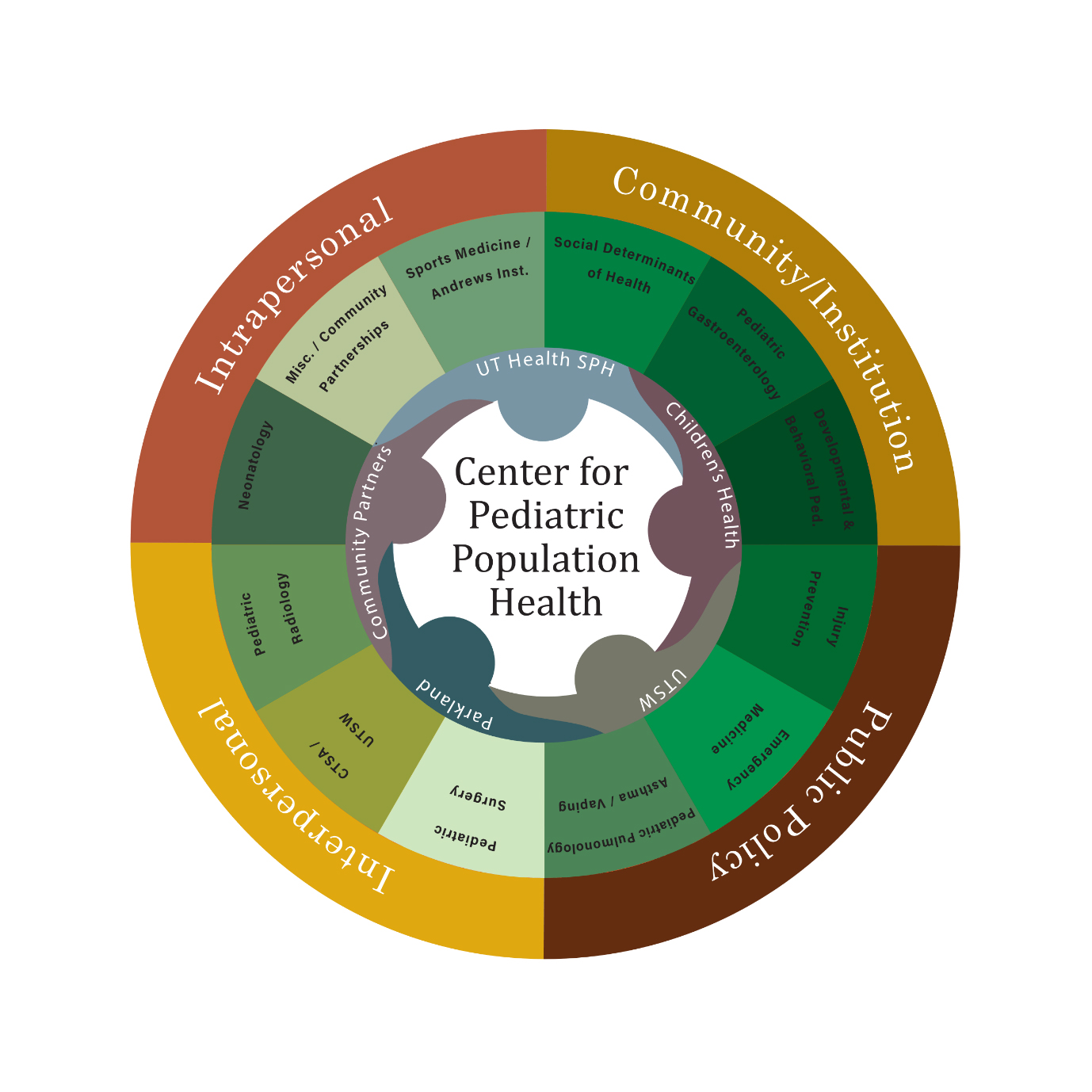 Contact us
Interested in collaborating?
Center for Pediatric Population Health
Trinity Towers
2777 N. Stemmons Freeway, Suite 8400
Dallas, Texas 75207
Phone: 972-546-2950
Fax: 214-351-7006
Email: Elishia.M.Barnett@uth.tmc.edu