Krishna Surasi, MD, MPH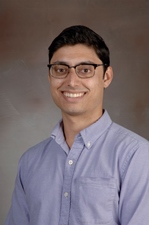 After completing the Occupational and Environmental Medicine Residency program funded by the Southwest Center for Occupational and Environmental Health (SWCOEH) Education and Research Center (ERC), I started working as an occupational medicine physician with Memorial Hermann Medical Group in Cypress, TX. In this position, I treat occupational injury and illness, perform medical clearance exams, offer pre-travel consultations, and provide urgent care services for Memorial Hermann employees. Since my tenure with the SWCOEH, I have also attained board certification in occupational medicine and become certified as a medical review officer. I continue to be a member of the American College of Occupational and Environmental Medicine (ACOEM).
What led you to public health and to occupational & environmental health in particular?
While I started my medical training in emergency medicine, which was a great place to gain clinical experience, I found myself as interested in addressing the root causes of emergency room visits as I was in managing the downstream concerns that prompted these visits. I started looking into residency programs in preventive medicine, but I did not want to give up clinical practice completely. I saw the occupational & environmental medicine program as a way to continue to treat patients for urgent medical conditions—something I enjoyed doing in the emergency room—while also learning a new skillset in public health with which I would be able to contribute to the prevention of those injuries.
Tell us about your work. What is an average day like for you?
Most of my day is spent treating patients who have been injured at work. A large proportion of these visits are musculoskeletal complaints. My patients' job sites, duties, and risks are varied, however, so I also see the occasional eye, ear, neurologic, dermatologic, pulmonary, cardiovascular, genitourinary, or infectious disease complaint. Additionally, I perform preventive services, such as Department of Transportation medical exams, fire fighter fitness-for-duty exams, routine pre-placement exams, and pre-travel consultation and immunizations. Outside of occupational medicine, my clinic is also open to employees of our own hospital system for urgent care visits. This is an occupational health initiative within our system, as it gives employees access to free medical evaluations at their workplace so they do not need to miss work or utilize expensive ER visits for routine complaints.
I have the most impact when I am able to successfully return a patient to work after an injury. Given that there are so many physical, psychological, and social benefits attributable to work, treating these patients always feels like much more than only fixing their presenting medical problem.
How did your education as a SWCOEH ERC trainee at UTHealth School of Public Health prepare you for your current career?
The most important training experiences for me were my public health rotations with the Harris County Public Health Department, the Occupational Safety and Health Administration (OSHA), and NIOSH. Those were my first opportunities to work hands-on in public health projects, which gave me a clearer idea of what a career in public health would really look like. The contacts I made during those rotations have also been the most helpful to me after residency as I looked for opportunities to stay active in public health. I still keep in contact with my program director to ask for advice about occupational medicine practice and career advice in general. I also see former faculty, residents, and UTHealth SPH students at journal clubs, which are a great opportunity to network and get the inside scoop on career opportunities. I remain good friends with my former co-residents and we text each other frequently to discuss cases or share information. In fact, I currently work for one of my former co-residents who graduated the year before me.
What advice do you have for students pursuing a SWCOEH ERC traineeship leading to a career in public health?
I would encourage future applicants to think about what they ultimately want to achieve with their training. Find a mentor whose work you respect or a dream job you would like to land one day. Keep that goal in mind as you progress with your training, and choose the opportunities you think will most help you achieve it. That goal may change as you learn and do more, but being aware of it will help you focus on what matters most to you and help guide the narrative for the career path you want.