Southwest Center for Occupational and Environmental Health's Daywalker, Perkison make presentations at AOHC Virtual 2021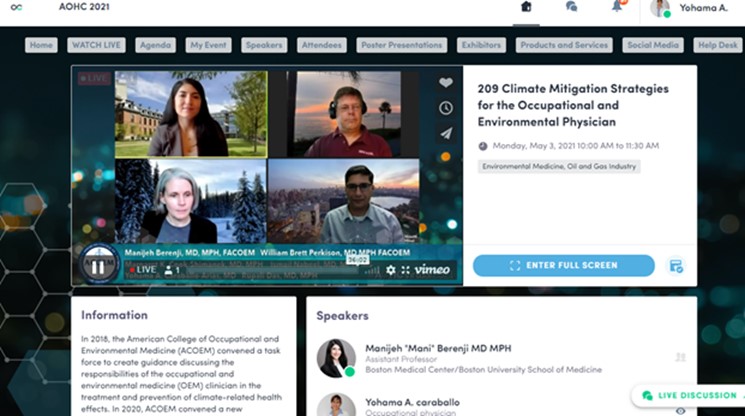 HOUSTON (May 4, 2021) – Two representatives of The Southwest Center for Occupational and Environmental Health (SWCOEH) were featured presenters at the 2021 American Occupational Health Conference (AOHC Virtual 2021) this week.
Rosandra Daywalker, MD, an occupational medicine resident and PhD student in Total Worker Health®, presented "The Trauma Informed Approach for Patient and Practitioner Well-being" on May 3. Daywalker was awarded a full scholarship for AOHC Virtual 2021 by the American College of Environmental Medicine (ACOEM) Special Interest Section and the Occupational and Environmental Health Foundation.

William "Brett" Perkison, MD, MPH, an Epidemiology, Human Genetics & Environmental Sciences (EHGES) faculty member and Program Director of the Occupational and Environmental Medicine (OEM) Residency program, made three presentations: "Hurricane Harvey Outreach Program and Survey" (May 3), "Climate Change Guidance Statement for Occupational Medicine Physicians" (May 4) and "A primer on Environmental Health" (May 5).
The AOHC is the premier professional meeting for physicians and other health professionals who have an interest in the OEM field. The OEM residency at SWCOEH, within UTHealth School of Public Health, funds practicing physicians desiring to be qualified for careers in occupational and environmental medicine in private practice, industry, government, military or academia. The two-year program includes completion of requirements for a Master of Public Health degree, and 12 months of full-time experiential rotations in various aspects of professional practice in the field. Visit www.SWCOEH.org to learn more about available traineeships.