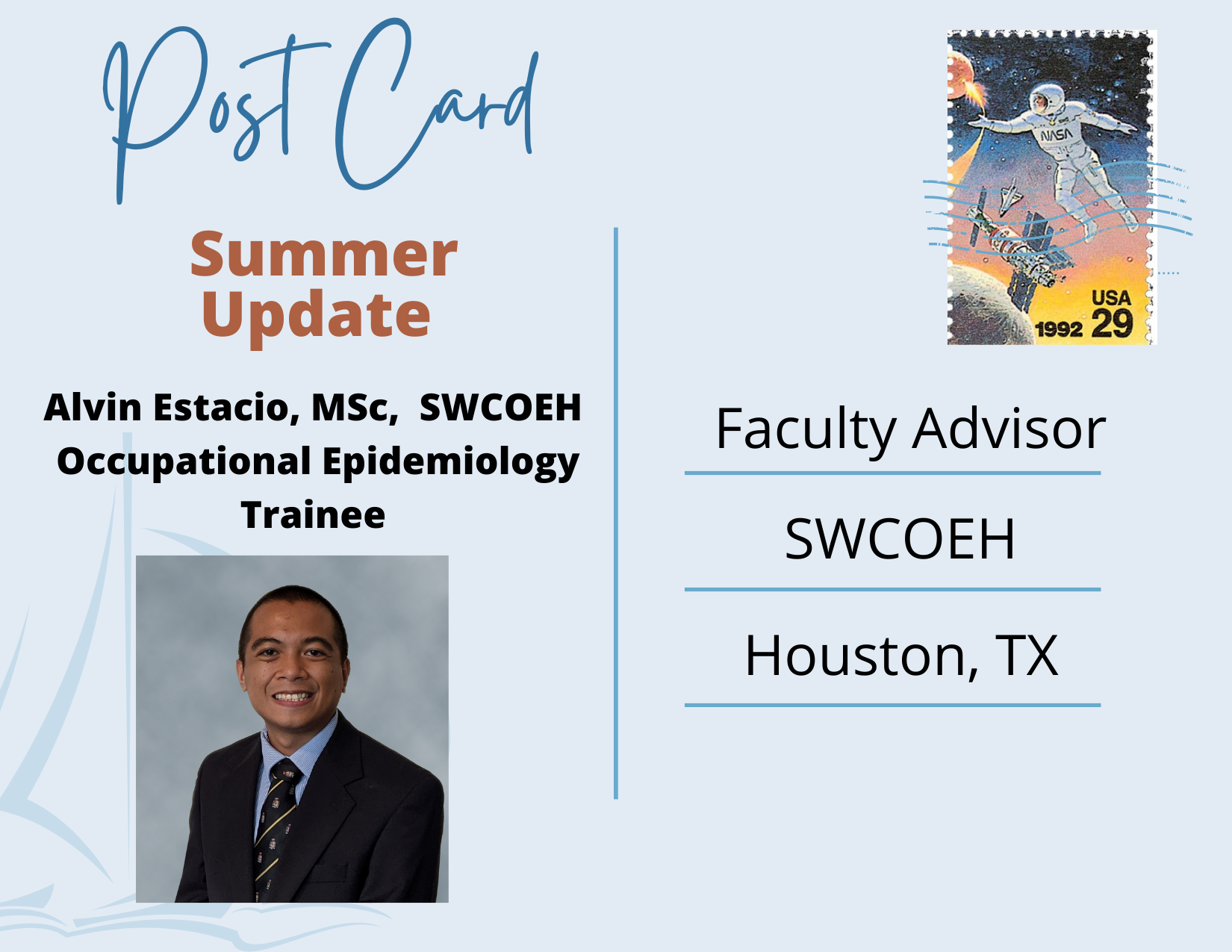 Estacio studies Apollo astronaut medical records during NASA internship
Alvin Estacio, MSc, is a NIOSH Trainee in Occupational Epidemiology at the Southwest Center for Occupational and Environmental Health (SWCOEH). Estacio earned his Master of Science in Epidemiology at UTHealth in 2019 and earned his Bachelor of Science in Biomedical Engineering at the Florida Institute of Technology in 2016. His research interests include improving vaccination coverage in vulnerable populations, identifying occupational health inequities, and preventing work-related disease incidence and injuries.
As NASA's Artemis program hopes to return astronauts to the moon, medical events and symptomatology associated with lunar transit and landings pose significant concerns. Estacio's internship included a comprehensive review of historic Apollo medical records and other sources to extract medical events and symptomatology associated with lunar surface landings. Estacio's task was to help create a database of medical events and associated information extracted from Apollo paper records. The extracted information will be used to understand human systems risk and plan countermeasures as exploration missions continue.
"Alvin's extraordinary experience interning with NASA highlights the invaluable opportunities that our occupational epidemiology doctoral training program at SWCOEH provides," said Jenil Patel, MBBS, MPH, PhD, Assistant Professor and the Director of the SWCOEH Occupational Epidemiology Doctoral Training Program. "As an intern, Alvin's significant contribution to NASA's crucial Artemis program reveals the real-world impact and outreach that our program holds in the field of occupational health. Through rigorous training and mentorship, our students are equipped to tackle complex occupational and environmental health challenges, as Alvin did with his experience at NASA. This experience demonstrates how our graduates gain the skills, insights, and perspectives needed to excel as occupational health and safety researchers addressing important health concerns. We are extremely proud of Alvin for successfully completing this internship at NASA!"
Mr. Estacio shared insight on his internship with SWCOEH.org.
SWCOEH.org: How did the internship come about?
Estacio: Dr. David Gimeno (SWCOEH Director) reached out to me in May about an internship opportunity with NASA. I said I was interested and sent over my CV and about a week later, found out NASA was interested in working with me. They met with me to discuss the project in more detail, I filled out some paperwork, and then I moved to Houston for the summer. The whole process was kind of a whirlwind. It all happened really fast and at the time I was actually traveling in Japan and had only about a week between when I got back and when I needed to be in Houston.
SWCOEH.org: What was a typical day like for you?
Estacio: Most days were spent reviewing archived historical records from the Apollo missions to extract health-related events that potentially may be relevant for the upcoming Artemis missions. NASA also has a large summer internship program, so they also had several intern lectures and tours. I was able to see the various people involved in keeping astronauts safe and healthy.
SWCOEH.org: What did you learn?
Estacio: I learned a lot about the health hazards and health issues that astronauts are exposed to while out in space and performing necessary job tasks. I also learned about the complexity of analyzing astronaut health data because they're a very unique occupational population and there are so few of them.
SWCOEH.org: Did you have any mentors or teachers at NASA?
Estacio: Yes, my primary NASA mentor, Dr. Jackie Charvat, helped immensely in teaching me all about astronaut health. Several archivists also taught me a lot about the preservation of non-digital records and how to navigate locating records.
SWCOEH.org: How do you think this experience will help you in the future?
Estacio: My internship experience showed me the importance of collecting data with a clear purpose and making sure to organize it in a way that other future collaborators can easily understand and sift through. Keeping this in mind, I think, will make me a better researcher and collaborator.
SWCOEH.org: Is there anything else you'd like to add?
Estacio: I enjoyed this experience and the opportunity to learn about astronaut health, which I knew little about before starting. I didn't even know beforehand how integral epidemiologists are at NASA.
---
The SWCOEH provides a variety of graduate-level training opportunities for occupational and environmental health professionals through our industrial hygiene, occupational and environmental medicine, occupational epidemiology, and Total Worker Health® programs.