NAOSH Week & the SWCOEH – Outreach
HOUSTON (May 4, 2022) – The Southwest Center for Occupational and Environmental Health (SWCOEH) at UTHealth Houston is celebrating North American Occupational Safety and Health Week (NAOSH Week), an annual observance held in the first full week of May to spread awareness about occupational safety and health and to bring in systems that ensure the safety and well-being of workers.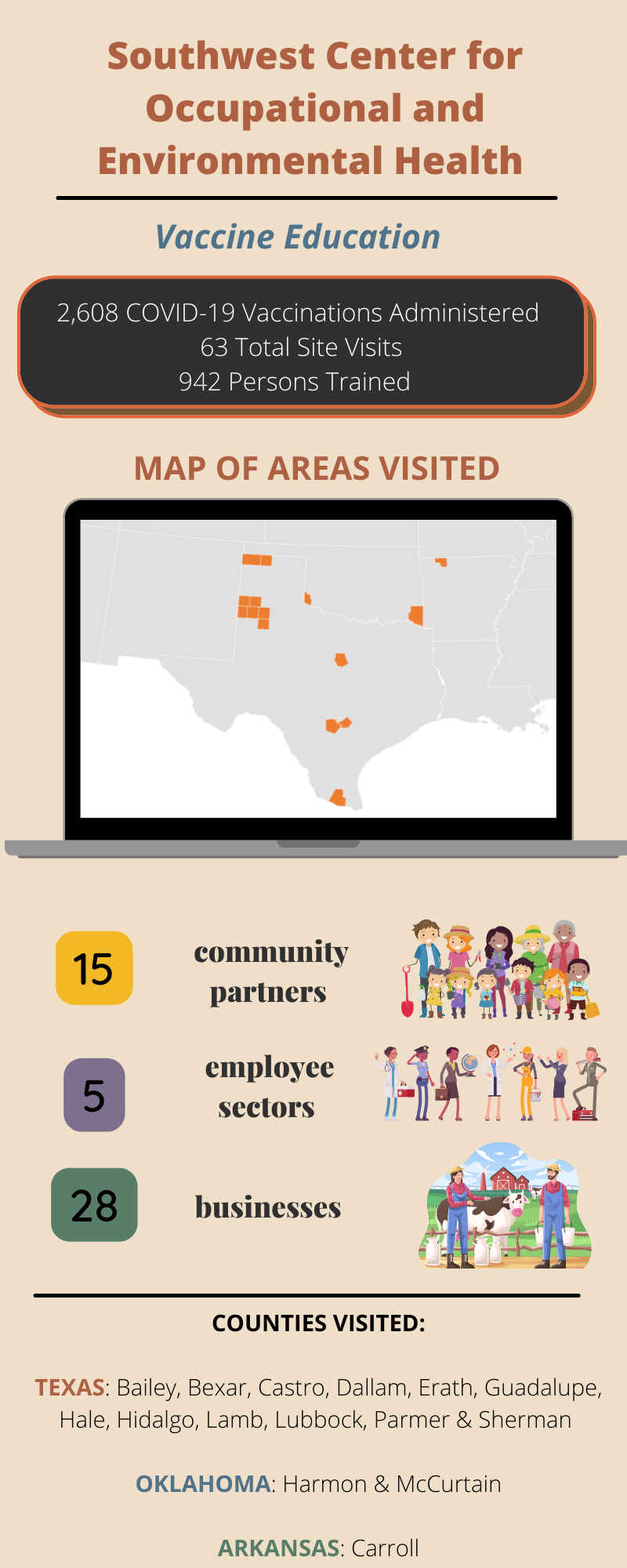 Today (Wednesday), we highlight the SWCOEH's outreach efforts in occupational and environmental health.
SWCOEH faculty have taken several opportunities to support workers during the COVID-19 pandemic. As of January 2022, the faculty have provided on-site training to over 1,000 workers and 28 businesses across PHR6 (Region VI - South Central Public Health Training Center) on keeping workers and customers safe, returning to work, use of personal protective equipment (PPE), and provided consultations.
SWCOEH faculty – including Anabel Rodriguez, PhD, MPH, an Assistant Professor and Director of the SWCOEH Outreach Program as well as William "Brett" Perkison, MD, MPH, and David Gimeno, PhD – have worked with 15 health and non-health community partners to facilitate over 60 on-site clinics in small, medium, and large employers in Arkansas, Oklahoma, and Texas.
Rodriguez, Perkison and Gimeno travelled across Texas, Oklahoma and Arkansas, visiting dairy farms, produce farms and sheds, food processing plants, and construction machine companies such as Tyson Foods and Caterpillar Inc. to answer questions directly from concerned and undecided employees.
---
George Delclos, MD, MPH, PhD, Professor and Deputy Director of the SWCOEH, spoke at the Texas CARES: Covid-19 antibody project webinar in May 2021.
Read more about the Texas CARES survey, including questions answered.
---
Dr. Delclos also provided an update on COVID-19 variants and vaccines in October 2021.
---
In addition to vaccine education, the SWCOEH helped advise organizations on returning to work during the COVID-19 pandemic.
To help guide businesses across the state, a seven-part, weekly, industry-specific webinar series was created: Reopen Texas: Return to Work the Right Way. The collaboration between The University of Texas Health Science Center at Houston (UTHealth) School of Public Health Southwest Center for Occupational and Environmental Health (SWCOEH); the Prevention, Preparedness, and Response (P2R) Academy; and the Health and Safety Council (HASC) helped answer questions on the safe return to work when reopening businesses and other environments.
The series educated employers and workers in the following industries: retail, restaurant, construction and manufacturing, places of worship, promoting mental health and employee resilience, personal care establishments, and other healthcare settings. Read more about Reopen Texas.
---
Finally, the SWCOEH provided a web hub for COVID-19 information and resources across Federal Public Health Region 6 (PHR6).
Learn here more about the SWCOEH and all that we offer, including our latest news.