Summer Update – Aro Choi lands Senior Research Associate position with UNT Health Science Center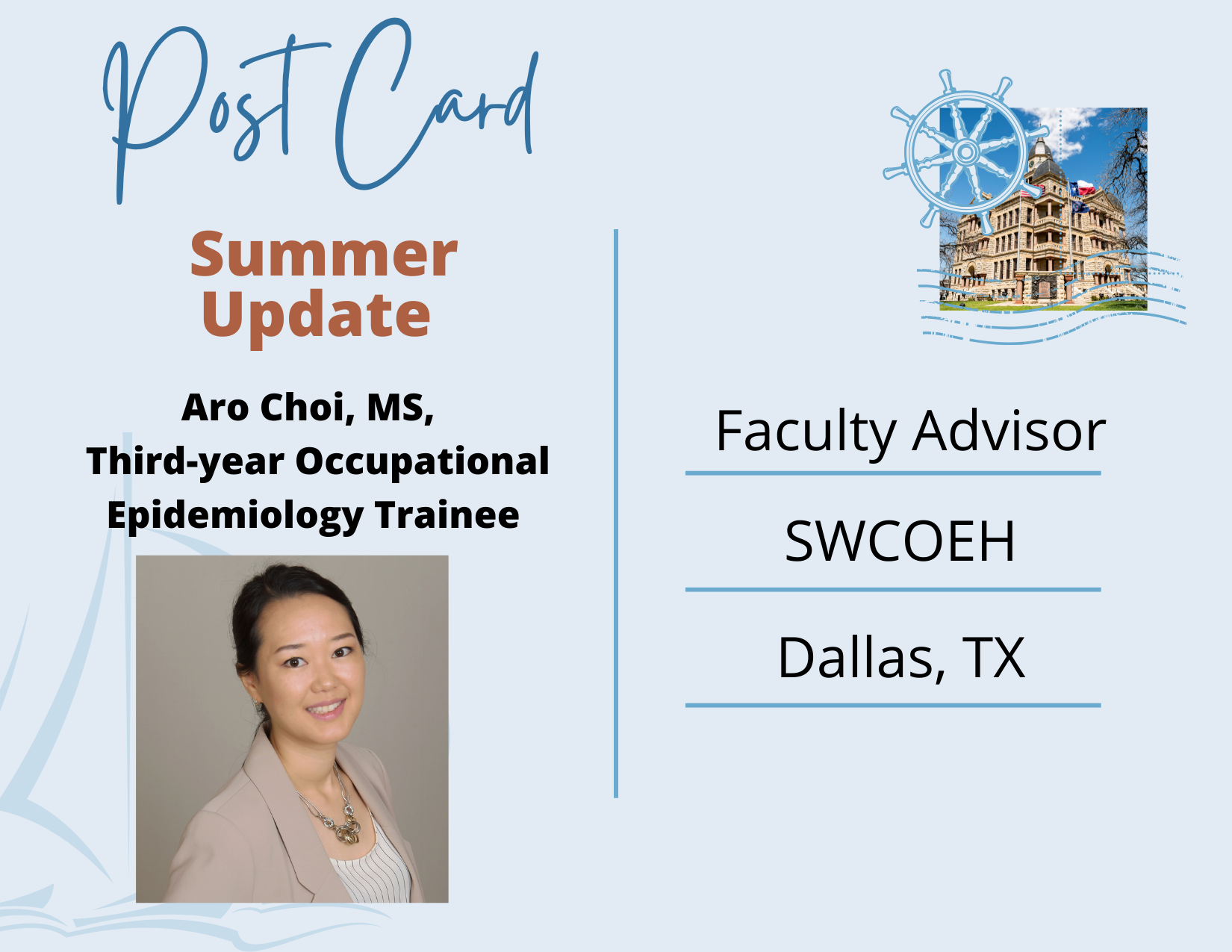 Aro Choi, MS, is a third-year PhD student in Occupational Epidemiology at the Southwest Center for Occupational and Environmental Health (SWCOEH). Ms. Choi earned a Master of Science in Biostatistics at Duke University. She has worked as a statistician in the division of infectious disease at UTHealth San Antonio. She has extensive experience in data analytics from previous roles at Duke Clinical Research Institute, GlaxoSmithKline (GSK), NC Department of Health and Human Services (NC DHHS), and the Center for Research to Advance Community Health (ReACH). Her research interest is to develop measurement for occupational determinants of health.
"Ms. Choi has been an outstanding student at our Occupational Epidemiology doctoral program," said Jenil Patel, PhD, Assistant Professor and Program Director for the Occupational Epidemiology Doctoral Training Program at the SWCOEH. "Within her short time at the SWCOEH, she made a profound impact by getting involved in several projects at the center, and providing her statistical expertise on several projects including a few on the COVID-19 pandemic. Her desire to learn and applying the principles into practice at the same time has undoubtedly helped her secure the research position at UNT. She has set an example for our current and incoming students, and her journey demonstrates how capable the center is in providing opportunities to doctoral students in applying the concepts into research practice. We wish Aro the very best in her next endeavor."
Ms. Choi shared insight on her new position with SWCOEH.org.
SWCOEH.org: What will you do in your role as Senior Research Associate?
Ms. Choi: "I will provide statistical expertise for multiple projects in the Center for Health Policy at the University of North Texas Health Science Center (UNTHSC). One of my main projects is the Rural Telementoring Training Center (RTTC) project. In this project, I will lead statistical analyses of RTTC activities including program outreach and telementoring implementation."
SWCOEH.org: Can you please tell us more about the RTTC?
Ms. Choi: "The RTTC provides free training, tools, and technical assistance to support the implementation and evaluation of telementoring programs for rural and remote health care workers. By using a "train-the-trainer" approach, we aim to provide the tools organizations need to develop or expand their own telementoring programs. Our overarching goal is to support the delivery of evidence-based, high-quality telementoring programs that expand access, build cultural proficiency, and improve the quality of health care in rural and remote America. For more information, visit the RTTC website."
SWCOEH.org: What are you hoping to learn or gain experience in with this position?
Ms. Choi: "I would like to learn more about the rural and remote health care workforce. What they need and what works best for achieving their goals and improving health outcomes in rural and remote areas."
SWCOEH.org: Who will be your mentor or teacher in this position?
Ms. Choi: Waridibo (Wari) Allison, MD, PhD, will be my mentor. Dr. Allison is Vice President of Health Policy and Associate Professor in the Department of Medical Education at UNTHSC. She is also the Director of the Center for Health Policy. I first met her with my previous employer, UTHealth San Antonio, and she has been my mentor and role model as a researcher since 2017.
SWCOEH.org: Is there anything else you'd like to add?
Ms. Choi: "As a SWCOEH occupational epidemiology trainee, I am excited to observe and apply what I learned through my PhD program to the real-world rural and remote health care workforce. I hope I can contribute to improving the job satisfaction and well-being of rural and remote health care workers."
---
The SWCOEH provides a variety of graduate-level training opportunities for occupational and environmental health professionals through our industrial hygiene, occupational and environmental medicine, occupational epidemiology, and Total Worker Health®.