SWCOEH collaboration results in AHA presentation on patterns of work and high blood pressure
Houston (April 25, 2022) – A group of collaborators from the UTHealth School of Public Health and Southwest Center for Occupational and Environmental Health (SWCOEH) presented a poster at the American Heart Association Epidemiology and Prevention–Lifestyle and Cardiometabolic Health 2022 Scientific Sessions in March. The group included Dr. Brett Perkison, first author Tia Lal and Sadie Conway, PhD.
Dr. Conway, PhD, a former NIOSH Occupational Epidemiology trainee within the SWCOEH, was a principal investigator and Dr. Brett Perkison, MD, MPH, the OEM Residency Program Director for the SWCOEH, was a co-investigator on the study featured in the poster presentation titled, "Longitudinal Work Hour Patterns Associated With Hypertension Risk".
"This study benefited from being a collaboration across the SWCOEH, the Department of Epidemiology, Human Genetics and Environmental Sciences (EGHES), and the Department of Biostatistics and Data Science, as it capitalized on the unique strengths of each," Dr. Conway said. "The data set created for this study was one of the most complex to date for assessing the influence of work hours and work attributes on worker health, in general, and chronic disease, more specifically, spanning up to 30 years of time-varying exposures. The contributions of each department and the perspectives of the experts involved in the research enabled us to capitalize on the available data and pursue different lines of inquiry, all with the goal of advancing worker health."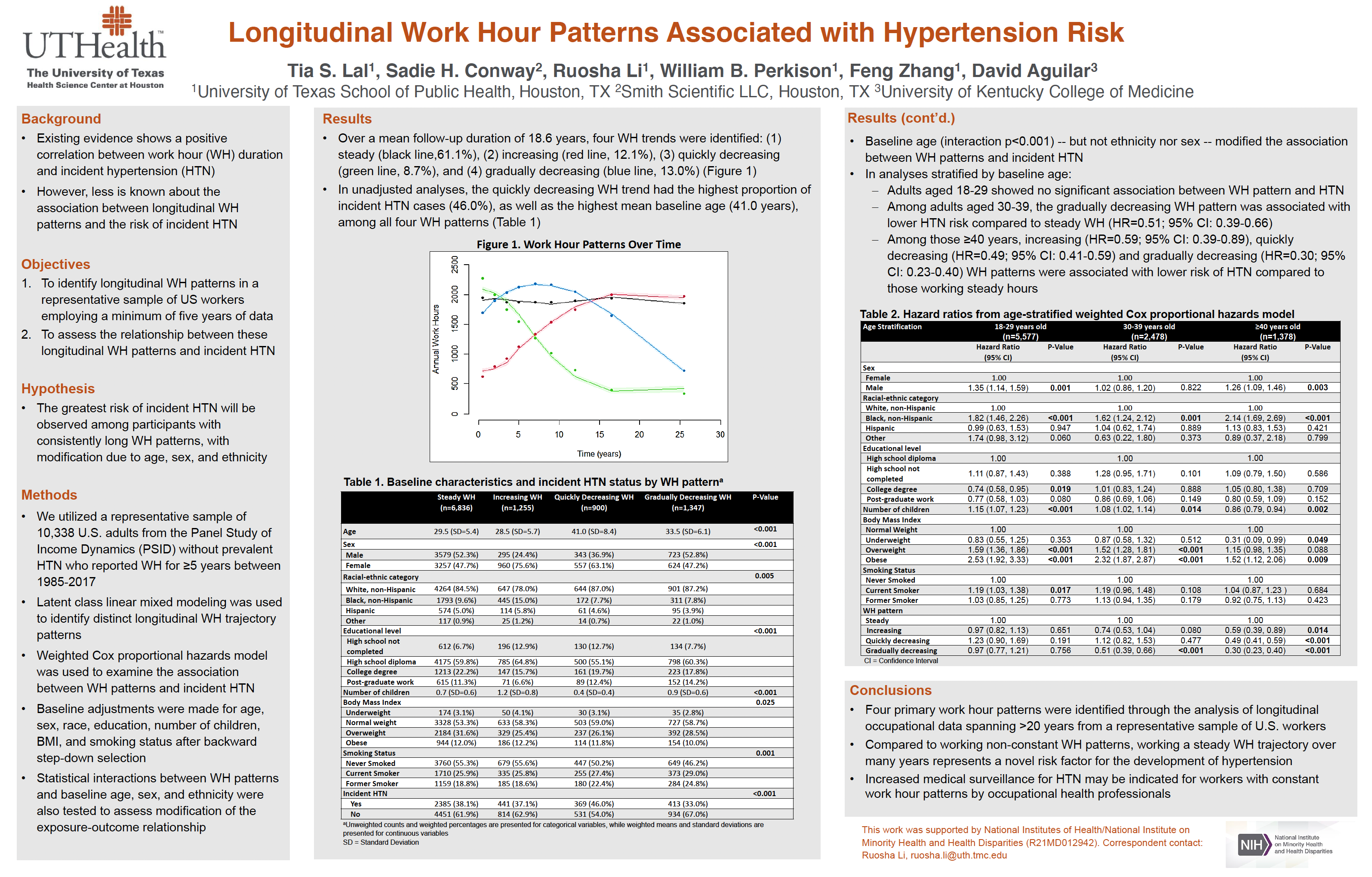 Dr. Conway believes both employees and employers can benefit from the study's findings.

"Although it's not appropriate to generalize too broadly from a single study, we did see evidence that consistent levels of work hours over long periods of time – what most Americans would consider standard, full-time hours, equivalent to about 40 hours per week – were associated with negative health outcomes in a way that other patterns reflecting change over time were not," Dr. Conway said. "This was a surprise, as we had hypothesized that work hour patterns that showed variation over time might indicate declining health. Instead, this study suggests that lacking work schedule flexibility may be more detrimental to health than having some flexibility."
The study used publicly available data from the Panel Study of Income Dynamics (PSID), a nationally representative survey of more than 22,000 households, ongoing since 1968. The study followed 10,338 U.S adult workers from 1985-2017 who were re-interviewed every year until 1997 and then every two years thereafter. The workers were asked about their sociodemographic information, employment and occupational data as well as various self-reported health measures. The worker sample was representative of the different racial, ethnic and socioeconomic groups that make up the U.S. population.

"Our research is innovative because it is the first study to identify time-varying work hour patterns in a representative cohort of U.S adult workers spanning over 30 years of follow up," said Lal, the first author of the poster and a PhD Student in the Department of Biostatistics & Data Science at the UTHealth School of Public Health.
"It also is the first study to examine the association of these work hour patterns on hypertension incidence," Lal said. "We were able to identify four work hour patterns: one steady work hour pattern, one increasing work hour pattern, and two decreasing work hour patterns with different rates of decline. Our study suggests that these non-constant work hour patterns may be protective against incident hypertension by reducing the risk of development by 40-70 percent in adults who entered the study when they were 30 years of age or older, after adjusting for several sociodemographic and health-related factors."
The SWCOEH provides a variety of graduate-level training opportunities for occupational and environmental health professionals through our industrial hygiene, occupational and environmental medicine, occupational epidemiology, and Total Worker Health®.