Undergraduate Summer Research Experience
Summer 2024 UTHealth - Cancer Prevention Research Institute of Texas (CPRIT)
Innovation in Cancer Prevention Research Experience for Undergraduates
June 3rd through August 9th, 2024
Stipends for 10 weeks are $6,000, fully funded by the Cancer Prevention & Research Institute of Texas grant.
Do you like to think outside of the box?
This quality cancer education and career development program offers placements with accomplished researchers at the McGovern Medical School and MD Anderson Cancer Center UTHealth Graduate School of Biomedical Sciences in Houston and the UTHealth School of Public Health in Houston, Austin, Dallas, San Antonio, Brownsville, and El Paso.
The program's unique focus on helping trainees learn to ask important research questions and apply cutting-edge methods to stimulate innovative thinking to their projects.
Applications for trainee positions are open now and linked below!
Trainee applications are available at: https://redcap.link/2024CPRIT-summer-program
Interviews are typically from late February through March
The first round of decisions begins in the first week of March
Applications for faculty mentors are open now and linked below!
Mentor applications are available at: https://redcap.link/2024-summer-mentor-application
Questions? Email CPRITSummer@uth.tmc.edu
About CPRIT - http://www.cprit.state.tx.us/
Undergraduate Trainee Comments and Trainee Publications
"I really appreciated not only doing the scientific research but also the training we received on innovation and public speaking. I also enjoyed going to the research poster/speech event before going to the mid-course dinner. The program was excellent and I would recommend it to others."

"I loved this program. Great program for undergraduates to see into the world of research through great mentors."

"All in all a wonderful experience, I learned a lot."

"Overall, the experience in this program was excellent!"
What will trainees be doing?
Work with UTHealth faculty mentors and their research teams for 10 weeks to complete a research project in cancer prevention and incorporate Tools for Innovation.
Each week, you will engage in research, cancer seminars, and professional development workshops Monday through Friday from 8 am - 5 pm.
Take the Massive Open Online Course on innovative thinking by Roberta B. Ness, MD, MPH, who literally wrote the book(s) on innovation.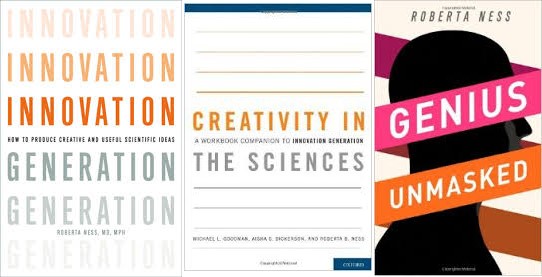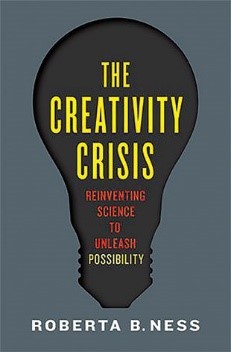 Click on the photo below to see Dr. Ness' TEDx Houston talk, "Innovative thinking: Can you be taught?"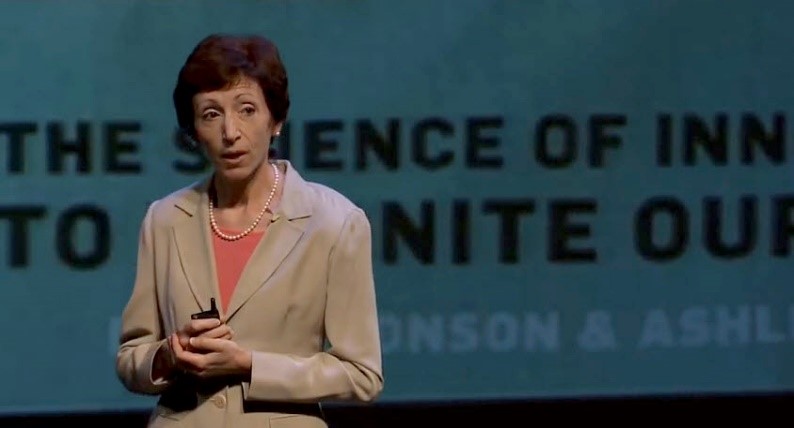 Do puzzles, problem-solving, and exercises in the review sessions anchored by senior doctoral and postdoctoral fellows.
Attend seminars led by faculty on ongoing cancer research.
Perfect skills in scientific presentations.
In our Closing Ceremony, all trainees will present posters on their research projects, and finalists will compete in the elevator speech finals
Review the 2021 Poster Winners.
Watch the 2019 Elevator Speech Audition Videos:
2nd Place Winner
Project profiles

Mentors have proposed cancer-related projects that provide a wide variety of experiences. Be sure to click on the project name to read the description and see learning objectives and activities. Mentor's CVs are posted on the websites of their schools.
Austin


UTHealth School of Public Health-Austin Campus

Courtney Byrd-Williams, PhD
Project: Preventing breast and ovarian cancer by supporting working mothers

Deanna Hoelscher, PhD, RD, LD, CNS
Project: Analyzing and disseminating results from the STREETS (Safe Travel Environment Evaluation in Texas Schools) study

Adriana Perez, PhD
Project: Programming Sankey graphs for tobacco research with sampling weights
Dallas


UTHealth School of Public Health-Dallas Campus

Bijal Balasubramanian, PhD
Project: Care coordination for complex cancer survivors in an integrated safety-net system

Katelyn Jetelina, PhD
Project: Identifying competing demands that influence health outcomes among breast and cervical cancer survivors

Gregory Knell, PhD
Project: Evaluation of relations between physical activity and sleep in Texas children

Kymberle Sterling, DrPH, MPH
Project: The C'RILLOS Project: claims of reduced-risk in little cigar and cigarillo advertisements
El Paso


UTHealth School of Public Health-El Paso Campus

Eric Jones, PhD
Project: Social mechanisms for outcomes in cancer survivorship
Houston


UTHealth School of Public Health-Houston Campus

Cici Bauer, PhD
Project: Spatial-temporal analysis for population health data

Paula Cuccaro, PhD
Project: Social marketing and mobile school-based vaccination clinics: an innovative approach to increase HPV vaccination

Kayo Fujimoto, PhD
Project: Projects young men's affiliation project; HIV intervention models for criminal justice involved substance using black msm

Lara Savas, PhD
Project: Salud en Mis Manos: Developing and evaluating a social media campaign to engage rural and medically underserved Latinas in cancer prevention and control services

Irene Tami-Maury, DMD, MSc, DrPH
Project: The PRIDE Project

Sally Vernon, PhD
Project: Developing a strategic plan to make our successful multi-component HPV vaccination program irresistible to Texas pediatric clinics
UTHealth School of Biomedical Informatics
Muhammad Amith, PhD
Project: Chew on this!
Yang Gong, MD, PhD
Project: Medication self-management and timely reporting for chemotherapy patients
Xiaoqian Jiang, PhD
Project: Machine learning based smart phone cancer risk assessment
Cui Tao, PhD
Project: Harnessing deep learning for understanding public perception of harm of vaping using social medial
Xiaobo Zhou, PhD
Project: Artificial intelligence improves liver cancer screenings
UTHealth McGovern Medical School
Melissa B. Aldrich, PhD
Project: Cancer-associated lymphedema
Ali Azhdarinia, PhD
Project: Molecularly targeted probes for cancer detection and therapy
Guangwei Du, PhD
Project: Lipid metabolism in cancer
Leng Han, PhD
Project: Dissecting novel genetic elements from human cancers
Arash Kamali, MD
Project: Non-invasive differentiation of the brain tumors using ADC value measurement on brain MRI
Melvin Klegerman, PhD
Project: Production of doxorubicin-loaded liposomes for targeted, controlled release treatment of breast cancer
Dung-Fang Lee, PhD
Project: Modeling Cancer with Pluripotent Stem Cells
Rachel Miller, PhD
Project: Role of p53 in kidney development: modeling renal anomalies of li-fraumeni patients
Rachael Sirianni, PhD
Project: Nanoparticle formulation for the treatment of pediatric brain tumors
Jennifer Walker, PhD
Project: Defining the host-bacterial factors that influence breast implant infections following post-mastectomy reconstruction due to cancer
UTHealth School of Dentistry
Walid Fakhouri, PhD
Project: Computational model for predicting deleterious non-coding DNA variations in cancer
Mary Farach-Carson, PhD
Project: Bioengineering a colon cancer avatar for new approaches to early detection and treatment
Daniel Harrington, PhD
Project: High-throughput, high-content drug screening on a microfluidics perfusion plate
UTHealth School of Nursing
Stacey Crane, PhD
Project: Development of a web-based interface to support self/parent symptom assessments for children with cancer
TIRR Memorial Hermann
Lex Frieden, MA, LLD
Project: Southwest Americans with Disabilities Act (ADA) Center
MD Anderson Cancer Center UTHealth Graduate School of Biomedical Sciences
Margarida Albuquerque Almeida Santos
Project: DNA damage response and epigenetic deregulation in myeloid leukemias and b cell lymphomas
Laura Beretta, PhD
Project: Chemoprevention in hepatocellular carcinoma
Florian Muller, PhD
Project: Pantothenate kinases as novel precision oncology drug targets
Simona Shaitelman, MD, EdM
Project: Genomic predictors of radiation response in breast cancer
Shuxing Zhang, PhD
Project: Virtual Reality (VR) and Artificial Intelligence (AI) for Cancer Therapeutics Development
How to apply
Trainee applications are open now for summer 2024!
Apply at: https://redcap.link/2024CPRIT-summer-program
All application materials (including one letter of recommendation, CV/Resume, required essay, unofficial transcripts, and the online application) will be due on January 17th, 2024 at 11:59 pm CST.
Eligibility requirements:
Open to all undergraduates except

seniors graduating before Fall 2024.

Minimum 3.0 GPA required
Students must reside in Texas during the summer program to receive a $6,000 stipend
Applicants from diverse backgrounds, including underrepresented minority students, students from economically disadvantaged and underserved backgrounds, and students with disabilities, are highly encouraged to apply
Semi-finalists will be notified by early February 2024.
Trainee interviews for final selection will be conducted in late February through March 2024.
Questions?
If you have additional questions or would like more information about CPRIT Summer Undergraduate Research, please contact:
Patricia Dolan Mullen, DrPH, MLS

Director and Professor, Department of Health Promotion & Behavioral Sciences
UTHealth School of Public Health
7000 Fannin, Ste 2522
Houston, TX 77030
Phone 713-500- 9658
Email: Patricia.D.Mullen@uth.tmc.edu

Sahiti Myneni, PhD

Associate Director and Associate Professor
UTHealth School of Biomedical Informatics
7000 Fannin
UCT 600
Houston, TX 77030
Phone: 713-486-0115
Email: Sahiti.Myneni@uth.tmc.edu

Natalie Sirisaengtaksin, PhD

Postdoctoral Research Fellow
UTHealth McGovern Medical School
Department of Microbiology and Molecular Genetics
6431 Fannin St.
MSB 1.304
Phone: 713-500-5466
Email: Natalie.Sirisaengtaksin@uth.tmc.edu

Kandace Parks

Research Coordinator
UTHealth School of Public Health
7000 Fannin
UCT 2510J
Houston, TX 77030
Phone 713-500-9476
Email: CPRITSummer@uth.tmc.edu
How to apply to be a mentor
We are accepting mentor applications for summer 2024. Please complete an application at https://redcap.link/2024-summer-mentor-application
Applications due on January 29th, 2024 at 11:59 pm CST.
Guide for writing short a description of the trainee's project.
Comments from previous Mentors
"I have participated in the CPRIT Undergraduate Research Experience for the last few years and each time I find it to be an incredibly rewarding experience. The students get exposed to cutting edge approaches and topics in biomedical research, and the mentors get the satisfaction of introducing modern research to their trainees. In addition, the program really teaches the students to approach their research with an eye to innovation and impact. Most of the students that I have interacted with have found this program to be extremely useful in defining their future career goals."- Jeffrey Frost, PhD
"Through the CPRIT Summer Undergraduate Research Experience, our entire team was urged to expand our viewpoints and reach for novelty in every aspect of our student's project. We held a clear vision of our project goal, but let the methods for reaching that goal remain fluid. On the first day that our student arrived, she and I sat in my office and made a plan for her to produce a poster and talk that would win awards, and she did! More importantly, it was always our goal to generate a paper with our student out of her summer work, and we're finishing that manuscript now." - Daniel Harrington, PhD
"I have served as the mentor for three CPRIT undergraduate students over the past two years. It has been a very rewarding experience for both me and the summer students who worked in my lab. The CPRIT program allows the mentor and the students to work on biomedical research of their interests. All my CPRIT summer students were able to complete research projects that lead to peer-reviewed full articles." -Tao Cui, PhD
"During 2015 summer, we actively engaged in the program and recruited a rising sophomore in Computer Science at UT Austin to our Patient Safety project. The experience stimulated enthusiasm for scientific research, which will be helpful for determining her career goal. On the other hand, her participation brought novel ideas to our project and accelerated our research progress." - Yang Gong, MD, PhD
"My CPRIT fellows were great. They were very creative, action-oriented, and hard workers. They contributed significantly to adding different perspectives/components to the operation of my projects. Specifically, they created a video that introduces our study to participants, set up the study's twitter and Facebook accounts, and study website. They also actively participated in weekly project meetings proposing new ideas and expressing their opinions. I believe that CPRIT summer program provides fellows with great opportunities to think creatively, implement their ideas, and learn how research is conducted, while tackling challenging issues encounter in project operations." - Kayo Fujimoto, PhD
Frequently asked questions by applicants
Q: Who is eligible to apply?
A: All undergraduate students in colleges and universities across the United States who will be sophomores, juniors, or seniors in the fall semester of 2024
Q: What is the schedule for the summer program?
A: Each week, you will engage in research, cancer seminars, and professional development workshops Monday through Friday (40 hours/full-time).
Q: Can I apply if I have a GPA of less than 3.0?
A: Applicants with less than a 3.0 GPA will be reviewed on a case by case basis.
Q: Is this internship only for students interested in pre-medicine?
A: No, we encourage students from all majors and programs to apply.
Q: Can I submit unofficial transcripts?
A: Unofficial transcripts will suffice during the review of your application. If accepted to the fellowship, official transcripts will be required before you can be appointed. If you believe your official transcript will not arrive before the deadline, we suggest submitting unofficial transcripts with your application. Request official transcripts from your university as soon as possible.
Q: I am an international student on an F1 visa. Can I apply for this fellowship?
A: Yes. International students currently enrolled in a US college or university can also apply. After acceptance into the program, you will be required to apply for Curricular Practical Training (CPT) from the office of international affairs in your home institution.
Q: Can I submit a letter of recommendation, or does it have to be sent directly by the recommender?
A: Our online application contains a section where you can identify your recommender. They should send their recommendation letter directly to us at cpritsummer@uth.tmc.edu. Although we may accept letters sent directly by you, this practice is strongly discouraged.
Q: Do all materials need to be sent electronically?
A: The application is now available online. You will have the opportunity to submit your materials within the application. Please follow the directions listed on the application regarding the naming convention of files.
Q: I was selected as a semifinalist. What does that mean?
A: It means that you have been selected to indicate your top project choices and to participate in interviews that will be conducted by faculty mentors. Final selections will be made based on the interviews. The mentors and their individual projects will be listed on the website under the "Project Profile" tab in late January. In the meantime, you can view past projects listed on the page.