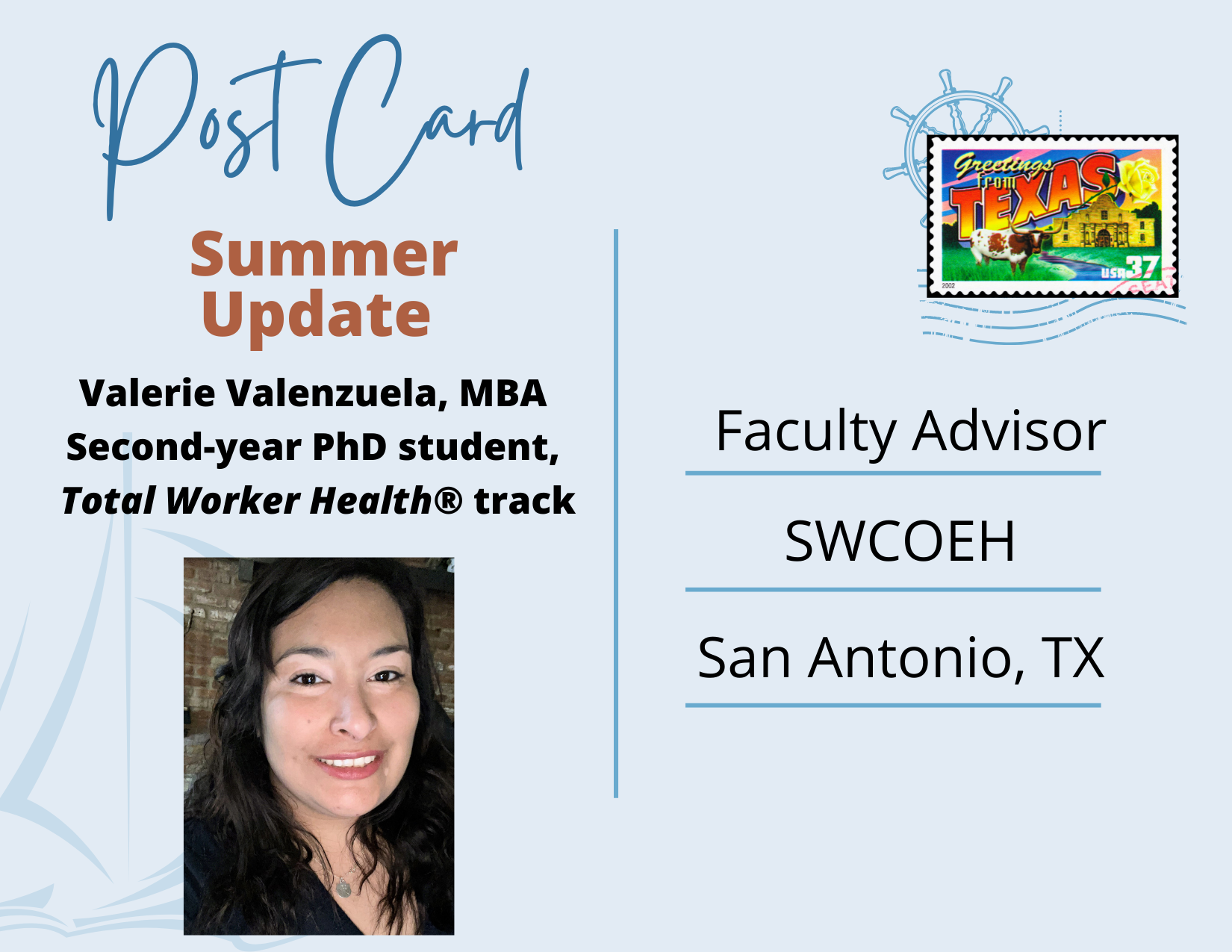 Summer Update: Worker Well-being Practicum – Valerie Valenzuela, MBA
Valerie Valenzuela, MBA, is a second-year PhD student at the University of Texas Health Science Center at Houston (UTHealth) School of Public Health in the Environmental Science: Total Worker Health track. She completed her MBA in 2018 and has many years working in both local and state government agencies serving to aid in worker health from various environmental hazards from asbestos to lead. Additionally, she served as an epidemiologist for the city health department Covid-19 response team. Her interests include migrant worker health and promoting data analysis frameworks for occupations with vulnerable populations. Valerie shared her Total Worker Health® and Worker Well-being Practicum with www.SWCOEH.org. Below is a sample.
At the beginning of my Practicum, I was assigned to Rebecca Bloodworth, MPH, CHMM, the current director of Laboratory Safety in the Environmental Health and Safety Department at UT Health Science Center at San Antonio (UTHSCA). We brainstormed the best ways to identify the most "at need" populations. We discovered that the medical department has laboratory workers with multiple shift differentials than those of their coworkers in different departments. With this knowledge, I conducted lab inspections and observed the work techniques of employees.
To gain further insight into the baseline needs, I utilized the NIOSH Worker Wellbeing Survey (WELLBQ) Instrument, which was implemented through Qualtrics. I continued to introduce myself to as many laboratory workers as possible. Overall, my reception by the employees was positive and most had questions about what aTotal Worker Health® approach is.
Due to the shift differentials, it was difficult meeting more than a few workers at a time during standard work hours (Monday-Friday, 8 a.m.-5 p.m.). I asked them for a few moments of their time to fill out an anonymous survey link I would be sending out shortly. After sending four email surveys to the employees, Ms. Bloom and I discussed the findings.
This practicum was very informative for me as I was able to identify a population at need: the lab workers. I was able to explain the goals of a Total Worker Health approach and utilize an instrument for identifying baseline levels of need. This genuinely was a constructive experience. One aspect I would change is that the instrument was lengthy and could use further adaption to the specific field as well as more concise questioning methods.
---
The SWCOEH provides a variety of graduate-level training opportunities for occupational and environmental health professionals through our industrial hygiene, occupational and environmental medicine, occupational epidemiology, and Total Worker Health®.