Summer Update – Paul Carey's Baker Hughes Total Worker Health® Field Experience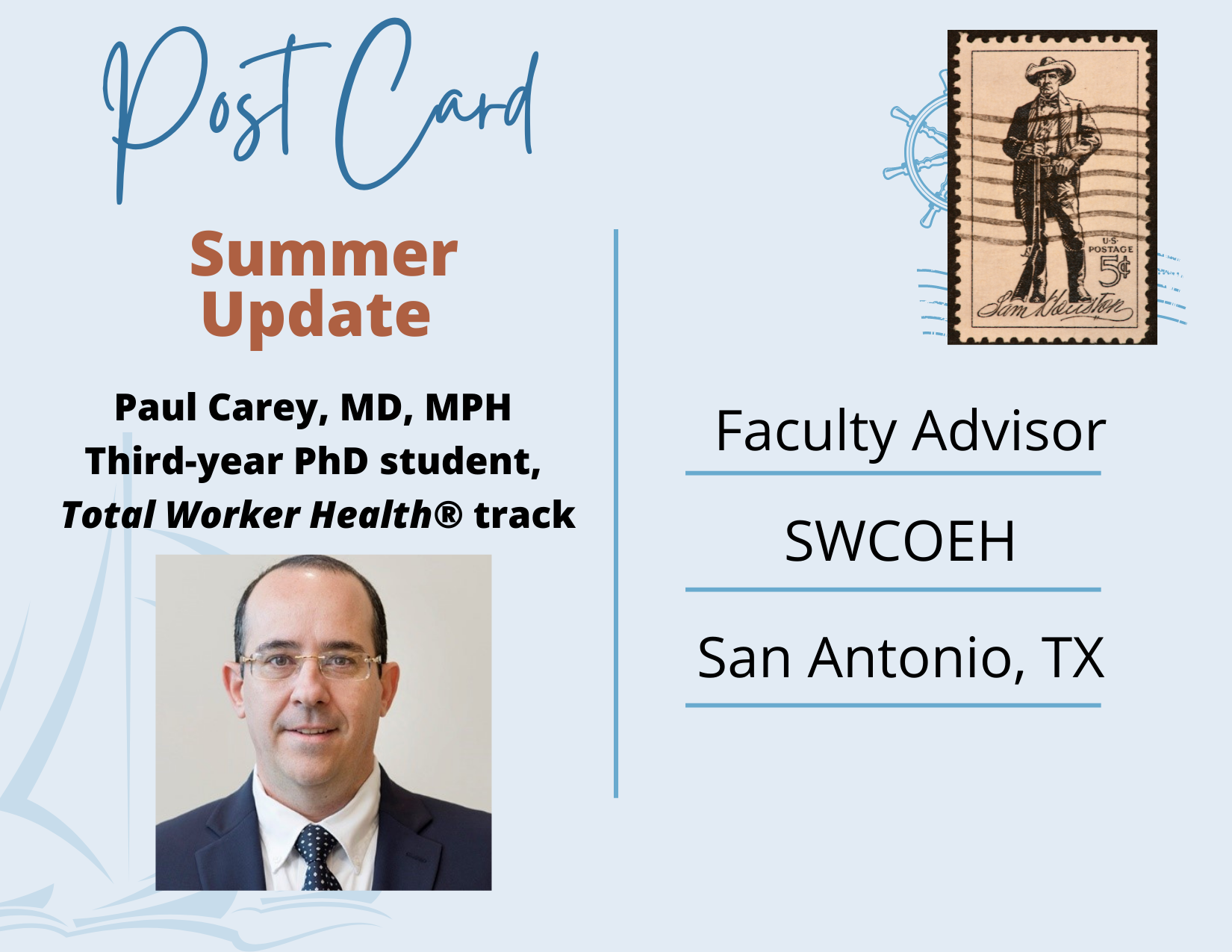 Paul Carey, MD, MPH, is a Total Worker Health® Trainee at the Southwest Center for Occupational and Environmental Health (SWCOEH). He completed both his residency training in Occupational & Environmental Medicine and Master of Public Health at the University of Texas Health Science Center Houston. He served as chief resident and was inducted to the Alpha Iota Chapter of the Delta Omega Honorary Society in Public Health in August 2019. Dr. Carey was the Occupational Medicine resident representative on the residency advisory committee and the program evaluation committee. He was selected as a NIOSH Trainee in Total Worker Health and plans to advance his career as an academic clinician engaged in research interests that include occupational chemical exposure, nanomaterial risk identification and biomarker surveillance.
Dr. Carey was the first SWCOEH trainee to complete a Field Experience with Baker Hughes, completing his Total Worker Health internship this spring as part of a new collaboration between the two organizations. Dr. Carey's Field Experience focused on fatigue management, and he worked with Baker Hughes Health Safety and Environment (HSE) and Total Rewards teams. Baker Hughes is a leading energy technology company based in Houston.
Dr. Carey shared insight on his field experience with SWCOEH.org.
SWCOEH.org: What did you do in your Field Experience at Baker Hughes?
Dr. Carey: My participation in the Total Worker Health Field Experience at Baker Hughes involved developing segments of a Fatigue Risk Management Reduction Plan for Baker Hughes oil service employees and contractors. Development of the risk management reduction plan involved utilizing foundations of Total Worker Health to identify both occupational and psychosocial determinants of health that contribute to worker fatigue. The Fatigue Risk Management Reduction Plan not only sought to identify workers at greatest risk, it most importantly provided the framework for the proactive organizational change of the work environment to reduce or blunt the effects of fatigue.
SWCOEH.org: What was a typical day like?
Dr. Carey: The pandemic required resiliency on the part of Baker Hughes, as the vast majority of their corporate operations were being conducted remotely. They were successful in overcoming multiple logistics issues and arranged for remote access to their electronic corporate platform. The platform integrated all aspects of communications, remote meetings, and access to organizational information about existing occupational health initiatives. The typical day often varied, some days involved meeting with corporate staff to better understand the multi-layered organizational structure of Occupational Safety and Health. Some days included communicating with the Field Experience Team at Baker Hughes regarding updates with respect to information requests and planned deliverables involving researching occupational health literature associated with the Fatigue Risk Management Reduction Plan. Other days included educating the Field Experience Team about the relevance of Total Worker Health for developing a Fatigue Risk Management Reduction Plan and preparing PowerPoint presentations to facilitate sharing this knowledge.
SWCOEH.org: What specific lessons did you learn working at a corporation, compared to an educational institution or other field?
Dr. Carey: The Total Worker Health Field Experience at Baker Hughes provided a distinct perspective of Occupational Safety and Health personnel within a multinational corporation as compared to an educational institution. One important lesson I took from the Field Experience is that large corporations are willing to invest in and implement Total Worker Health initiatives that may require significant change to corporate culture, provided evidence-based research exists that support the initiative.
SWCOEH.org: What advice would you offer to another student who is going to take the Baker Hughes Field Experience?
Dr. Carey: Enjoy the experience! Lean on the knowledge of the Field Experience Team to better your understanding of the Occupational Safety & Health corporate structure and ask as many questions as needed to best understand the project you will be involved with.
SWCOEH.org: Were there any mentors at Baker Hughes that were particularly helpful?
Dr. Carey: The entire Field Experience Team at Baker Hughes was very helpful and interested in providing the most meaningful learning experience for all engaged parties. My mentors were the Global Well-being Leader within Baker Hughes' Human Resources Department and the Health Safety & Environment (HSE) Health Project Specialist within Baker Hughes' Global Health & Medical Team.
SWCOEH.org: Is there anything else you would like to add?
Dr. Carey: I enjoyed having the opportunity to share knowledge of Occupational Medicine and Total Worker Health knowledge within the context of the Fatigue Risk Management Reduction Plan project at Baker Hughes, as it was an excellent opportunity for the practical application of these skill sets within the context of a real-world occupational health issue.
---
The SWCOEH provides a variety of graduate-level training opportunities for occupational and environmental health professionals through our industrial hygiene, occupational and environmental medicine, occupational epidemiology, and Total Worker Health.