Dell Health Undergraduate Scholars
Overview
The Dell Health Undergraduate Scholar (DHUS) program is a unique research opportunity for one part-time undergraduate student interested in public health, community building, and/or obesity prevention. The Michael & Susan Dell Center for Healthy Living, funded by the Michael & Susan Dell Foundation (MSDF), conducts research and provides programs that promote healthy living for children, their families and their communities. One undergraduate scholar will be selected for a 9-month paid fellowship starting in September of each school year.
The DHUS program provides funding for students to work and gain public health research experience. The Center will accept one undergraduate student from Huston-Tillotson University or St. Edward's University to work 15 hours/week from September to May, with the option to extend the internship through August.
During this period, the Dell Health Undergraduate Scholar is expected to:
Be trained in public health research using Center project resources
Assist with Center community events, academic forums, and associated activities
Provide support to faculty and staff with health policy research
Assist with community health research and programs
Assist with a project or Center activity related to the student's public health interest
Receive training, resource, and guidance from faculty and staff mentors whose research aligns with the student's interests
Participate in administrative tasks, in order to be fully trained as a public health professional
The Center Dell Health Undergraduate Scholar Program is led by Dr. Deanna Hoelscher, Dr. Alexandra van den Berg, and Kelsey Herron. The candidate for this position will be reviewed and selected using a competitive process.
Applicant eligibility:
U.S. citizen or permanent resident
Undergraduate student enrolled at Huston-Tillotson or St. Edward's University during the school year (preferably entering junior or senior year)
Available to work 15 hours/week during the work day (8:00am-5:00pm) from September to May (with option to extend through August)
Contact and Application Information
The application period for the 2019-2020 Dell Health Undergraduate Scholar program is now closed. The 2020-2021 application period will open in Spring 2020.

For any questions about the program, please contact Melissa Campos-Hernandez at Melissa.A.CamposHernandez@uth.tmc.edu.
2018-19 Dell Health Undergraduate Scholar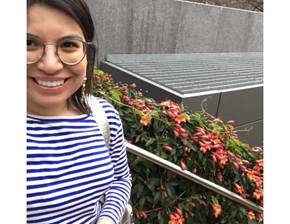 Yolanda Guzman

Yolanda Guzman is a third-year college student at St. Edward's University with a passion for health and wellness. She has an intellectual curiosity of just about everything around her, a natural at fostering relationships and according to her peers, willing to help out just about anyone. She has taken many classes related to the study of addiction and recovery and public health. In addition, she has been a mentor in her community and provides tutoring for a handful of high school and bilingual students. Yolanda has also delved into obesity prevention by studying diet and exercise, yoga and eating disorders. Looking ahead, Yolanda intends to be a lifelong learner and further her education by attending medical school and becoming an Integrative medicine physician. Her passion and excitement for all that she attempts is contagious and giving back to her community has always been an integral part of her life.
As a true Austinite, Yolanda enjoys attending concerts, watching movies at the Alamo Drafthouse cinema and taking advantage of all the free things to do outdoors! Ask her what show she will be attending next, her eclectic taste in music will leave you surprised.
Past Dell Health Undergraduate Scholar
Jessica Marquez (2017-18), St. Edward's University
Jackie Ortuno (2016-17), St. Edward's University
Vanessa Lerma (2015-16), St. Edward's University
Timothy Cooley (2014-15), Huston-Tillotson University