Overview
The Michael & Susan Dell Health Scholar program is a merit-based pre-doctoral program for students interested in nutrition, physical activity, obesity, and /or tobacco prevention. The Dell Health Scholar program is intended to provide training and research opportunities for doctoral-level students in health research enrolled at The University of Texas Health Science Center at Houston(UTHealth) School of Public Health. The Dell Health Scholar position, under direction of Drs. Deanna Hoelscher and Alexandra van den Berg is a 12-month appointment, eligible for renewal.
For information on the Dell Health Undergraduate Scholar position, click here.
For pre-doctoral opportunities available through the National Cancer Institute, please visit the School of Public Health website.
The Michael & Susan Dell Health Scholar program is administered through funding from the Michael & Susan Dell Center for Healthy Living, part of The University of Texas Health Science Center in Houston School of Public Health (UTHealth School of Public Health) Austin Campus.

Benefits
Dell Health Scholars have the opportunity to work closely with faculty and staff on research as well as Center functions and events. Dell Health Scholars gain hands-on experience with data management, data analysis, and manuscript preparation. Additional benefits include:
Funds provided to travel to one conference per year, provided the Scholar is presenting at the conference.
Full-time workstation on campus provided.
Pay at 50% time at a doctoral-level graduate assistant salary, including benefits.
Current Dell Health Scholars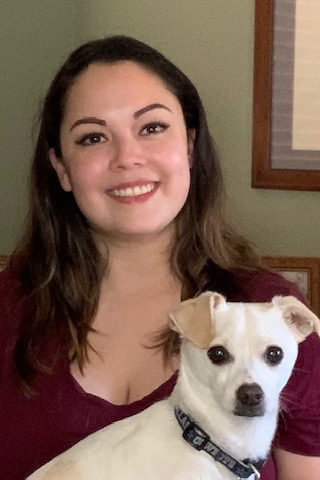 Shelby Flores-Thorpe, MEd - Shelby is currently a doctoral student in the Department of Health Promotion and Behavioral Science at the Austin Campus. A native New Mexican, Shelby received her Master of Education in Health Education from Texas State University and her bachelor's degree in Kinesiology from St. Edward's University before starting at UTHealth School of Public Health. Between her bachelor's degree and master's degree, Shelby worked for a non-profit in New Mexico, her home state, working to implement nutrition and wellness classes into Native American communities across the state. Her current research interests are translational research – how policy and public health can work in tandem – and food security in college students and adults. Shelby has worked on the FRESH Austin project and currently works with the Texas Research-to-Policy Collaboration (TX RPC) Project.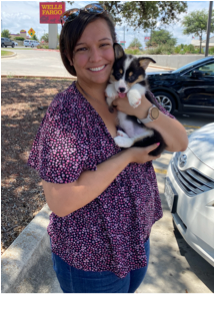 Brittany Buchanan, MPH - Brittany is currently a PhD student in the Department of Epidemiology, Human Genetics, and Environmental Sciences at the Austin Campus. She grew up in South Georgia and received both her Master of Public Health in Epidemiology and her Bachelor of Science in Biology from Georgia Southern University. Following completion of her master's degree, Brittany spent time at the CDC in Atlanta before moving to Texas. Before joining UTHealth School of Public Health, she worked as part of the COVID-19 contact tracing efforts for the state of Texas. Currently, her research interests are resource access, and prevention research. Brittany will support the TX Research-to-Policy Collaboration Project, prepare presentations and reports, participate in data collection and analyses, and support the Texas Legislative Bill Tracker.
Past Dell Health Scholars
Amelia Roebuck, BS
Margaret "Marnie" Moore, JD, LLM, MPH
Christine Jovanovic, MPH
Allen Hallett, MS
Leigh Ann Ganzar, MPH
Eun Me Cha, MPH
MeLisa Creamer, MPH, PhD
Eileen Nehme, MPH, PhD
Kim Wilson, MPIA, DrPH
Meliha Salahuddin, MBBS, MPH
Felicia Carey, MPH, BS, BA
Anna Porter, MPH
---
Application Information:
Doctoral-level students at the UTHealth School of Public Health in Austin are encouraged to apply.
The application for the next academic year is currently closed. Application dates will be posted once they are available.
If you have questions or need further information regarding the Michael & Susan Dell Health Scholars program, please contact Tiffni Menendez at (512) 391-2512 or Tiffni.Menendez@uth.tmc.edu.