NAOSH Week & the SWCOEH – Pilot Projects Research Training Program
HOUSTON (May 5, 2022) – The Southwest Center for Occupational and Environmental Health (SWCOEH) at UTHealth Houston is celebrating North American Occupational Safety and Health Week (NAOSH Week), an annual observance held in the first full week of May to spread awareness about occupational safety and health and to bring in systems that ensure the safety and well-being of workers.
Today (Thursday), we highlight the SWCOEH's Pilot Projects Research Training Program (PPRTP).
The goal of the Pilot Projects Research Training Program is to enhance the SWCOEH's regional outreach efforts in research training and to foster stronger inter-institutional ties in occupational health research within Public Health Region 6 (PHR 6) (Arkansas, Louisiana, New Mexico, Oklahoma and Texas).
A recent example of the PPRTP in action is Pilot Projects past awardee Rebecca Molsberry co-authoring an article studying stress and self-help therapies of law enforcement officers. The article, "Acceptability of a real-time notification of stress and access to self-help therapies among law enforcement officers" was published in BMC Public Health in January.
Ms. Molsberry is a PhD candidate in the Department of Epidemiology, Human Genetics and Environmental Sciences (EHGES) at The University of Texas Health Science Center School of Public Health at the Dallas Regional Campus. Molsberry was funded through the PPRTP for her project on "Leveraging Personal Technology to Intervene on Continuous Occupational Stress Among Law Enforcement Officers".
---
Another aspect of the PPRTP is the Southwest Centers Occupational Health Research Symposium, a collaboration between the SWCOEH and the Southwest Center for Agricultural Health, Injury Prevention and Education (Southwest Ag Center) at The University of Texas Health Science Center at Tyler.
The 2nd Annual Symposium is set for June 10, from 8:30 a.m. to noon. Participants will discuss "Occupational Safety and Health in the context of "well-being" and "decent work" and the featured speaker is Paul Schulte, PhD, Consultant, NIOSH.
The event will feature nine presentations by Pilot Projects Research Training Awardees: Shannon Guillot-Wright, PhD; Kimberly Prado, PhD; Luann Racher, MD; Kaysey Aguilar, PhD; Mark Wilson, PhD; Daisy Rosero, PhD; Nishita Sinha, PhD; Itamar Lerner, PhD; Bethany Alcauter, PhD
Learn more & register for the 2nd Annual Southwest Centers Occupational Health Research Symposium.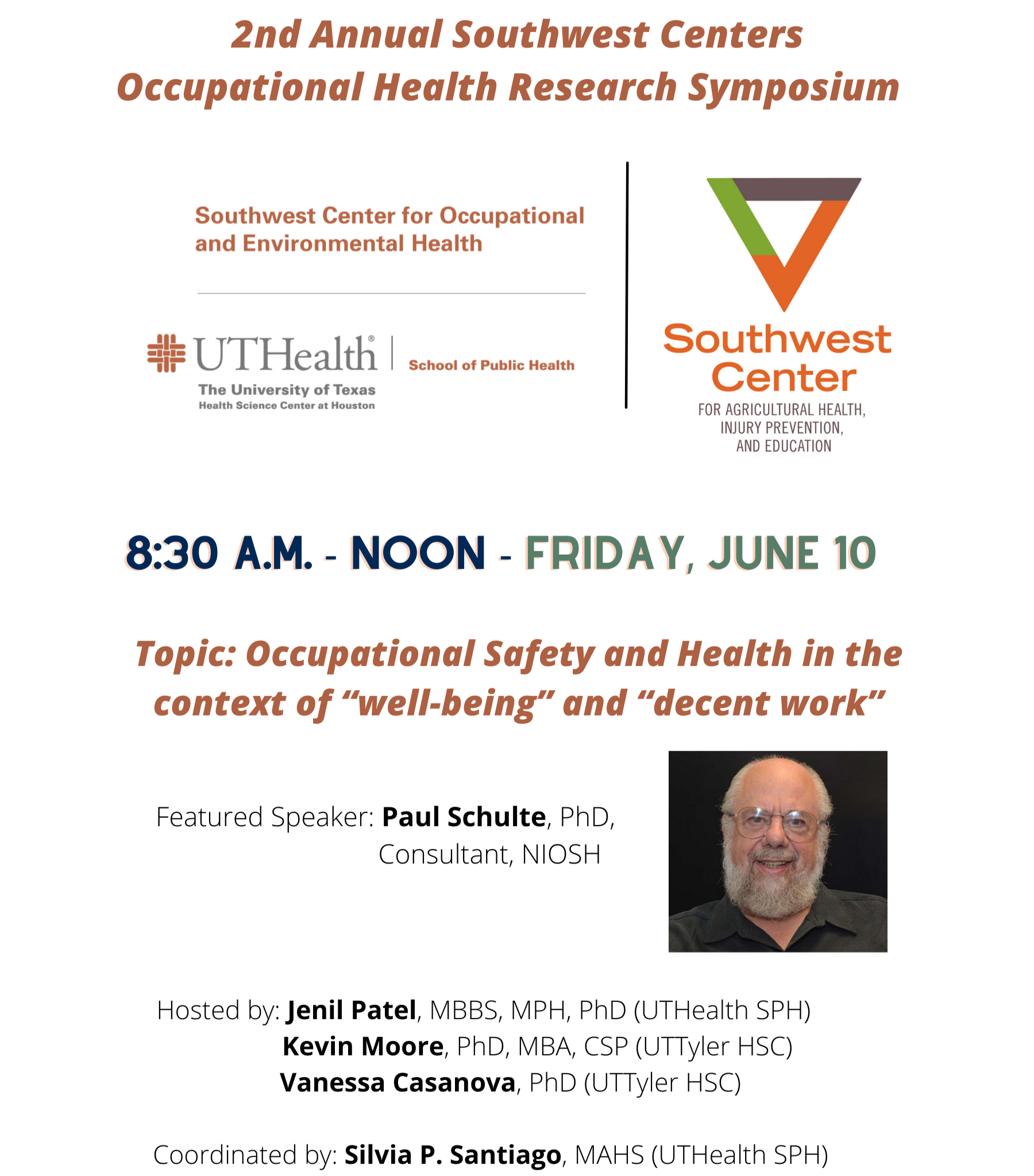 Learn more about the SWCOEH and all that we offer, including our latest news.