Summer Update – Shelley Forse's Internship with the UTHealth Biosafety Program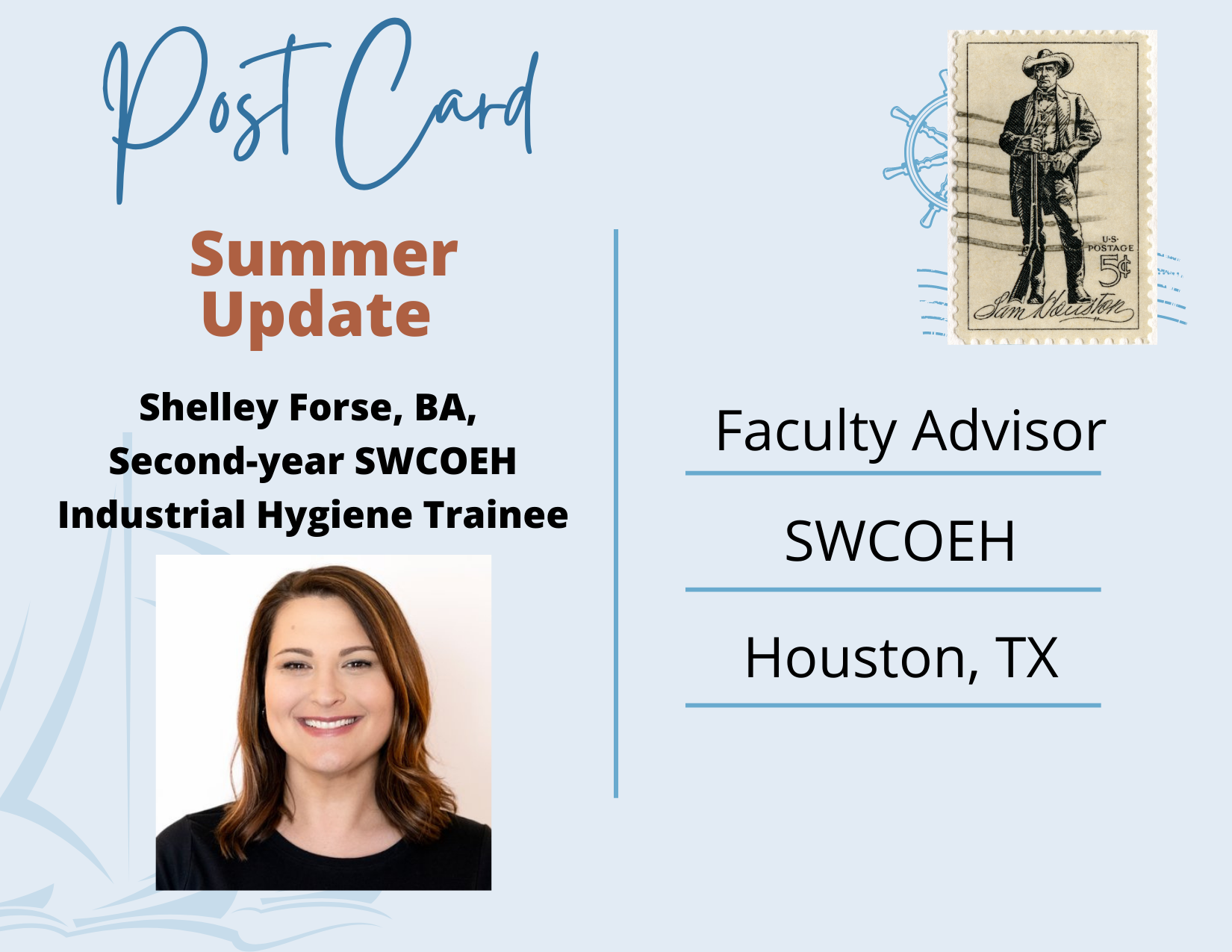 Shelley Forse, BA, is a second-year trainee in the Industrial Hygiene program at the Southwest Center for Occupational and Environmental Health (SWCOEH). She earned her Bachelor of Arts degree in Biology at Texas A&M University. A Houston native, she has always had a deep interest in the industries along the gulf coast and innovations developed for worker safety.
This summer, Ms. Forse completed an internship with the UTHealth Houston Biosafety Program within the Office of Safety, Health, Environment & Risk Management's (SHERM).
"Shelley and I first crossed paths during a guest lecture that I provided on the topic of biosafety, and she contacted me shortly thereafter about opportunities for a learning experience," said Scott Patlovich, DrPH, CIH, CSP CBSP, CHMM, CPH, Assistant Vice President of Environmental Health & Safety. "Once we discussed her learning goals and determined that SHERM would be a good fit, we identified a practicum project that aligned with her interests. Shelley did a great job not only with her practicum project (biosafety analytics initiative survey development) but she also took advantage of the breadth of programs within our department to participate in a wide variety of real-world health and safety work activities such as conducting laboratory and clinic safety surveys, reviewing biosafety protocol submissions to ensure safe work practices were in place, performing respiratory fit testing and training, assisting in workplace exposure evaluations, and others. Her experience exemplifies the valuable mutual benefit that a practicum experience in SHERM provides both to the student and to our department and the institution."
Ms. Forse shared insight on her internship with SWCOEH.org.
SWCOEH.org: How is the internship with UTHealth Houston Office of Safety, Health, Environmental and Risk Management (SHERM) going?
Ms. Forse: My practicum experience with SHERM has been primarily with the Biosafety Program, and it has been wonderful. I have really enjoyed working with the Biosafety team and cross-training with other programs within the department. Over the summer I have gained a tremendous amount of real-world experience in a dynamic teaching, research, and clinical environment within Biosafety, Chemical Safety, Radiation Safety, Hospital and Clinic Safety as well as the Fire Prevention and Environmental Protection programs.
SWCOEH.org: What are your favorite aspects of the internship so far?
Ms. Forse: One of my favorite parts has been the Continuing Education meetings. Every week there is an interesting, high-quality, and practical presentation given over a carefully curated selection of relevant topics. SHERM members utilize this meeting time to sharpen technical skills, keep the lines of communication flowing, and work on upcoming projects. Plus, the meetings usually mean someone is bringing donuts.
SWCOEH.org: What is the goal of your primary project, which is to help design one of the Biosafety Analytics Initiative (BAI) surveys?
Ms. Forse: The overarching goal of the Biosafety Analytics Initiative is to collect benchmarking data on program drivers and staffing needs for biosafety programs through a series of online surveys sent to members of the American Biological Safety Association International (ABSA), the association representing biosafety and biosecurity professionals globally. The first BAI survey was created by a former SPH practicum student and initially distributed in June 2019. This survey yielded fruitful information about the work setting in which biosafety professionals are typically employed. I assisted with the second survey this summer.
SWCOEH.org: Can you share an example question or two from the survey?
Ms. Forse: In the second BAI survey we are seeking to characterize statistically significant drivers for biosafety program staffing and budget needs. Questions on this survey will ask about the types of laboratory facilities and research activities that biosafety programs support, including high-risk activities such as select agent and toxin research, dual use research, and so forth. These factors, and others that will likely be revealed in the survey, are anticipated as major drivers that impact how many biosafety staff members are needed and estimated costs associated with biosafety program oversight.
SWCOEH.org: What advice would you have for a future IH student who may be considering a practicum experience with SHERM?
Ms. Forse: There are many opportunities for learning within this department that provides health and safety services for the entire UTHealth Houston campus. Since the practicum time frame is somewhat limited, be sure to have a plan for what you want to do and what you want to get out of the experience. If you can prepare in advance by educating yourself about the risks often found in the research and clinical settings, then you can have direction for the experience that you want. Spend time researching the field to become familiar with technical abbreviations/acronyms, common problems, general job duties, and frequently used lab or clinical equipment. Spend time in a lab or clinic setting, if you don't already have this experience, to get familiar with equipment and general procedures. This will allow you to maximize your time and efficiency during your practicum experience.
On a very practical note, I would add that this internship is based in Houston's Texas Medical Center and parking is a bit tricky. Make a good plan for your transportation/parking before your internship begins.
SWCOEH.org: What have you learned within the SHERM department so far?
Ms. Forse: I have learned the framework of how an academic and clinically based organization is operated and managed. Through cross-training with the other programs within SHERM, I have had the opportunity to learn about each specialty service area within the department. Specifically, I have acquired technical knowledge, learned how to conduct lab surveys, assisted with biosafety protocol development and approvals, conducted indoor air quality sampling, assisted with high rise building fire drills, and performed a countless number of respiratory fit tests.
Working with SHERM has been a great experience. The team is helpful and the environment is encouraging. I would highly recommend this internship opportunity to any student that is interested in applying IH to a research or clinical setting.
READ: Summer Update – Paul Carey's Baker Hughes Total Worker Health® Field Experience
READ: Summer Update – Worker Well-being Practicum – Valerie Valenzuela, MBA
READ: Summer Update – Catherine Turlington, BS, First-year NIOSH Trainee in Industrial Hygiene
---
The SWCOEH provides a variety of graduate-level training opportunities for occupational and environmental health professionals through our industrial hygiene, occupational and environmental medicine, occupational epidemiology, and Total Worker Health®.