Houston Area Food Access Analysis Tool
This is an interactive map of the various food access-related services in Houston/Harris County. Data was collected pre-hurricane Harvey in 2016-2017.
A food desert is a low-income census tract where either a substantial number or share of residents has low access to a supermarket or large grocery store. "Low income" tracts are defined as those where at least 20 percent of the people have income at or below the federal poverty levels for family size, or where median family income for the tract is at or below 80 percent of the surrounding area's median family income. Tracts qualify as "low access" tracts if at least 500 persons or 33 percent of their population live more than a mile from a supermarket or large grocery store (for rural census tracts, the distance is more than 10 miles).
Step 1 – Click on the link below. The red areas correspond to the food desert areas in Harris County and surrounding regions.
Step 2 – Click on the green Layers List icon which identifies all the layers incorporated in the map for Harris County.
Step 3 - Click on the various layers (e.g. Grocery stores, retailers, food pantries etc) to visualize the data. Clicking on the data points on the map and/or zooming in can identify the location at the address level.
Step 4 – Click on multiple layers as needed to visualize layered data. Description, definitions and sources of each data point are available under Description and Definitions.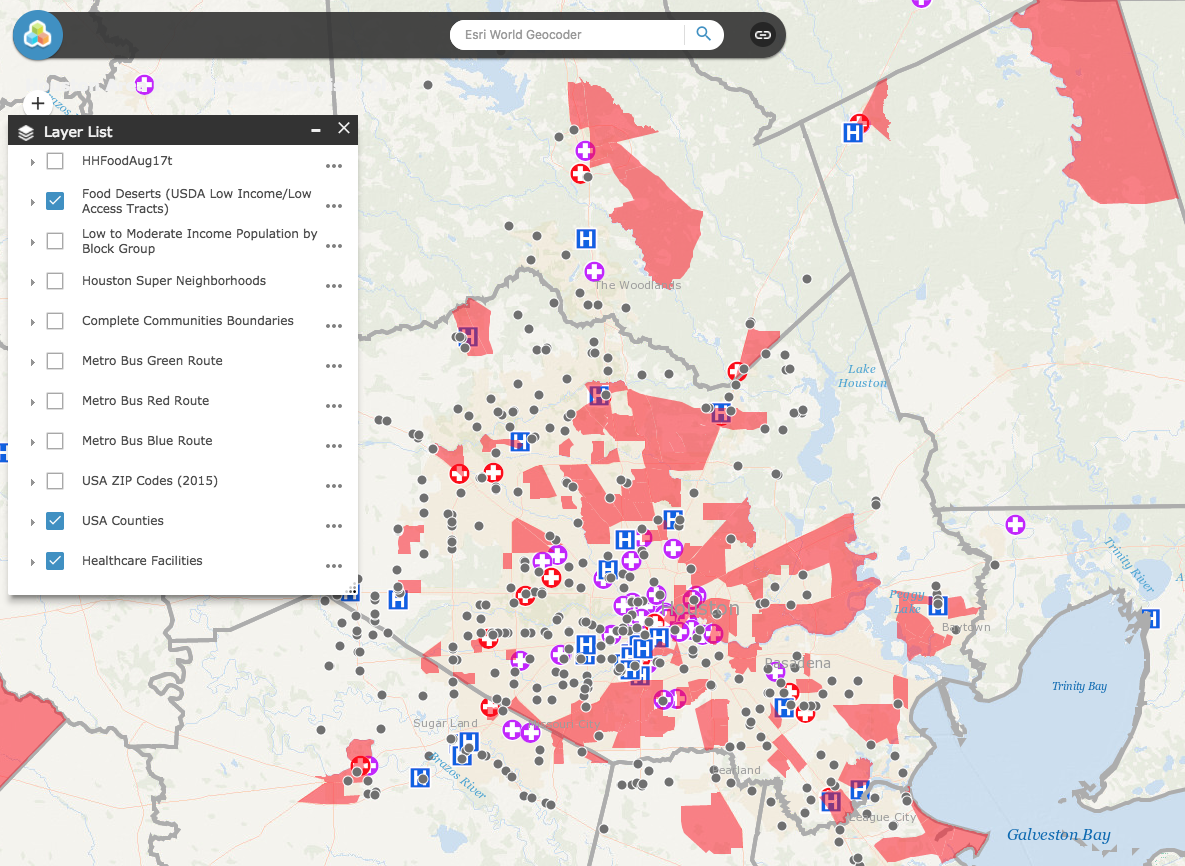 ---
The Food Insecurity Mapping effort is the result of a cross-sector collaborative supported and funded by the Clinton Foundation's Health Matters Initiative and GE Healthymagination, and anchored by The University of Texas Health Science Center at Houston School of Public Health. The platform provides an active lens into current resources as well as opportunity areas. The intent is for the platform to be used by numerous stakeholders, government representatives and residents.
Houston Area Food Access Analysis Tool