Q&A: Nourish team on fall produce
Published: October 20, 2023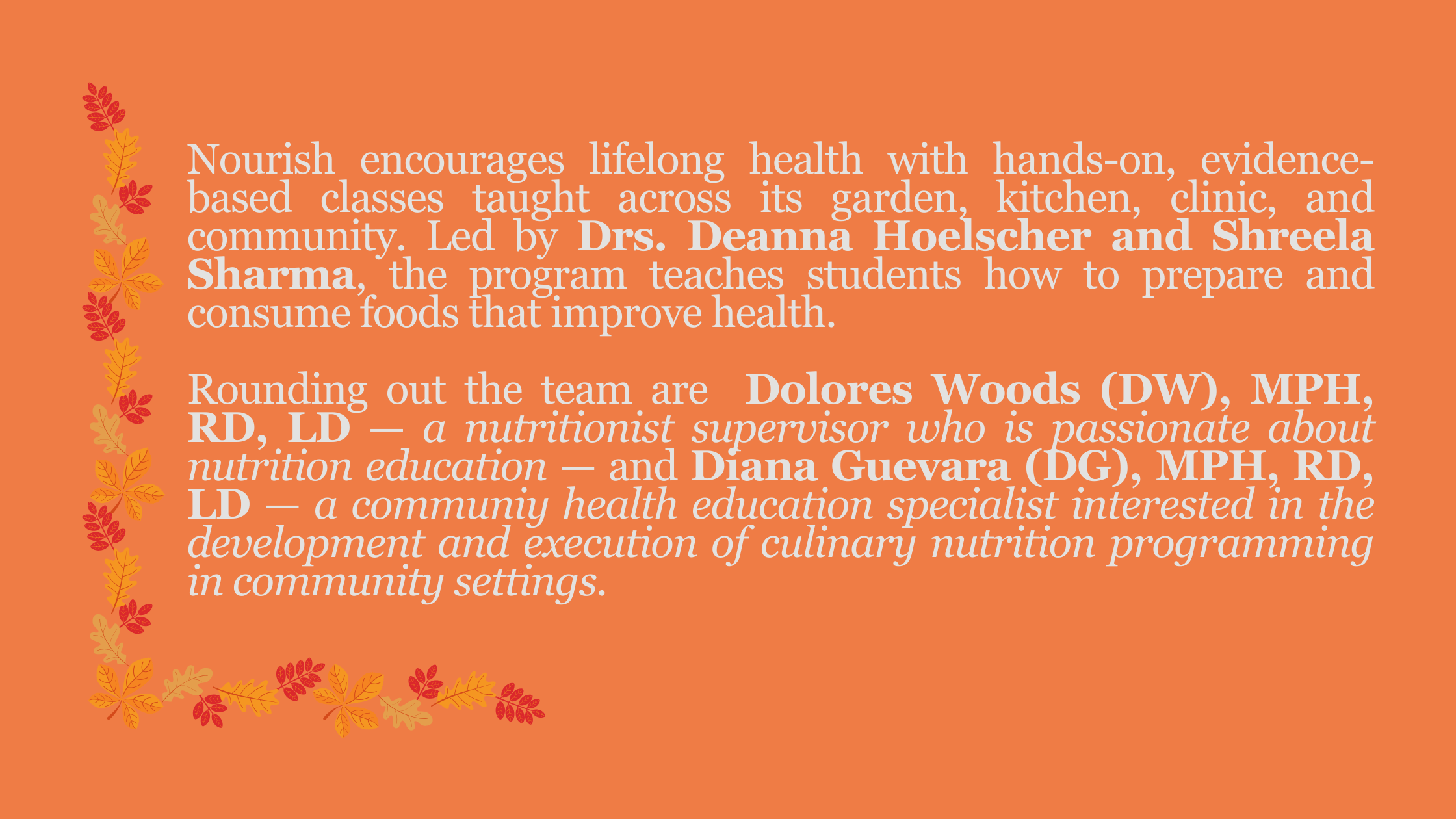 Cooler temperatures have hit Texas, and it's late October, which means it is officially the peak of Pumpkin Spice Season. We hope the crisp air is here to stay so we can enjoy our favorite fall foods outside. Read on for Nourish team members Dolores and Diana's healthy seasonal food recommendations!

Q: What are you putting in a fall fruit salad?
DW: Apples (Braeburn, Jazz, Pink Lady, Fuji, and Evercrisps are best in the middle of October), pears (especially Asian pears), persimmon, fig, dates. These fruits are all sources of fiber and antioxidants. Eating plenty of varied fruits will ensure we are getting different vitamins and minerals our bodies need.

DG: For a burst of flavor and color, I love pomegranate seeds! Pomegranates can be found around this time, and they are the perfect addition because they are high in polyphenols, including flavonoids and tannins, which are all antioxidants. These plant compounds help reduce inflammation and promote heart health.

Q: What vegetables should people look for in the fall?
DW: Autumnal squash (golden acorn, kabocha, delicata, butternut, buttercup) are great cool weather squashes that are rich in alpha and beta-carotene, which help make vitamin A and lutein, all of which help protect against age-related eye disease. They can be stored for weeks and can be roasted or used in soups. Bok choy, mustard greens, and kale are also in season.

DG: Last fall, I discovered honeynut squash — it looks like a mini butternut squash, and the flavor is sweet, nutty, and so, so delicious. I also love dinosaur kale (also called lacinato or Tuscan kale). The flavor and texture are so much better than curly kale, but regardless of which kale you choose both are a plant-based source of iron, calcium, and vitamin C, A, and K.

Q: What are your favorite fall recipes?
DW: Roasted butternut squash bowl with farro and dried cranberries; wheatberry salad with pears, kale, and pumpkin seeds; roasted sweet potatoes. Why? They balance each other's flavor profiles well and are great sources of fiber, vitamins, and minerals.

DG: I love a hearty bowl with roasted vegetables in the fall. It's easy and delicious, and it is a strong source of fiber, which helps maintain gut health and is very filling. Roast some winter squash or beets, mix with roasted Brussels sprouts or massaged kale, add some pecans and apple for some crunch, and enjoy with farro and your favorite protein choice.

Q: What tips do you have for people wanting to introduce more healthy habits this fall?
DW: Try eating a different color fruit or vegetable every day to nourish your body with a variety of vitamins and minerals. The colors in produce can give us a clue of the nutrition that lies inside. As the holiday season begins, maintain your current healthy habits. Celebrations oftentimes revolve around food, and weight can creep up, so don't overdo it; maintain, don't gain.

DG: This is a great time to enjoy the (slightly) cooler weather outside. Make activity a fun part of your daily plans, whether that's a midday walk in a shady park after lunch, a sunset stroll, a bike ride, or your favorite sport with some friends! The important thing about healthy habits is consistency — try to make the healthy choice the easy choice so you're more likely to choose it out of convenience instead of relying on willpower.
Don't have time to cook during the week? Try roasting a rainbow of vegetables or prepping your favorite whole grain for the week on Sunday.
Don't like leftovers? Try chopping everything ahead of time or buying prechopped vegetables so cooking is quick and easy! Consider frozen or canned (with no salt added) vegetables for options with minimal prep.

Q: What foods should people avoid in the fall?
DW: I don't think there is anything to avoid. Some fruits such as berries, tomatoes, and stone fruit are no longer in season, even though we can still buy them. They are usually imported from South America and will not taste as good due to the long transportation times. I would recommend eating foods in season, when they will taste the best, or choose frozen fruits, which are harvested at their peak.

DG: Pumpkin spice season is in full swing, and although pumpkin is a great ingredient full of vitamin A and fiber, many drinks, cookies, and pastries will pack a decent amount of added sugar to make those fall-inspired treats. I don't like to recommend completely avoiding something if you love it or are truly craving it — just be mindful of what you're consuming and really take the time to enjoy it if you choose to try it.

Find more info on mindful eating as we enter the holidays here: Nourish - Mindful Eating Techniques.

Written by Kirsten Handler, communication specialist at the Michael & Susan Dell Center for Healthy Living.
---