American Heart Month: Hearty Hot Sauce
Published: February 28, 2018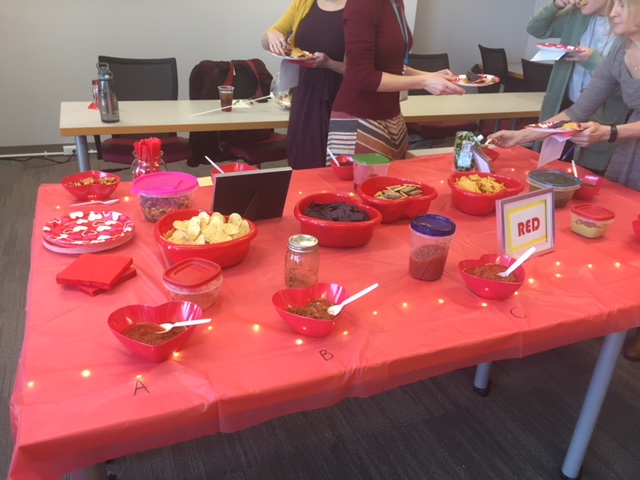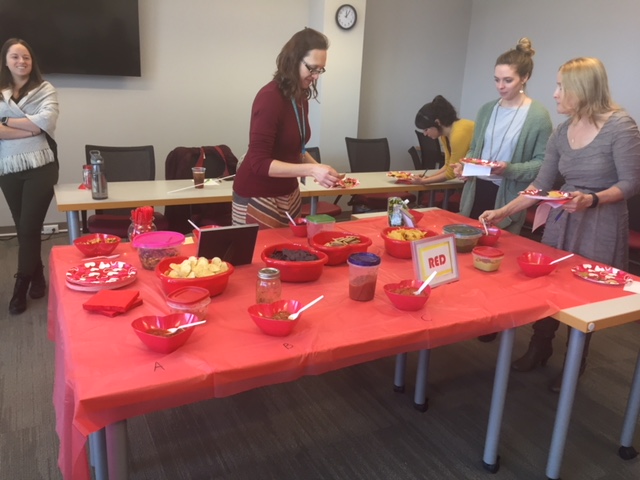 February was American Heart Month, teaching people how to make healthier choices for a healthy heart. Making changes, even small ones, to your diet and exercise routine can help reduce the risk of cardiovascular disease, of which 2,300 Americans die from every day.
Here at the Michael & Susan Dell Center for Healthy Living, we wanted an opportunity to celebrate American Heart Month with our staff, so we hosted a "Hearty Hot Sauce Competition." Staff were invited to enter the contest with their very own recipes or just join in on the fun by sampling all of the hot sauces! We chose hot sauce because the peppers generally included in these recipes have capsaicin, which has been shown to have antioxidant, anti-inflammatory, and anti-cancer effects. Just be sure to avoid hot sauces with added sugar to maximize the benefits of this spicy sauce.
At the Center, we have a variety of projects that promote heart health and activities that promote wellness and healthy eating.
Try some of our staff-tested recipes at home!
Green Chili Salsa
4 medium poblano peppers
1 medium jalapeño
1 pound tomatillos, husked, washed, and halved
3 mediums cloves garlic, smashed and peeled
1 cup packed roughly chopped fresh cilantro leaves and tender stems
1 cup chicken or vegetable stock

Juice

from 1 lime
Salt
Preheat broiler. Roast poblanos and jalapeño peppers directly over the flame of a gas stove, grill, or under a hot broiler, turning occasionally, until skin is completely charred and blackened all over. Place in a bowl and let stand until cool enough to handle, 10 to 15 minutes. Using paper towels, run off charred skins, then stem and seed peppers. Transfer to a blender and set aside.
Meanwhile, place tomatillos on a baking sheet, cut sides down. Broil until tomatillos have charred and softened, about 10 minutes. Transfer to blender with peppers, along with any liquid.
Add garlic, cilantro, chicken stock and lime juice and puree until smooth. Transfer salsa to a large bowl and season with salt to taste. Serve warm or chilled.
Roasted Red Salsa
1 pound roma tomatoes, halved
1 jalapeno pepper
2 cloves garlic
½ white onion, quartered
1/3 cup cilantro, chopped
Salt
Preheat broiler. Place tomatoes, cut side up, on a rimmed baking sheet with the jalapeño, garlic, and onion. Place baking sheet under broiler and cook until tomatoes, jalapeños, garlic, and onion have slightly blackened, about 20 minutes, flipping jalapeño and garlic half way through. Remove from broiler and let sit until cool enough to handle, about 10 minutes.
Stem and seed jalapeño and peel garlic. Transfer tomatoes, jalapeño, garlic, and onion to a food processor or blender. Pulse until mixture is finely chopped.
Transfer to a serving bowl. Stir in cilantro and season with salt to taste. Let rest in refrigerator for at least 30 minutes before serving.
Cowboy Caviar
1 can (14 oz) black-eyed peas, rinsed & drained
1 can black beans, rinsed & drained
1 can corn, rinsed & drained
3-4 Roma tomatoes, chopped
1 medium bell pepper (any color)
¾ cup chopped red onion
½ cup chopped cilantro
1-2 jalapenos, ribs removed, seeded, and chopped
1-1.5 cups of Italian dressing (either homemade or store-bought)
Optional: 1 avocado
In large bowl, combine black-eyed peas, black beans, corn, chopped tomatoes, bell pepper, onion, cilantro and jalapeno.
Pour in Italian dressing and mix all together. Chill in fridge for at least 20-30 minutes before serving.
If using avocado dice and add immediately before serving.
Cranberry Salsa
1 bag of cranberries
3 green onions
1-2 jalapenos, seeded
3/4 cup sugar
1 Tablespoon oil
Juice of 1 lime
Clump of cilantro
Add all ingredients to a food processor. Process until coarsely chopped.
Chill before serving. Tastes great with Triscuits or chips.
Creamy Avocado Salsa
2 large avocados
5 - 10 Serrano's (depending on spice level desired)
3 tomatillos
1 lime
2 cloves of garlic
¼ of a small onion
Salt (to taste)
Peel and wash the tomatillos
Remove the stem from the Serrano
Boil the tomatillos and Serrano's until soft
Pit the avocados and remove the flesh
Peel the garlic clove
Squeeze the juice from the lime
Blend all ingredients until smooth. If the salsa is too thick to blend add 1 tablespoon of water at a time until the salsa blends smoothly.
Chill the salsa for 1 hour to allow the flavors to meld, add salt if desired
Notes:
The lime in the salsa helps keep it from turning brown. Cover tightly when you refrigerate it.
You can also use sour cream to make it creamier.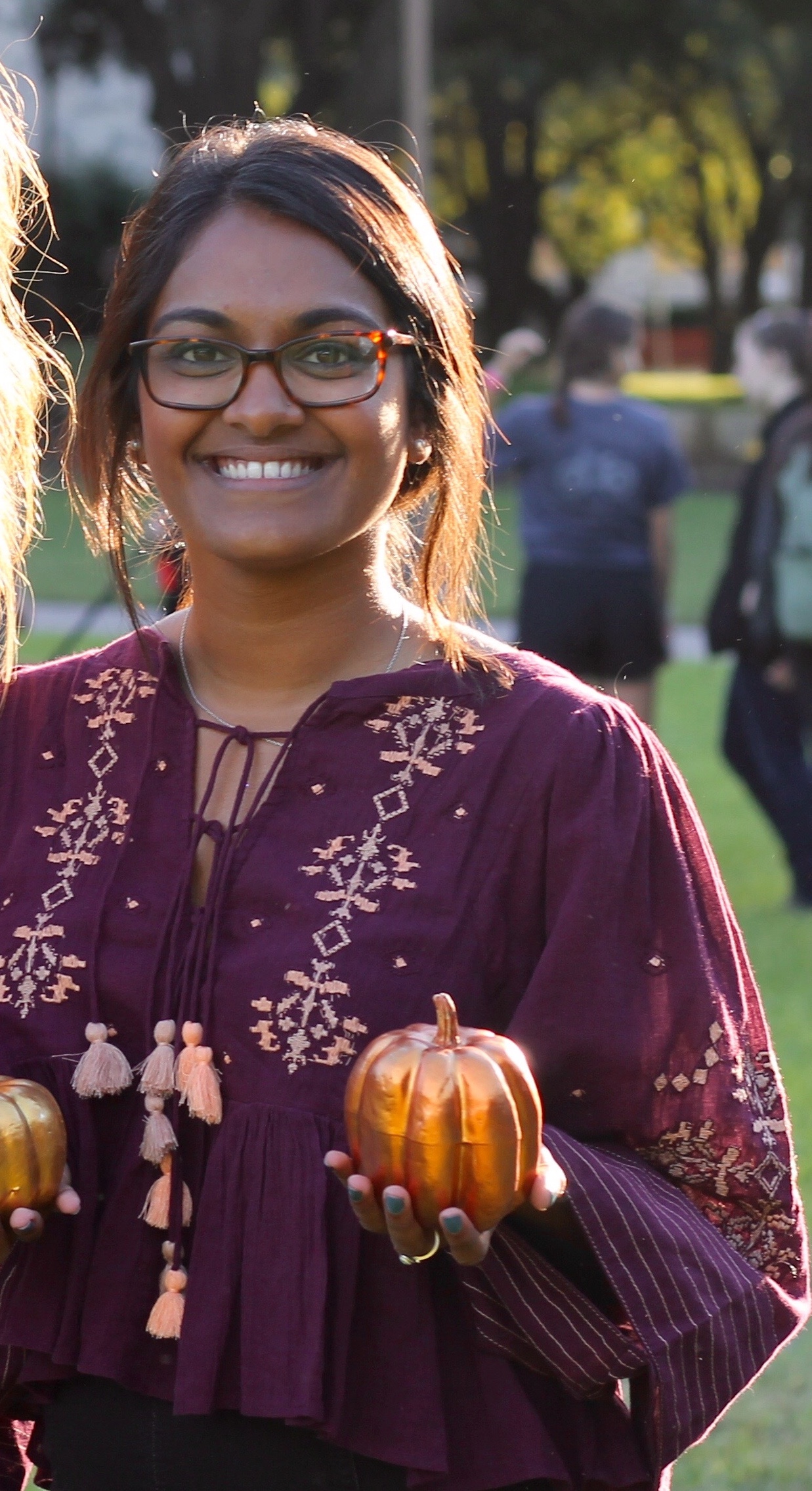 Written by:
Priyanka Aranha
Michael & Susan Dell Center for Healthy Living Intern
Priyanka is a undergraduate student at Southwestern University. She will be graduating in May 2018 with a BA in biology and minor in kinesiology. After college, she plans to get her accelerated BS of nursing and Masters in Public Health. She is currently interning with the Michael and Susan Dell Center for Healthy Living under Special Programs. When she is not in school, she is traveling the world with her family.
---