Fall Fruits and Vegetables
Published: November 2, 2021
Fall is finally here! With the changing of the seasons brings a new variety of fresh and in-season fruits and vegetables. Fall makes us think of warm colors such as orange, red, yellow, and purple, and the produce during this season brings exactly that! There is a vast array of produce that is freshest during this season, and it brings a wide variety of flavors, spices, colors, textures, and nutrients that are essential to our diets for healthy living. These fruits and vegetables are perfect for roasting, baking, incorporating into soups, or adding to desserts to introduce new flavors to all people- young and old. The Michael & Susan Dell Center for Healthy Living presents their fall blog on easy yet healthy tips and information for families to try with their kids. Below is some information on fall fruits and vegetables, tips for children that are trying new foods, and a few recipes for your family to try out.
Here are just a few of the many fall fruits and vegetables that are widely available during the fall harvesting season that are great additions to your diet! Check out your grocery store or local farmer's market for these options.
Fruits: Vegetables:
-Apples -Squash -Sweet Potatoes
-Figs -Pumpkins -Beets
-Cranberries -Broccoli -Brussel Sprouts
-Pomegranates -Spinach -Corn
-Pears -Kale -Cabbage
-Plums -Celery
Check out the following link for a garden livestream of the Nourish Program Holistic Garden at the UTHealth School of Public Health. Their garden features seasonal fruits and vegetables, as well as additional nutritional information on the crops, and additional recipes!
Nutrient Content
The colors of the different fall foods and vegetables show the wide range of vitamins and minerals that are beneficial for your body, both currently and in the long-term. By consuming a wide range of colors of fruits and vegetables, you can obtain many of your daily necessary vitamins and minerals and help to keep a well-balanced diet!
Purple/Blue:

Purple and blue colored fruits and vegetables contain anthocyanins that have antioxidant properties for your cells. They contain potassium, vitamin A, vitamin C, and folate.

Green:

Green fruits and vegetables contain indoles, which can lower your risk for cancer, and lutein, which helps maintain good vision. These green produce items also are abundant in nutrients such as vitamin A, vitamin C, vitamin K, and folate.

Orange/Yellow:

Orange and yellow fruits and vegetables contain carotenoids that can help improve immune function and lower heart disease risk. These colored fruits and vegetables contain folate, potassium, bromium, and vitamin C.

Red:

In addition to containing anthocyanins like purple/blue fruits and vegetables, red produce also contains lycopene which can help to lower your risk for cancer and heart disease. They also have many vitamins and minerals such as vitamin A, vitamin C, potassium, and folate, and their compounds can assist in keeping a healthy immune system and good vision.

White/Light Green

: White and light green vegetables also contain compounds known as glucosinolates, which research has shown can potentially reduce the risk of cancer. These white produce items are good sources of vitamins C, folate, niacin, and riboflavin.
Trying New Foods
While children may not be as comfortable with eating a diverse array of vegetable (especially at a younger age where they may have not been expose to a diverse flavor or texture profile yet), the goal with them is not to trick them into eating their vegetables. Instead, the aim should be increasing comfort and having a child repeatedly try a new food (in this case it could be a new fall fruit or vegetable) so that it increases their exposure to it. You can incorporate these new fruits and vegetables into food they are already comfortable with and love (example: butternut squash is a great addition to macaroni and cheese) to show how spices, texture, and different cooking methods can change how a food may taste. Often, after many attempts of eating a new food, a child may not like the food and that is okay, as having likes and dislikes is perfectly acceptable. Their palate will continue to develop throughout adolescence and life, and they may find in a few years that foods they previously repulsed them are now something they are willing to try and may now even enjoy. Parental modeling is also a great way to introduce a child to new foods. If the parent or guardian eats these new foods, a child is more likely to try and consume this food in the long term.
Tip: Try adding spices to your meals to diversify your taste palate! Spices such as cinnamon, nutmeg, pumpkin pie spice, and cloves can help to enhance a sweeter taste of your meals. Cumin, ginger, saffron, allspice, and cardamom can bring warm and aromatic flavors to enhance the beauty of your food.
Recipes
Below are two recipes that you can make to help incorporate fall vegetables into a diet in a way that makes it a little more fun! These recipes can be prepared by an adult, however participation from children is always encouraged as it allows the child to become better acquainted with working with vegetables and increases their comfort with trying foods that may be new to their palate. Feel free to try out these recipes and leave a comment on our blog about how it went! You can also share your favorite recipe that incorporates fall fruits and/or vegetables in the comments below for other readers to draw inspiration from! Involve your little ones in preparing these recipes to let them see how fun cooking and working with new foods can be. Children also tend to try new foods when they are involved in the cooking!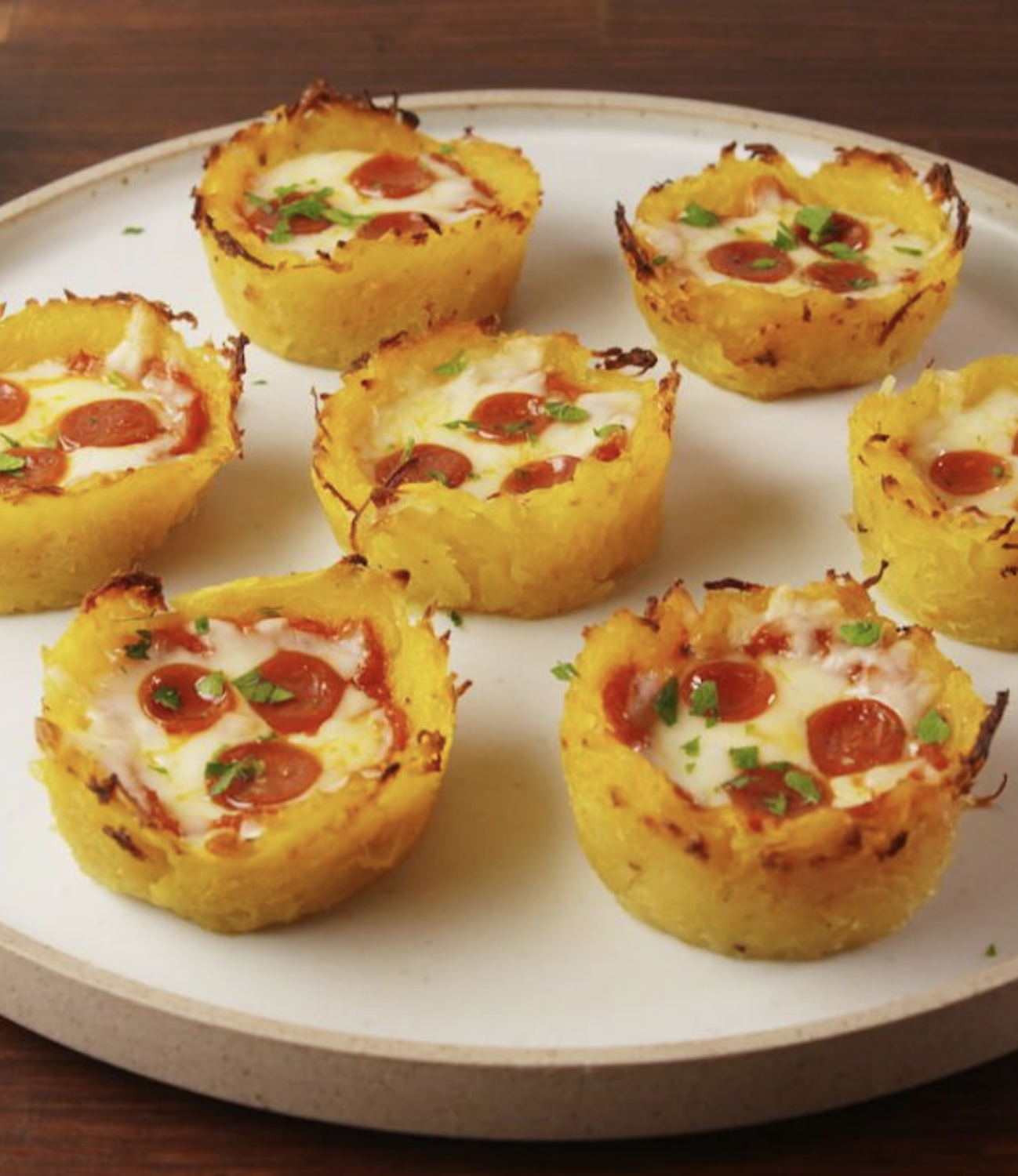 Ingredients (yields 4 spaghetti squash nests):
1 medium spaghetti squash, halved
1 tablespoon olive oil
Kosher salt
Freshly ground black pepper
1/3 cup grated Parmesan
1 teaspoon garlic powder
Nonstick cooking spray
2 cups pizza sauce
1 1/2 cup shredded mozzarella
1/2 cup mini pepperoni
1 tablespoon parsley, chopped
Directions:
Preheat oven to 400° and line a medium baking sheet with parchment paper.
Drizzle cut side of spaghetti squash with olive oil and season with salt and pepper. Place cut side down on baking sheet and bake until tender, 45 minutes to an hour, depending on the size of your squash. Reduce heat to 375°F when finished baking.
Let cool for 10 minutes before using a fork to shred the squash into spaghetti pieces. Place into a bowl and combine with parmesan and garlic powder. Season with salt and pepper.
Transfer 1/4 cup squash to a greased muffin pan, pressing down on bottoms and side to create cups. Place in the oven to bake, 15 minutes.
Spoon pizza sauce into each cup, top with mozzarella and mini pepperonis. Bake again, 8-10 more minutes, or until cheese is melted.
Top with parsley and serve.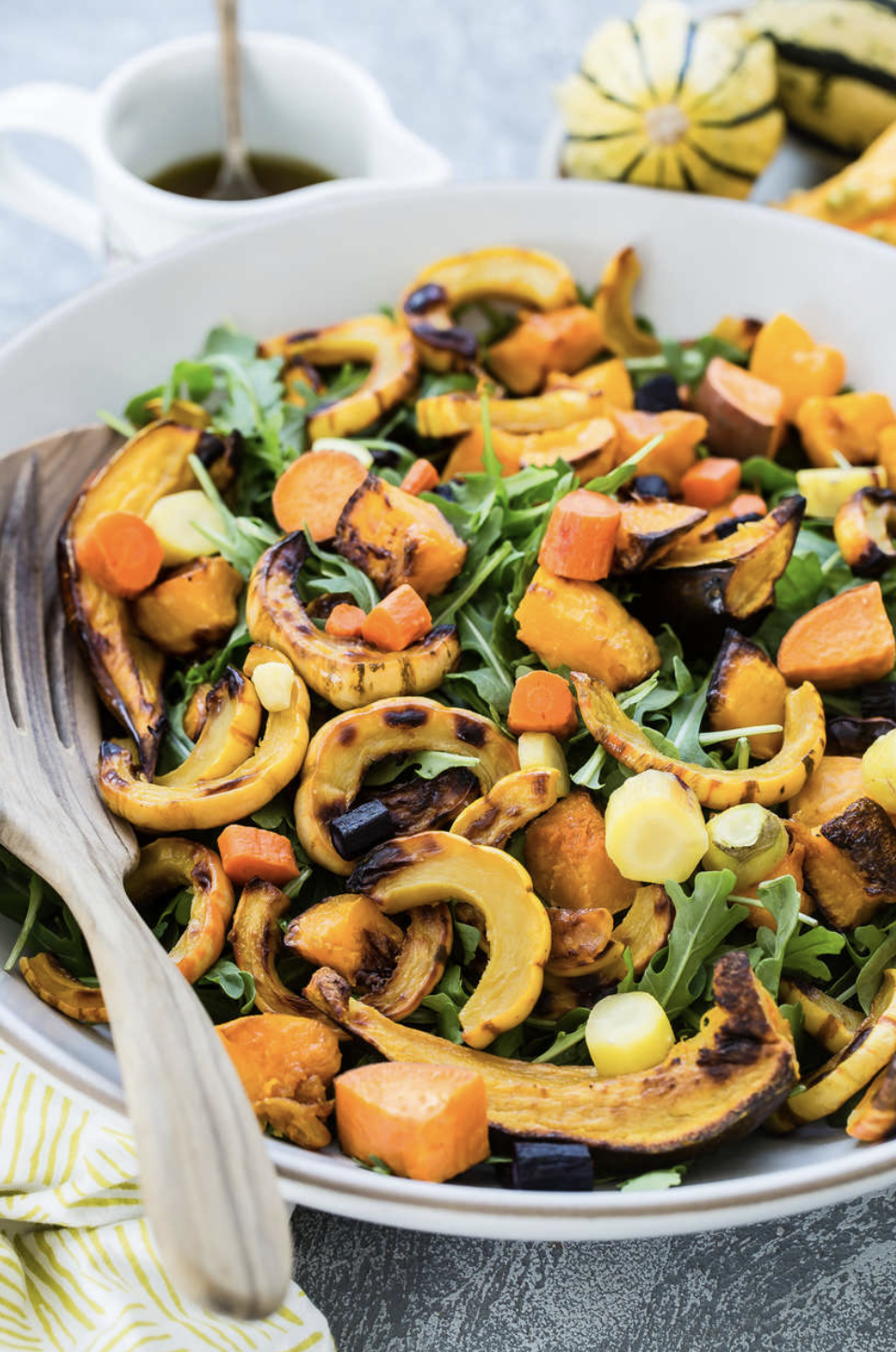 Ingredients:
1 sweet potato, peeled and chopped into 1-inch cubes (about 1 cup)
1 small butternut squash, peeled and chopped into 1-inch cubes (about 2 cups)
2 carrots, peeled and sliced into 1/2-inch coins (about 1 cup)
1 delicata squash, halved lengthwise, seeded and cut into 1/4 inch half moons
3 tablespoons olive oil, divided
3/4 teaspoon salt, divided
1 tablespoon apple cider vinegar
2 teaspoons maple syrup
1 7-ounce bag arugula (or any salad mixed greens of your choice, such as kale, romaine, spring greens or butter lettuce)
Optional additional toppings:

golden raisins, craisins, dried cranberries, dried cherries, goat cheese, brie, toasted walnuts, toasted pumpkin seeds
Directions:
Preheat oven to 400°.
Place the chopped veggies on a baking sheet, drizzle with 1 tablespoon olive oil and sprinkle with 1/2 teaspoon salt. Toss to combine and spread in an even layer on the baking sheet. Bake veggies for 30 minutes, until fork tender and lightly caramelized. Cool completely.
In a small bowl, whisk together the remaining oil, apple cider vinegar, maple syrup and salt.
In a large salad bowl, toss together the arugula, cooled veggies and dressing and toss to evenly coat.
For more information on recipes for kids and how to help them eat more fruits and vegetables, check out Kids Eat in Color and Weelicious.
For more information on seasonal fruits and vegetables in growing zone 8/9, check out the Rooted Garden.
Written By:
Katherine Jones
MPH Candidate
UTHealth School of Public Health in Austin
Michael & Susan Dell Center for Healthy Living
Resources:
---