Have a Healthy Halloween!
Published: October 27, 2021
Happy Halloween weekend! This spooky weekend is a fun and festive time for children, families, and adults and is filled with some of our favorite things- decorations, pumpkins, costumes, and candy! Halloween is one holiday that we associate with treats and consuming as much sugar as possible after going on trick-or-treating adventures. While this is fun and the sugar should be enjoyed, it should be consumed in moderation even this weekend. Below are a few tips and tricks for healthy lifestyle choices during Halloween to make sure that you can enjoy your Halloween in a fun yet health-conscious manner.
*Note: The Michael & Susan Dell Center for Healthy Living supports trick-or-treating and Halloween activities while being aware of COVID-19. This includes social distancing while trick or treating, wearing a mask, and receiving the COVID-19 vaccination if you are eligible. Please check your local COVID-19 guidelines as well as the national recommendations via the Centers for Disease Control and Prevention for more information on masking, vaccination, and social distancing.
Consume Sugar in Moderation!
According to the Dietary Guidelines for Americans 2020-2025, Americans 2 years of age and older should keep their intake of added sugars to less than 10% of their total daily calories. Additionally, children younger than 2 years old should not be fed foods and beverages with added sugars at all. These guidelines are set to help us live healthier and longer lives, as research has shown that consuming too many added sugars can lead to health problems such as weight gain, obesity, type 2 diabetes, and heart disease. The major sources of added sugars in the U.S. diet include sugar-sweetened beverages, candy, desserts, and sweet snacks.
With that being said, it does not mean that candy and sugar should not be consumed at all on Halloween weekend. Instead, focus on consuming sugar in moderation this weekend. Set a goal, including setting a maximum number of candies consumed on Halloween and the days after for your children and family to enjoy! It is important that the candy is enjoyed in moderation and over time instead of being binge eaten in one night. One added benefit to portioning out candy is that it will last over a longer period and can be enjoyed long after Halloween weekend!
Stay Active!
With all the commotion and festivities occurring over Halloween, take some time as a family to get outside and get active! Go for a walk together, a bike ride, or even play a game of catch to get your bodies up and moving. If you are going trick-or-treating, go together and walk as a family to stay safe, active, and to get some steps in before you enjoy your Halloween treats.
Eat Balanced Meals!
Along with consuming candy and sugar in moderation, make sure that your meals are balanced and contain all food groups to maximize nutrient intake. Add some color to your plate with in-season fruits and vegetables and incorporate whole grains and protein to finish off the meal. Eating well-balanced meals can aid in promoting good health and healthy lifestyle choices for you and your family.
Protect Your Oral Health!
Oral health is always an important aspect of health, especially children's health, because tooth decay (cavities and dental caries) is one of the most common chronic health conditions in childhood in the U.S. If cavities are left untreated, they can lead to pain, infections, abscesses, and gum disease. These untreated cavities can then lead to problems with eating, drinking, speaking, playing, and even learning.
After consuming candy or sweet treats, make sure to brush teeth with a fluoride toothpaste and floss to ensure that the sugar is not sitting on teeth for the remainder of the day. You can also wash your mouth out with water after consuming sugar to help flush the residual sugar off of the tooth enamel.
Healthier Treat Recipe!
This recipe can be prepared as a family if you are looking for a sweet dessert that is a little healthier and more balanced alternative to candy. This recipe provides protein from a nut/peanut butter, fruit (also known as nature's candy!), and a little bit of sugar to satisfy your sweet cravings!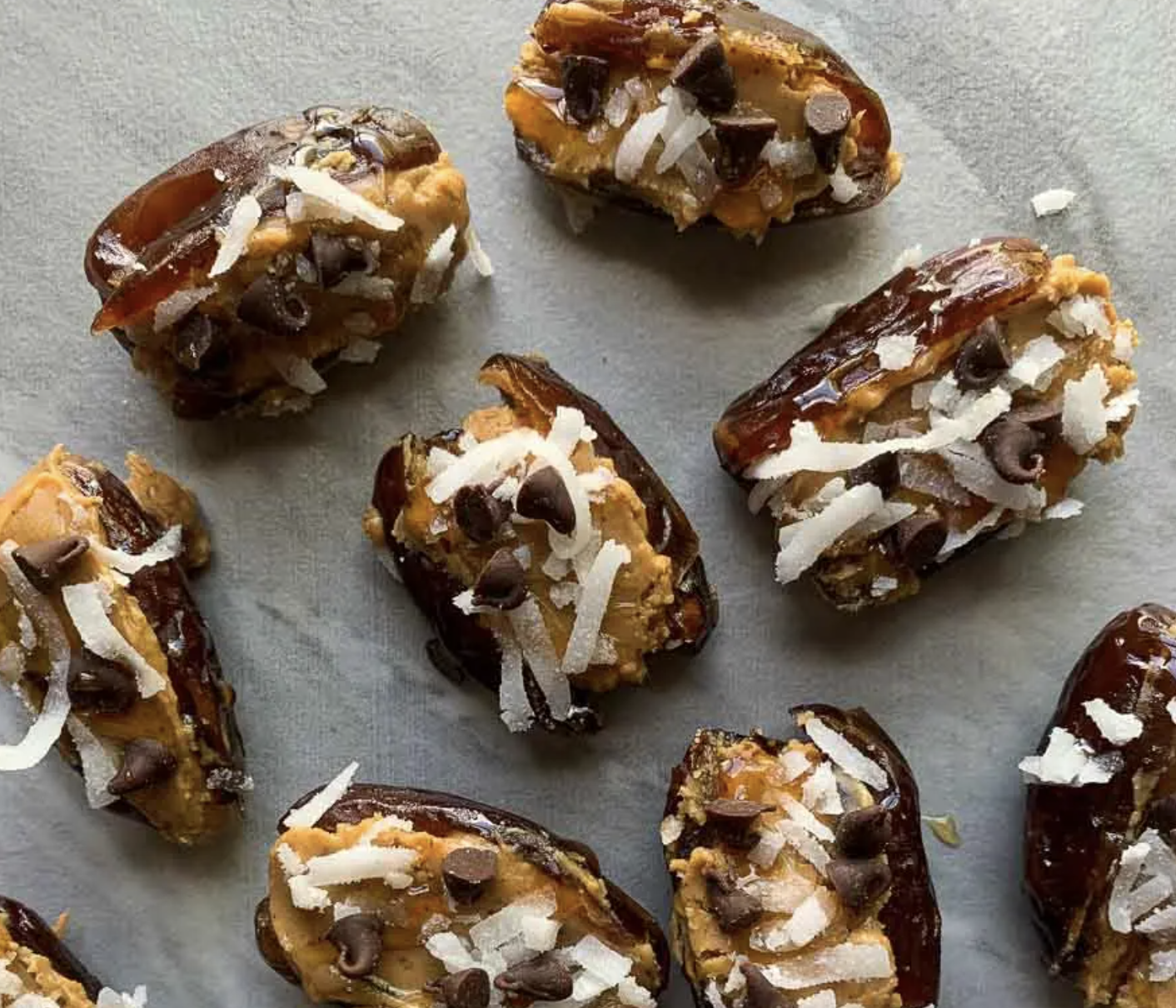 Ingredients (yields 30 stuffed dates):
30 pitted dates
¼ cup peanut butter (or nut butter/nut-free butter of your choosing)
¼ cup honey
¼ cup shredded coconut
¼ cup chocolate chips
Directions:
Gather all ingredients.
Place a piece of parchment paper onto a baking sheet.
Slice open all of the dates (check to make sure there aren't any pits).
Stuff each date with peanut butter or nut-butter alternative.
Drizzle honey on top of each date.
Top the dates with coconut and chocolate chips.
Place the baking sheet into the freezer for at least 20 minutes. Enjoy after cooling!
Written by:
Katherine Jones
MPH Candidate
UTHealth School of Public Health in Austin
Michael & Susan Dell Center for Healthy Living
Resources:
---