Dietetic Internship Program
The concentration for The University of Texas Health Science Center at Houston (UTHealth) Dietetic Internship Program is public health nutrition. Dietetic Interns delve into this area of concentration through didactic work, supervised practice, and their final specialty practice rotation with staff relief in an area of public health nutrition selected by each intern.
As of 2011, the Dietetic Internship Program requires a minimum of 1,261 hours of supervised practice in four major areas of dietetics: community nutrition, food service systems management, medical nutrition therapy, and specialty practice in public health nutrition. UTHealth School of Public Health dietetic interns attain their experiences at institutions within the Texas Medical Center, the city of Houston, and Harris County. Interns complete the Dietetic Internship Program within 22-24 months. Dietetic Interns will complete the Dietetic Internship Program within 33 months (150% of completion time-frame.)
Graduates of the Dietetic Internship Program and the UT School of Public Health degree program are prepared to practice as entry-level dietitians with a graduate degree and meet requirements for active membership in the Academy of Nutrition and Dietetics. Upon successful completion of the dietetic internship, the graduate is eligible to take the dietitians registration examination through the Commission on Dietetic Registration Exam and is qualified to apply for dietetic licensure through the Texas Department of State Health Services.
If you have additional questions about the program or would like to visit the campus, please email us at dieteticinternship@uth.tmc.edu.
---
Accreditation Status
The University of Texas Health Science Center at Houston's School of Public Health Dietetic Internship has been awarded full Accreditation by The Accreditation Council for Education in Nutrition and Dietetics (ACEND) of The Academy of Nutrition and Dietetics. Accreditation has been confirmed through ACEND until the year 2021 – Program Assessment Report 2016.
ACEND may be contacted at:
The Academy of Nutrition and Dietetics 120 South Riverside Plaza, Suite 2000 Chicago, Illinois 60606-6995 ph: (312) 899-0040 ext. 5400 toll free: 1 + (800) 877-1600 ext. 540
Check out our workshops and seminars at www.nourishprogram.org!
---
Student Spotlight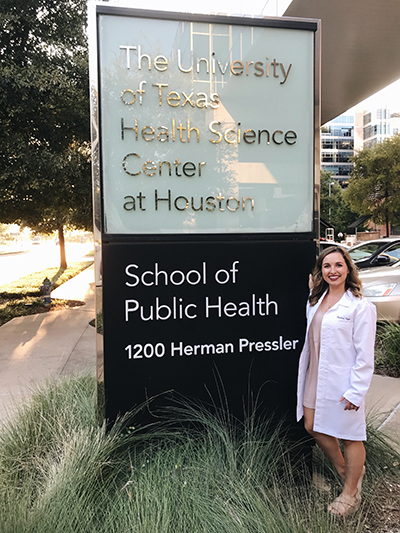 Rachael Vega
Rachael Vega, Dietetic Intern and MPH candidate at the UT School of Public Health Houston has been selected as the Baylor College of Medicine Neonatal Fellow.
The purpose of this fellowship program is to train dietitians/nutritionists in the unique nutritional management of high-risk infants both in the hospital and in the post discharge community setting.
The fellowship training will be for three months beginning in April, 2018.
Congratulations Rachael!