Student Spotlight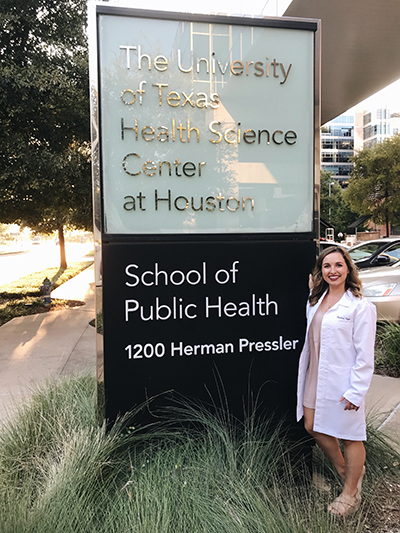 Rachael Vega
Rachael Vega, Dietetic Intern and MPH candidate at the UT School of Public Health Houston has been selected as the Baylor College of Medicine Neonatal Fellow.
The purpose of this fellowship program is to train dietitians/nutritionists in the unique nutritional management of high-risk infants both in the hospital and in the post discharge community setting.
The fellowship training will be for three months beginning in April, 2018.
Congratulations Rachael!
---
News Spotlight
Gardening for life at UTHealth School of Public Health
HOUSTON CHRONICLE - July 22, 2016 - Meggie Lewellyn, a dietetic intern at the UTHealth School of Public Health, didn't learn about gardening growing up. She majored in nutrition in college but still didn't really have a sense of how food was grown or where it came from.
"I never knew what a broccoli plant looked like," she said.
All that has changed for Lewellyn and the other interns in a program at the new holistic garden that has just opened at UTHealth School of Public Health. Continue reading >>
---
Michael & Susan Dell Center for Healthy Living Nutrition Research Spotlight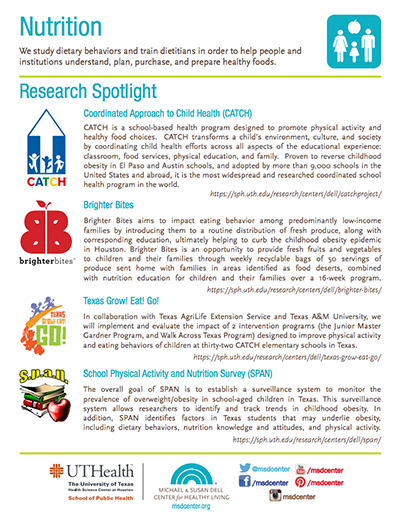 Nutrition Research Spotlight from the Michael & Susan Dell Center for Healthy Living
At the Michael & Susan Dell Center for Healthy Living, we study dietary behaviors and train dietitians in order to help people and institutions understand, plan, purchase, and prepare healthy foods.
---
Program Spotlight

Nourish Program: Seed to Plate to Prevention
The University of Texas Health Science Center at Houston (UTHealth) School of Public Health's Nourish Program has established a nutrition hub in the heart of the Texas Medical Center providing a unique training ground for students, health care professionals, and community members from across Texas and nationwide. This first of its kind initiative educates and equips participants with the tools, knowledge, and hands-on experience necessary to prevent and address nutrition-related health conditions.