Kevin Lanza, PhD, MCRP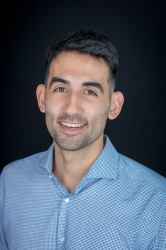 Assistant Professor, Epidemiology, Human Genetics, and Environmental Sciences
Kevin.L.Lanza@uth.tmc.edu
Kevin Lanza received his PhD in City & Regional Planning from Georgia Institute of Technology and completed his postdoctoral training at the Michael & Susan Dell Center for Healthy Living at UTHealth School of Public Health in Austin.
In his research, Dr. Lanza explores the relations between the environment, health behaviors, and health through the lens of climate equity. His primary aims are to determine the impact of extreme heat on physical activity, exertional heat illness, and chronic diseases of individuals living in low-income communities and communities of color, and to develop interventions (behavioral, programmatic, and environmental) to improve community resilience. Ultimately, his research goal is to inform policies that eliminate race-, ethnicity-, and class-based health inequities in the face of warming from urbanization and climate change. Dr. Lanza acknowledges that authentic partnership with community members is essential for health and climate solutions to be truly effective.
Current Projects

The Green Schoolyards Project determines how trees, gardens, and nature trails at elementary school parks in Austin, Texas, affect surrounding temperatures and child health.
Recent Publications
Lanza, K., Burford, K., Ganzar, L.A. (2022). Journal of Transport Geography, Volume 98, 2022, ISSN 0966-6923
Burford, K.; Ganzar, L.A.; Lanza, K.; Kohl, H.W., III; Hoelscher, D.M. Int. J. Environ. Res. Public Health 2021, 18, 10885. https://doi.org/10.3390/ijerph182010885) PMCID: PMC8535774
(Lanza, K., Durand, C. P., Alcazar, M., Ehlers, S., Zhang, K., & Kohl III, H. W. (2021). International Journal of Environmental Research and Public Health.)
(Szeszulski, J., Lanza, K., Dooley, E., Johnson, A. M., Knell, G., Walker, T. J., Craig, D. W., Robertson, M. C., Salvo, D., & Kohl III, H. W. (2021). Journal of Physical Activity & Health, 18(3), 310-317)
(Lanza, K., & Durand, C. P. (2021). Heat-moderating effects of bus stop shelters and tree shade on public transport ridership. International Journal of Environmental Research and Public Health, 18(2), 463.)
Recent News

Climate change, coupled with escalating population growth, is making big-city life increasingly risky, experts agree.

Dr. Kevin Lanza was interviewed by Texas Public radio about the social inequity of urban heat islands.
This summer, Puget Sound area residents experienced high temperatures like never before — heat waves made worse by impacts of climate change, experts say.