Melissa Campos-Hernandez, MPH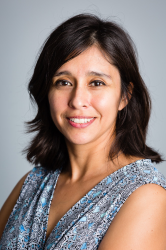 Center Publications and Reference Coordinator
Melissa.A.Camposhernandez@uth.tmc.edu
After earning Bachelor of Science degrees in psychology (U.T. El Paso) and geography (U.T. Austin), Melissa received her M.P.H. from the UT School of Public Health. Melissa first worked at the Center as a graduate research assistant, then began as a part-time research assistant after graduating in 2013.
As the Center Publications and Reference Coordinator, Melissa provides support to the Center leadership team; works on publications, grants, reports, and other Center resources. She also manages the Center's special theme journal issue and provides technical assistance and Spanish translations to project materials.
In her personal time, Melissa loves hiking, swimming, and exploring the outdoors with her husband and three young daughters.