Natalia I. Heredia, PhD, MPH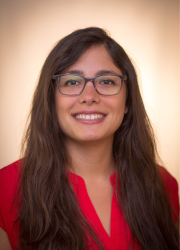 Assistant Professor, Health Promotion & Behavioral Sciences
natalia.i.heredia@uth.tmc.edu
Dr. Natalia Heredia received a BA in both Psychology and Policy Studies from Rice University, an MPH in Health Promotion from Columbia University and a PhD in Behavioral Sciences from the University of Texas Health Science Center at Houston (UTHealth) School of Public Health. She was a predoctoral fellow on a National Cancer Institute R25 training grant and a postdoctoral fellow on a Cancer Prevention and Research Institute of Texas training grant. Her research focuses on the promotion of physical activity and healthy diets in Hispanic/Latino adults and families. Dr. Heredia's research seeks to identify psychosocial and environmental determinants of physical activity and diet using mixed methods, and then use this body of work to develop, implement, and evaluate interventions to improve lifestyle behaviors, especially in Hispanic/Latino adults and other minority populations. Dr. Heredia's current Prevent Cancer Foundation grant focuses on developing and delivering a behavioral lifestyle intervention for the management of non-alcoholic fatty liver disease (NAFLD) in Hispanic/Latino adults to prevent liver cancer and other adverse outcomes.
Current Projects

Nourishing the Community Through Culinary Medicine is a study to pilot test a virtual culinary medicine program with adults with uncontrolled type 2 diabetes. The purpose of this study is to see how well synchronous but virtual hands-on healthy cooking classes work to help patients with diabetes improve cooking skills, change eating habits and control diabetes. All materials for this project, including our toolkit and recorded classes are available on the Nourish website.
The Teaching Kitchen Multisite Trial is a pilot study to evaluate a teaching kitchen-based lifestyle intervention as part of a randomized controlled Multisite Trial with adults with clinically defined obesity and one additional metabolic syndrome component.