Adriana Pérez, PhD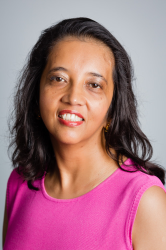 Professor, Biostatistics and Data Science
adriana.perez@uth.tmc.edu
Dr. Pérez is Professor in Department of Biostatistics and Data Science and faculty member of the Michael & Susan Dell Center for Healthy Living at The University of Texas Health Science Center at Houston School of Public Health in Austin. She has been involved in the design, development, analysis, and dissemination of health research and engaged in a wide range of methodological and applied biostatistical research projects, from exploratory data analysis to theoretical model evaluation accounting for imputation uncertainty, fitting complex data analysis of cluster randomized community trials, clinical trials and analysis of foods. Her research interests are not limited to biostatistics, intervention programs, and Parkinson's disease, but also health prevention using school-based surveillance studies for children's food patterns, physical activity and sedentary behavior to evaluate energy balance required when conducting childhood obesity research. Dr. Pérez has expertise in conducting and disseminating research findings of population and clinical-based studies including both adolescents and adults as well as developing and publishing new statistical methodologies.
Dr. Pérez was the Director of the Statistical and Marketing Core of the "Texas Tobacco Center of Regulatory Science on Youth & Young Adults". She has previous experience as the principal investigator of several grants with the American Statistical Association/National Science Foundation and a subcontract with the Parkinson Study group (Body mass index and Parkinson's disease survival at DATATOP) Dr Pérez finished secondary analyses and dissemination of findings for the National Institutes of Health Exploratory Trials in Parkinson's Disease (NET-PD) Long-term Study-1 (LS-1), a randomized, multi-center, double-blind, placebo-controlled study of 10 grams of oral creatine/day in individuals who were within 5 years of Parkinson disease diagnosis and who were on dopaminergic therapy for fewer than two years.
Currently, Dr. Pérez has Pérez an R01(CA234205-01) entitled "Age of initiation of tobacco products among USA youth and young adults with funding from NIH/NCI and FDA", an administrative supplement and a diversity supplement for Dr Folefac Atem. Dr Pérez provides Biostatistical Support for The Use of Senolytic and Anti-fibrotic Agents to Improve the Beneficial Effect of Bone Marrow Stem Cells for Osteoarthritis (Multi PI UG3 AR077748). She is a co-investigator in Dr Harrell's project "ENDS Use Trajectories from Adolescence through Young Adulthood: A Longitudinal Study of Risk Factors and Profiles (CA23909702), in Dr Hoelscher's project HD097669-03 "Evaluating the Effects of Municipal Funding of Safe Routes to School Infrastructure on Child Physical Activity: A Natural Experiment" as well as in the project School Physical Activity and Nutrition (SPAN) Survey school children in the 2nd, 4th, 8th and 11th grades and parents of 2nd graders.
Current Projects
The Texas SPAN survey was established to track the prevalence of overweight and obese school-aged children in Texas.

The STREETS Study (Safe TRavel Environment Evaluation in Texas Schools) is a five-year (2018 – 2023) natural experiment that is evaluating the City of Austin Safe Routes to School program.

This study involves a prospective secondary analysis of the first three waves of the Population Assessment of Tobacco and Health (PATH) Study among U.S. youth (aged 12-17 years) and young adults (aged 18-24 years) who reported never use at Wave 1.
Recent Publications
(Chen B, Sterling K, Bluestein M, Harrell MB, Kuk AE, Perry CL, Pérez A (in press). PLOS One.)
(Pérez, A., Penedo, E., Bluestein, M., Chen, B., Perry, C.L., Harrell, M.B. (2020) Forthcoming International Journal of Environmental Research and Public Health accepted on Nov 30/2020.)
(Rodriguez, A.*, Douphrate, D., Gimeno-Ruiz-de-Porras, D., Prot, E., Pérez, A., Hagevoort, R., Nonnenmann, M. (2020) Frontiers in Public Health 08/02/2020. https://doi.org/10.3389/fpubh.2020.00479)
(Davis, J.N., Nikah, K., Asigbee, F.M.,Landry, M.J., Vandyousefi, S., Hoover, A., Jeans, M., Pont, S.J., Hoelscher, D.M., Van den Berg, A.E., Fischer, B., Pérez, A. (2020) Current Developments in Nutrition. 3(S2):1296 [PMID: forthcoming]]. https://doi.org/10.1093/cdn/nzaa059_013)
Davis, J., Nikah, K., Asigbee, F. M., Landry, M. J., Vandyousefi, S., et al. (2019). Contemporary clinical trials, 85, 105834.
Recent News
Dr. Adriana Pérez, a professor in the Department of Biostatistics and Data Science at UTHealth School of Public Health, University of Texas Health Science Center at Houston School of Public Health, Austin campus, has received a $1.38 million grant from the National Cancer Institute to study changing patterns of tobacco use in U.S. youth and young adults.