Baojiang Chen, PhD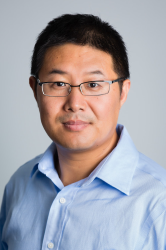 Associate Professor, Biostatistics
Baojiang.Chen@uth.tmc.edu
Dr. Chen has extensive experience in statistical applications in medical, public health, social and behavior sciences. He has expertise in modeling procedures for various types of data including linear modeling, generalized linear modeling, generalized linear mixed modeling for correlated data, and survival data modeling.
Dr. Chen's methodological research is focused on developing innovative methods for longitudinal data, missing data, survival data, transformation model, monotone regression model, evaluation diagnostic tests, etc.
Current Projects

This study involves a prospective secondary analysis of the first three waves of the Population Assessment of Tobacco and Health (PATH) Study among U.S. youth (aged 12-17 years) and young adults (aged 18-24 years) who reported never use at Wave 1.

CATCH My Breath (CMB) is a middle school e-cigarette prevention program originally designed as a rapid response to the emerging teen vaping trends.
Recent Publications
(Harrell, M. B., Chen, B., Clendennen, S. L., Sumbe, A., Case, K. R., Wilkinson, A. V., ... & Perry, C. L. (2021). Preventive Medicine, 106670.)
(Bataineh, B. S., Wilkinson, A. V., Case, K. R., Clendennen, S. L., Sumbe, A., Chen, B., & Harrell, M. B. (2021). Tobacco Prevention & Cessation, 7.)
(Rogers, S. M., Harrell, M. B., Chen, B., Springer, A., Loukas, A., & Perry, C. L. (2021). Addictive Behaviors, 115, 106771.)
(Mantey, D., Harrell, M., Chen, B., Kelder, S. H., Perry, C., & Loukas, A. (2021). Tobacco Control.)
(Chen B, Sterling K, Bluestein M, Harrell MB, Kuk AE, Perry CL, Pérez A (in press). PLOS One.)