Nika Akhavan, MPH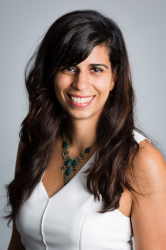 Research Coordinator
Nika.Akhavan@uth.tmc.edu
Nika has worked at the center for 8 years now, and is currently a Research Coordinator on the School Physical Activity and Nutrition (SPAN) project where she focuses on school district recruitment and data management for a statewide childhood obesity surveillance study. Her other primary study areas are food insecurity, social equity, and understanding how the built-in environment plays a role in health outcomes.
Nika attended the University of Texas at Austin where she earned her Bachelors of Science in Public Health in 2012 and continued at the University of Texas Health Science Center, Austin Campus where she earned her MPH in 2014. She is also an alum of the Archer Center Graduate Program where she strengthened her lens in social policy issues and the gap between research and public policy.
In her spare time, you can find Nika baking, dancing, or organizing her next road trip adventure!
Current Projects

The SPAN survey was established to track the prevalence of overweight and obese school-aged children in Texas.

Food Retail: Evaluating Strategies for a Healthy Austin (FRESH-AUSTIN) aims to further evaluation of the City of Austin's Healthy Food Access Initiative, and increase understanding of the complexities within a community food system.

GAVA is a coalition of residents, community leaders and nonprofits dedicated to improving the health of children in Dove Springs and 78745.