Nika Akhavan, MPH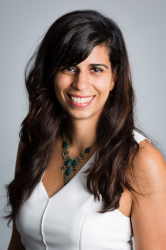 Research Coordinator
Nika.Akhavan@uth.tmc.edu
Nika Akhavan received her Masters of Public Health from the University of Texas Health Science Center at Houston School of Public Health in Austin in 2014. She has worked throughout her program on multiple research projects under Dr. Sandra Evans, and is also an alumni of the Archer Center Graduate Program in Public Policy. She now currently works as a Research Coordinator on the GAVA (Go! Austin/Vamos! Austin) Evaluation Team. Her primary role is managing their ETO (Efforts To Outcomes) database which records resident led accomplishments achieved in the community to better measure impact of the initiative which is currently implemented in Dove Springs and in the 78745 community. In her spare time, Nika enjoys running, live music, and doing dream analyses!
Current Projects

Food Retail: Evaluating Strategies for a Healthy Austin (FRESH-AUSTIN) aims to further evaluation of the City of Austin's Healthy Food Access Initiative, and increase understanding of the complexities within a community food system.
GAVA is a coalition of residents, community leaders and nonprofits dedicated to improving the health of children in Dove Springs and 78745.