Liv George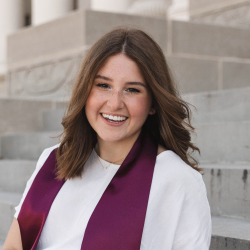 Communication Specialist
Olivia.C.George@uth.tmc.edu
Liv attended Texas A&M University, where she received a Bachelor of Science in Agricultural Journalism and Communications, with minors in Horticulture and New Media Art.
As the Communication Specialist, Liv is responsible for managing external and internal communications for the Center, including website maintenance, social media content, and graphic design. When she's not researching the latest design trends and techniques, she can be found watching PBS Masterpiece Classic shows with her cat, Pepper, picnicking at Zilker Park with a good book, or spending time in the sun on her paddleboard.
Current Projects

The Digital Physical Activity and Diet (dPAD) Collaborative's goal is to bring together researchers who are interested in addressing obesity, diet, and physical activity through technology-based research.