R. Sue Day, PhD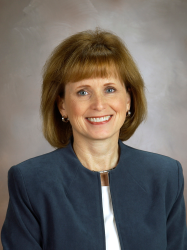 Professor, Epidemiology, Human Genetics & Environmental Sciences
rena.s.day@uth.tmc.edu
Dr. Day's journey to public health began in Lubbock, TX, her hometown. After graduating from pre-med, home economics and secondary education studies at Texas Tech, she worked as a home economist and nutrition educator in Midland and Odessa, TX. Originally, Dr. Day came to Houston to meet faculty at the medical school, thinking she would go into medicine. She accidentally walked into the UTHealth School of Public Health and a recruiter convinced her to study public health instead. She has been at the school 40 years. "Obviously they won me over!" Remembering her time as a nutritionist, she decided she really wanted to understand prevention of disease through nutrition.
As a nutritional epidemiologist, she has worked in a variety of areas including cardiovascular disease, cancer, obesity and infectious diseases. Her research has included adults, children, occupational groups, and minority groups. She really enjoys working with the Nourish program using the seed to plate model to help people learn to eat healthier and appreciate real food. She has funding to support the Garden for Health classes with didactic learning, hands on gardening and cooking demonstrations for TMC employees. Through the UTHealth Employee Assistance Program she secured funding for Nourish to provide the popular Lunch & Learn classes for UTHealth employees to learn cooking techniques and encourage healthy eating. Her research focuses on overweight and obesity's effect on cardiovascular disease, injuries, cancer and behavioral health among firefighters. Dr. Day explains, "I often get asked, 'why study firefighters?', because many people think they must all be fit, muscular and have great dietary habits. Unfortunately, the majority (78.4%) of firefighters are overweight or obese. Given how many firefighters struggle with their weight, it is no surprise they also suffer from a high rate of diseases related to obesity". Our first responders help us when we are in need and as public health professionals, we can help them learn healthier eating and exercise approaches. She also directs the Total Worker Health doctoral program to build upon occupational safety and health efforts to prevent workplace injury and illness and promote worker well-being. All these programs truly embody what public health is about and allow her to work directly with people in the community.
Additional Research Projects:
NHLBI R34 HL125790
A Clinic and Tech-based Diet and Fitness Intervention for Volunteer Firefighters
Principal Investigator – Subcontract
$631,000 09/01/2015 – 08/31/2018
Determine the comparative effectiveness of an occupational health clinician administered web- mobile lifestyle program The First Twenty® compared to the American Heart Association Life's Simple 7 using a cluster randomized controlled trial among volunteer firefighters. Primary outcomes include weight, dietary intake, physical activity and cardiovascular risk score.
FEMA – Federal Emergency Management Agency EMW- EMW-2013-FP-00983
The First Twenty for Volunteer Firefighters
Principal Investigator
$1,571,946 08/01/2014–07/31/2017
Assess the efficacy of an internet-based firefighter health and wellness program, The First Twenty, for volunteer fire departments using a cluster randomized controlled trial in a national sample of volunteer firefighters.
Current Projects

A cluster randomized controlled trial to address volunteer firefighters' (VFF) obesity to determine efficacy and acceptability of an inexpensive, culturally tailored internet based health and wellness intervention.
Examination of obesity, dietary intake, physical activity, and energy balance in the lifestyle environment of 1,000 firefighters housed in 60 fire stations within 20 fire departments across the nation.
Recent Publications
(Yang P, Zuo X, Advani S, Wei1 B, Malek J, Day RS, Shureiqi I. Celecoxib medRxiv, Preprint, December 4, 2020; doi: https://doi.org/10.1101/2020.12.02.20242214)
(Kaipust CM, Jahnke SA, Poston WS, Jitnarin N, Haddock CK, Day RS. Journal Occupational Environmental Medicine. 2020; 62(6): June 2020:e290-e291.)
(Allen N, Krefman A, Labarthe D, Greenland P, Juonala M, Kähönen M, Lehtimäki T, Day RS, Bazzano L, Van Horn L, Liu L, Alonso CF, Webber LS, Pahkala K, Laitinen T, Raitakari O, Lloyd-Jones D. JAMA Cardiology, 2020;5(5):557-566. doi:10.1001/jamacardio.2020.0140 )
(Day RS, Jahnke SA, Haddock CK, Kaipust CM, Jitnarin N, Poston WSC. Journal Occupational Environmental Medicine, 2019 Oct;61(10):841-848. doi: 10.1097/JOM.0000000000001685)
(Nyitray, Alan G., Fen Peng, Rena S. Day, Roberto J. Carvalho Da Silva, Maria Luiza Baggio, Jorge Salmerón, Manuel Quiterio et al. Human Vaccines & Immunotherapeutics (2019).)
Recent News

If you're a steak lover who begrudgingly orders chicken for health reasons, read on. White meat has long been considered more beneficial than red meat, especially in terms of reducing cardiovascular risk. But a recent study challenges these claims.
Firefighters seem to be pretty healthy people. After all, you work out a lot, right? But what do you eat? Now look, I'm not your dad—but exercising doesn't give you carte blanche to eat junk. But that's exactly what my guest on this edition of Code 3 says is happening.

Of all the meals in regular rotation at the Station 5 firehouse in North Charleston, none is as popular as the chicken sandwich. It's not just any chicken sandwich, Capt. David Reindollar emphasizes. To make it, whichever firefighter has drawn cooking duty first rustles up a bag of hot dog buns. Then he or she tucks a fried chicken tender into each bun, and covers the meat with cheese and honey mustard. Next, the sandwich goes into the oven until the chicken is hot and the cheese is melty.
Results from the first detailed evaluation of what firefighters across America eat and drink, the "Fuel 2 Fight" study, is an eye-opener.