Augusto César F. De Moraes, PhD, MSc, BS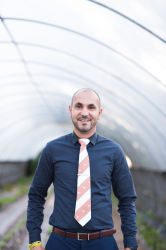 Assistant Professor, Department of Epidemiology, Human Genetics and Environmental Science
Augusto.DeMoraes@uth.tmc.edu
Dr. De Moraes was previously at the University of Sao Paulo where he was an Assistant Research Professor and also the Scientific Coordinator for the Youth/Child Cardiovascular Risk and Environmental (YCARE) Research Group. Dr. De Moraes has gained research experience in epidemiology of cardiovascular health, diagnostic methods, environmental and socioeconomic determinants, and lifestyle behaviors.
His current research interests include determinants of cardiovascular health, multiple lifestyle-related behaviors, possible interactions with environmental determinants in young people from low- and high-income countries, including countries in North America, Latin America, and Europe, evidence-based medicine and public health, and the effectiveness of health behaviors promotion (such as healthy diet and physical activity) policies.
Dr. De Moraes is the host of Podcast Lado B da Ciencia, a scientific divulgation initiative.