Pablo Martinez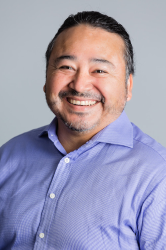 Programmer Analyst II
Pablo.Martinez@uth.tmc.edu
Pablo is the computer programmer and database developer for the TCORS YaYA project.
Pablo graduated from the University of Texas at Brownsville with a B.S. in Computer Science. He later received his M.S. in Information Technology from the University of Texas Pan American in Edinburg Texas. Pablo has worked for the State of Texas in various projects including developing a customer tracking system that was implemented throughout the State of Texas and other statewide programming projects. He joined the University of Texas Health Science Center at Houston School of Public Health in February 2014 as a computer programmer.
Pablo is responsible for the developing and oversight of different software programs and development of relational databases for data collection and archiving.
Current Projects

The Texas SPAN survey was established to track the prevalence of overweight and obese school-aged children in Texas.

The overall goal of the Tobacco Center of Regulatory Science (TCORS) on Youth and Young Adults is to develop an integrated program of research and training to provide scientific evidence, and a career path for regulatory scientists, to support U.S. tobacco regulation.