July Healthy Summer Challenge
Published: July 1, 2022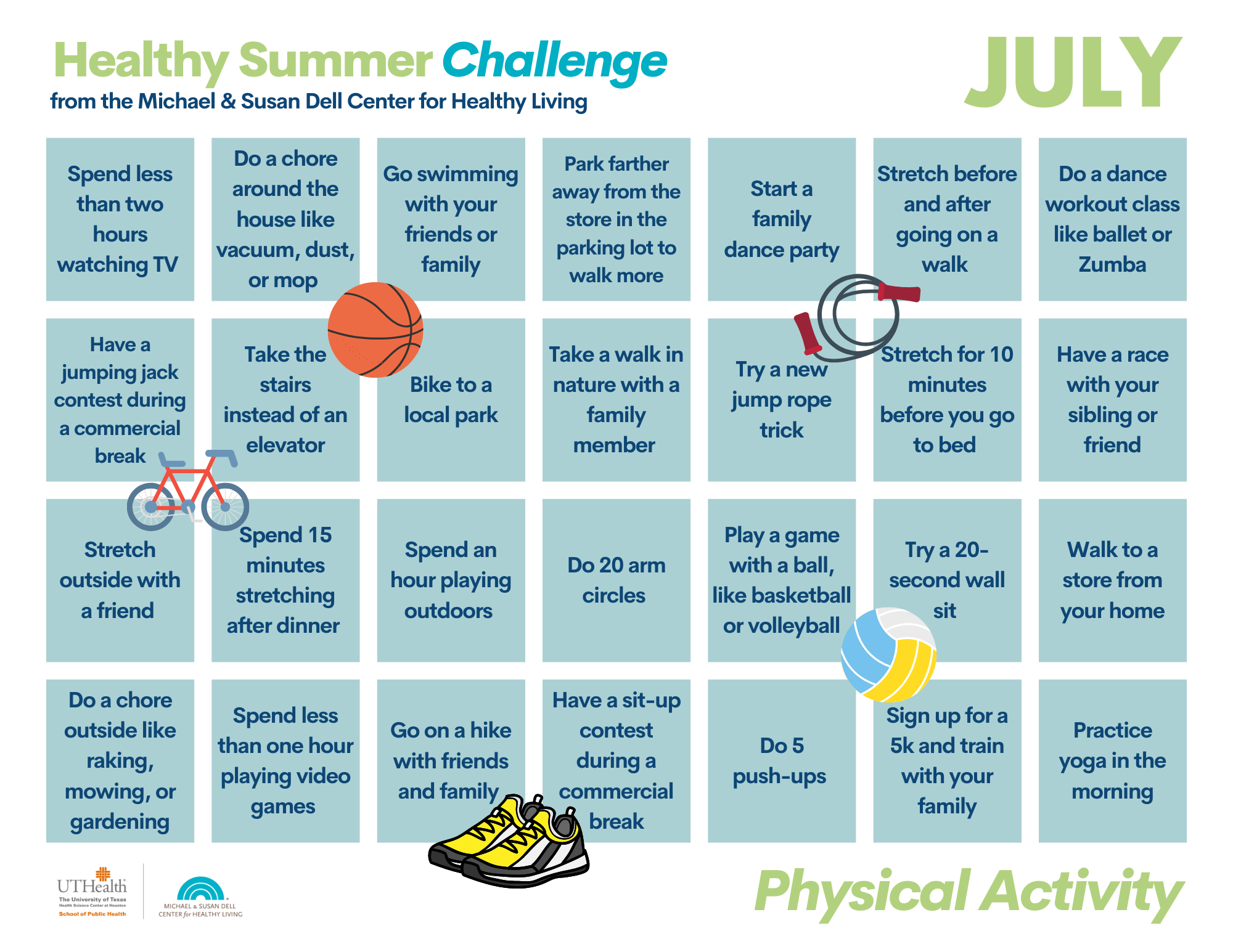 This Summer, the Michael & Susan Dell Center for Healthy Living challenges you to complete fun activities with your kids to build healthy habits while school is out. Each month we're focusing on a new set of challenges, and July's focus is on physical activity. According to The Centers for Disease Control and Prevention (CDC), youth ages 6-17 years need 60 minutes or more of moderate-to-vigorous-intensity physical activity every day for optimal health and fitness, while adults need 150 minutes of moderate-intensity physical activity. Use our July Healthy Summer Challenge calendar to help meet those goals, and check out our complete physical activity toolkit for more ideas on incorporating physical activity into your family.
We have 28 recommendations for your family to stay active this July! Check out three of our favorites:
Take a

walk in

nature: Getting outside can be

a great way

to appreciate the scenery while

getting in

some physical activity. Research shows

p

hysical activity

can improve brain health, help manage weight, reduce the risk of disease, and strengthen bones and muscles. If you plan to spend some time outdoors this month, just remember to bring water and stay hydrated! Check out our past blog about

Heat Safety and Water Consumption tips

.

Try morning yoga: Yoga can be a gentle and relaxing way to start your day right! Yoga is an excellent

option

for indoor physical activity on rainy or extremely hot days. You can start by practicing stretching, balance, and deep breathing with your kids

.

Try the

Bell

Game

to focus on body control and concentration

.

Do a dance workout class: Let loose with dancing! Have some fun with your family and stay active by watching a free dance workout class on YouTube or signing up for a Zumba class. Try out SHAPE America's

Back Deck Ballet

to test your dancing and balancing skills.
Joining our challenge to add physical activity to your day is easy. Download and print our pdf calendar below, then hang it up somewhere you and your kids can easily see. Cross off or put a sticker on each completed challenge and see how many you can do this month! We'd love to hear how you're staying healthy this summer, so follow and tag us on Instagram, Facebook, or Twitter!
---