Dance Waterloo launches SEL family dance education program
Published: May 16, 2018
This spring The Michael & Susan Dell Community Collaborative for Child Health provided $150-$500 grants to help support Central Texas schools, nonprofit organizations, and other community groups in promoting social and emotional learning in a variety of fun, innovative and engaging initiatives. Twenty stellar community groups received the C's the Day: Caring Communities Create Capable Children mini-grants to support their SEL efforts. In the coming weeks, we will be highlighting a few of our grantees to learn more about their SEL highlights and experiences. Today, we spotlight an exciting new SEL initiative being launched by Dance Waterloo.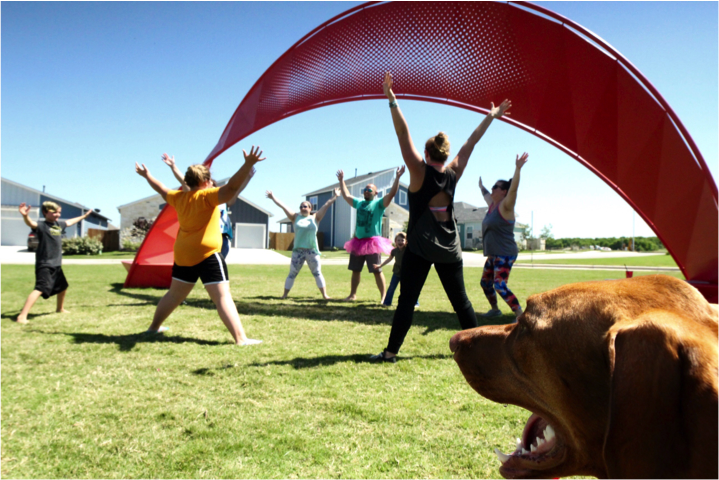 Storybook Dance Making is Dance Waterloo's family dance education program that aims to inspire creativity, imagination and growth through creative dance in families with children. The program uses book topics such as friendship or dealing with the death of a loved one to guide families through physical movement and dance making activities that incorporate Social and Emotional Learning competencies. In turn, the students increase their ability to practice understanding and expressing their emotions with their parents in a safe, comfortable environment.
Their first class focused on being positive and true to you. Children and their parents identified parts of themselves that they were proud of and shared them with each other using words and movements that best represented their thoughts and emotions. Morgan Teel, X position at of Dance Waterloo shares the potential impact of teaching lessons such as these. "Simply identifying positive things about self is the key to staying true to one's self and that in turn can contribute to the social and emotional wellbeing of the children."
When asked what she has learned while executing the program, she shared that attendance can often be a concern for those beginning a new program. "We only had one family registered prior to the class but that family invited two families and one of those two families invited another one." Teel finds it useful to not only focus on promotion, but to be open to relying on the participants of the program to help generate attendance and further engagement. "Start with a seed family or participant that will spread the word," she advises.
If you are interested in learning more from our awardees about the highlights, challenges and lessons they learned with their SEL initiatives, join us for this year's Community Collaborative for Child Health Summit on May 19th from 9:30am-11:30pm. Click here to learn more and sign up. We hope to SEL (see) you there!

Written by:

Jessica Marquez, Dell Health Undergraduate Scholar

Jessica is a student at St. Edwards University studying Art and Biology with a goal to attend medical school. She previously attended Parsons School of Design where she studied Integrated Design before switching gears and beginning her career in health and wellness.
---