Ridgetop Elementary and Creative Action launch SEL Super Spring Fest
Published: May 2, 2018
This spring The Michael & Susan Dell Community Collaborative for Child Health provided $150-$500 grants to help support Central Texas schools, nonprofit organizations, and other community groups in promoting social and emotional learning in a variety of fun, innovative and engaging initiatives. Twenty stellar community groups received the C's the Day: Caring Communities Create Capable Children mini-grants to support their SEL efforts. In the coming weeks, we will be highlighting a few of our grantees to learn more about their SEL highlights and experiences. Today, we spotlight an exciting new SEL initiative being lunched by Ridgetop Elementary and Creative Action.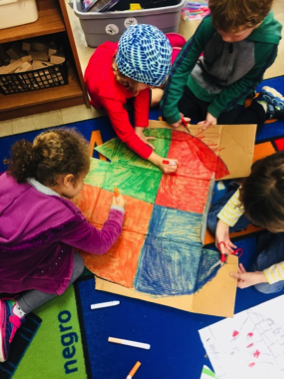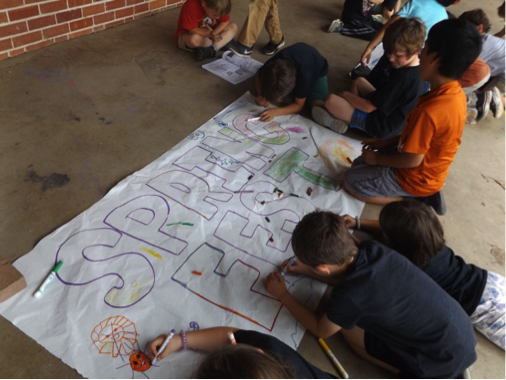 Ridgetop Elementary in partnership with Creative Action plans to throw their first annual SEL Super Spring Fest in May. This day will include interactive games, arts-based activities, concessions and prizes inspired by the Social and Emotional Learning competencies. Carnival attendees will participate in activities that explore SEL concepts in creative ways including rolling the dice to discover their SEL future at the SEL Fortune Teller Tent, spinning the Wheel of Emotions, or participating in a relay race where teammates must trust and rely on each other to operate a SEL contraption. This festival is designed, built and led by the students who will share the skills they have learned during their weekly Creativity in Action Fridays after-school program.
Corinna Archer Kinsman from Creative Action is helping to plan and execute the Carnival and has identified a helpful strategy for those who want to share SEL beyond the classroom. "Start with your students," she advises. "Tap into how they are understanding concepts and let them get creative about how they could share what they know with their families in new and interesting ways. It's all more fun for families when they know their own kids put their love and energy into unusual and clever interactive experiences."
One of the most gratifying things for Kinsman during the execution of this project has been seeing the children in action. "Watching the students create this event around empathy and social responsibility has been one of the highlights," Kinsman reflects. "Our students have had so much fun designing their SEL Spring Fest and working to execute their ideas."
If you are interested in learning more from our awardees about the highlights, challenges and lessons they learned with their SEL initiatives, join us for this year's Community Collaborative for Child Health Summit on May 19th from 9:30am-11:30pm. Click here to learn more and sign up. We hope to SEL (see) you there!
Written by:
Jessica Marquez, Dell Health Undergraduate Scholar

Jessica is a student at St. Edwards University studying Art and Biology with a goal to attend medical school. She previously attended Parsons School of Design where she studied Integrated Design before switching gears and beginning her career in health and wellness.
---