Amanda Bakken, MS, MPH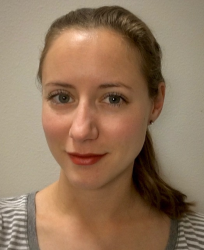 Research Assistant II
Amanda.J.Bakken@uth.tmc.edu
Amanda Bakken is a Research Assistant for the SNAP-Ed program.
Amanda completed her undergraduate studies at Concordia College in Moorhead MN with a major in Biology, and minors in Chemistry and Psychology. She completed her MS in Entomology at North Carolina State University, and graduated with her MPH in Epidemiology from UTHealth in 2019.
In her role as a Research Assistant, Amanda is working to create survey tools for the 7 Implementing Agencies, and provides technical support to the organizations through evaluation, data collection, and data analysis. She is coordinating with agency directors and program managers for special projects that are new to SNAP-Ed to identify outcome and impact measures consistent with SNAP-Ed Evaluation Framework.
When not at work, Amanda enjoys playing doubles sand volleyball, competing in running trail races, and spending time with her husband and puppy.