Alexandra (Sandra) van den Berg, MPH, PhD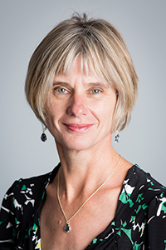 Associate Director, Michael & Susan Dell Center for Healthy Living
Professor, Health Promotion & Behavioral Sciences
alexandra.e.vandenberg@uth.tmc.edu
Dr. van den Berg is a researcher with over 20 years of experience in the development and evaluation of large behavioral and environmental interventions addressing health disparities associated with food insecurity and dietary behaviors and weight status in low income, ethnically diverse families living in underserved communities. Her research can be described by three broad themes: 1) development, implementation, and evaluation of cost-effective and sustainable interventions that increase access to healthy foods and promote sustainable local food systems; 2) examination of the relationship between environmental factors and subsequent health behaviors of children and their families; and 3) investigation of the role of health education/promotion in optimizing behavioral responses of children and their families to their environments.
Dr. van den Berg is currently the PI of the federally-funded FRESH-Austin study, in which she and her team are measuring the impact of a local food access initiative implemented by the City of Austin (Fresh for Less) on low-income, mostly Hispanic residents' purchasing and dietary behaviors. As part of this grant, the research team is also developing an agent-based model to simulate food access policy scenarios and their impact on food purchasing and consumption patterns. In a recently completed NIH study (NIH 1R01HL123865-01A1), the research team assessed the impact of a school-based gardening, nutrition, and cooking intervention to reduce obesity and related metabolic disorders in predominately Hispanic children living in low-income, rural, food desert communities. Dr. van den Berg was also the PI of the GAVA (the Go Austin!/Vamos Austin!) study which was a community based, multi-component obesity intervention designed to synergistically target the built and policy environments in low-income communities using a coalition-driven, system approach to produce changes designed to comprehensively address the obesogenic environment of children and adults.
Current Projects

Texas SNAP-Ed Evaluation, is a two-year project to evaluate, on a statewide basis, the effectiveness of SNAP-Ed nutrition education and obesity prevention programming activities delivered by Implementing Agencies throughout the state of Texas.

This project will test the impact of several different programs on behaviors related to childhood obesity including, a hands-on family-focused gardening program and a fun school-based walking program for kids.

This project is a collaborative effort that will study the impact of two recent policies: the Safe Routes to School program and an important rule revision to the federal food allocation package administered by the Texas Women, Infants and Children program.

Food Retail: Evaluating Strategies for a Healthy Austin (FRESH-AUSTIN) aims to further evaluation of the City of Austin's Healthy Food Access Initiative, and increase understanding of the complexities within a community food system.
Recent Publications
Davis, J., Nikah, K., Asigbee, F. M., Landry, M. J., Vandyousefi, S., et al. (2019). Contemporary clinical trials, 85, 105834.
van den Berg, A., Nielsen, A., Akhavan, N., Llanes Pulido, C., Basu, S., et al. (2019). Archives of Public Health, 77(25).
Towne, S. D., Jr, Lopez, M. L., Li, Y., Smith, M. L., Warren, J. L., Evans, A. E., et al. (2018). Journal of immigrant and minority health, 20(4), 854–864.

10/1/17 - The SNAP GAP: Why income-eligible individuals are not enrolling in SNAP
Springer, A. E., Evans, A. E., Ortuño, J., Salvo, D., & Varela Arévalo, M. T. (2017). Frontiers in public health, 5, 268.
Recent News

The Go! Austin/Vamos! Austin (GAVA) is a coalition of neighbors and community partners which organizes and mobilizes community efforts in ways that reduce barriers and increase institutional capacity in low-income communities. READ MORE.

Dr. Alexandra van den Berg Ph.D, along with a research team, will use the nearly $1 million grant to develop a quasi-experimental longitudinal study designed to capture the impact of new food access points on consumption, food security, and obesity.